Brenda Ortiz bringing precision agriculture to Alabama
Brenda Ortiz bringing precision agriculture to Alabama
• Brenda Ortiz's ability to adapt quickly is a skill born of curiosity, reflected in what she readily concedes is an all-consuming passion for scientific investigation and discovery.• She sees her job as providing Alabama row-crop producers with not only a big, but a highly nuanced picture of how they can better understand the role that climate and other crop-limiting and reducing factors play in yield reduction and how to address these.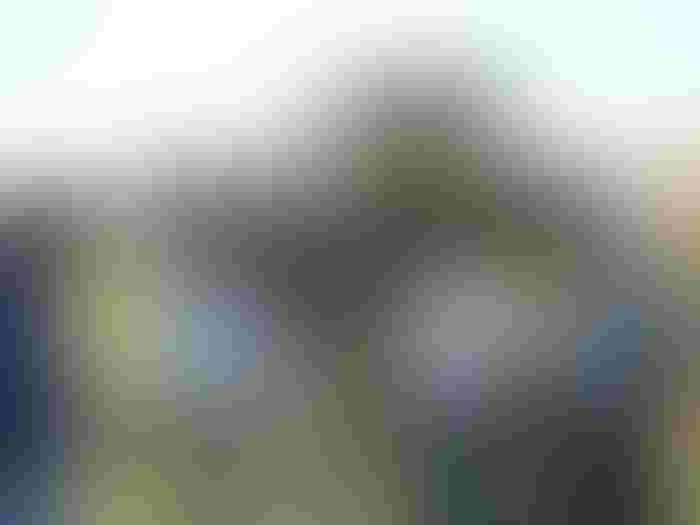 <p> <em><strong>BRENDA ORTIZ, who is with the Alabama Cooperative Extension System, explains precision agriculture technology to a group of Alabama growers.</strong></em></p>
Of all the challenges Brenda Ortiz encountered upon her arrival in the United States a decade ago, it was the American views on lunch that she found most flustering.
In her native Colombia, lunch, typically characterized by bountiful helpings of rice, meat, vegetables and soups, is the principal meal. She admits never becoming fully acclimated to the paltry American mid-day fare of sandwiches and salads.
As with everything else, though, Ortiz has adapted. That is what she does — what she's always done.
Her unusually adept command of English perhaps affords the clearest insight into this finely-honed skill.
A decade ago, English language mastery was the biggest obstacle standing between her and her long-term goal of completing a doctorate in agricultural engineering at an American university.
"I knew that if I was coming to the United States to pursue a Ph.D., I would have to understand everything and communicate effectively," recalls Ortiz, who now works as an Alabama Cooperative Extension System agronomist and is an assistant professor in the Department of Agronomy and Soils at Auburn University.
She enrolled in one of the nation's premiere immersion programs at the University of Missouri at Columbia.
"I chose Middle America because I wanted to be exposed to a clear American accent but, I also wanted to be as far removed as possible from Latin American culture.
"Otherwise, I feared I wouldn't master English as quickly."
This marked the first time she had ever left Colombia, but she never looked back and she was determined to leave nothing to chance.
Ortiz's ability to adapt quickly is a skill born of curiosity, reflected in what she readily concedes is an all-consuming passion for scientific investigation and discovery. For as long as she can remember, Ortiz has dealt with an almost insatiable curiosity about how the world works, particularly as it relates to nature.
This is what drives her and brought her to the United States to pursue her doctorate.
Growing up in Cali, a large west Colombian city nestled in a fertile valley bracketed by two mountain ranges, one could hardly ignore the region's awesome natural splendor or the thriving and highly diversified farming sector that had sprung out of its rich soils.
Fascinated with machinery
Equally fascinating to Ortiz was all the machinery used to process sugarcane.
"I always was so intrigued with the steps involved, and that's part of the reason why I'm working in agriculture right now."
Her maternal grandmother's coffee farm and her paternal grandmother's sprawling back yard also served as formative influences.
"I can remember digging holes in my grandmother's backyard and closely observing the different soil colors that turned up," Ortiz says.
"Why is the soil different colors and why does it feels so different? I began asking those kinds of questions even then."
She credits her parents, particularly her father, a professor of technical drawing at a local technological institute, with helping cultivate her passion for discovery.
"I got a lot of things from my father — he was always intrigued with little details and always trying to explain the principles that account for why something is happening."
A handful of undergraduate professors also encouraged her. Early in her undergraduate career, Ortiz exposed herself to research in several different disciplines, often volunteering to help professors and researchers gather their data for free so she could gain a deeper insight into how scientific research was conducted.
"Sometimes this field work took all day, but that was fine because I was learning," she says.
One mentor, Oscar Daza, who noted her capacity for learning and her self-motivation, encouraged her to gain fluency in English and to pursue graduate study in the United States.
"He was always pushing me and asking questions," Ortiz recalls.
"He was always giving me advice and encouragement."
Through Daza's efforts, Ortiz eventually enrolled at the University of Georgia to complete her doctorate in biological and agricultural engineering with an emphasis on crop modeling and precision farming. A big emphasis of her coursework was on data management and technological adoption, particularly precision farming.
"I came out of this with a lot of experience in research and Extension with precision farming and an emphasis on agricultural systems, and I wanted to combine all of these insights to make a difference in farming."
She sees her job as providing Alabama row-crop producers with not only a big, but a highly nuanced picture of how they can better understand the role that climate and other crop-limiting and reducing factors play in yield reduction and how to address these.
She's striving to instill producers with a deeper appreciation for environmental stewardship in a future when resources will be scarcer than ever.
"If we want to produce food, we're going to have to become more efficient in resource use but also minimize the impact we make on the environment," Ortiz says.
This sort of applied, practical research and knowledge transfer associated with Extension work is one of the reasons why Ortiz is so enthusiastic about her work.
"I have a real passion for applied research," she says. "It makes me happy to see farmers making changes in their farming practices based on the findings we present."
"I could fill the cabinets in my office full of research papers, but my overriding goal is to ensure my team findings are providing real-life solutions to farmers."
(Alabama growers are rapidly incorporating precision agriculture into their operations. For a look into that situation see Alabama growers reap big savings with precision ag. Precision farming is also playing a large role in peanut profitability in the South. For that story, click here).
Subscribe to receive top agriculture news
Be informed daily with these free e-newsletters
You May Also Like
---