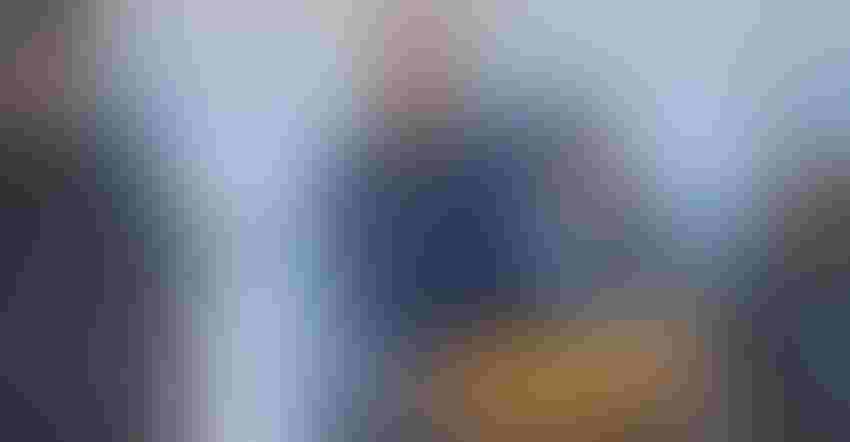 CELEBRATING A MILESTONE: John Stankey, CEO of AT&T, traveled to Evansville, Ind., to recognize the success of a public-private partnership that will bring high-speed internet to 20,000 rural residents in the region.
Photos by Darrell Boone
It's not every day the head of the world's largest telecommunications company stops in at a farmers market in southwest Indiana. But then AT&T CEO John Stankey wasn't exactly there in Evansville to buy pumpkins.
Rather, his presence on Oct. 5, along with that of a small army of AT&T staffers from around the country, underscored the significance of AT&T's work with local officials to bring high-speed fiber broadband to rural Vanderburgh County. And Stankey used the occasion to cast his vision for the future of an America that was no longer divided between the digital haves and have-nots.
"This problem is often referred to as the 'digital divide," but I like to think of it as accommodating basic equity," Stankey says. "This is for those people who haven't had the opportunity to use the internet to the extent many of us today take for granted.
"Now farmers will be able to upload large files direct from their combines to their agronomists or equipment dealers. People will have expanded access to economic opportunity and health care. It will drive economic innovation. And people will be able to communicate with those they love and want to talk with."
The occasion for Stankey's presence in Evansville was to celebrate the first customers receiving high-speed fiber internet access, nine months after AT&T signed a contract to bring that service to the 20,000 homes, farms and businesses in rural Vanderburgh County.
Currently, 2,000 homes have received the new fiber broadband, with the entire project slated to be completed by November 2023. When rural residents receive the new service, they will have internet access with symmetrical (equal) upload and download speeds of 1 gigabyte, which is about 25 times faster than cable.
First in nation
The partnership between AT&T and Vanderburgh County, the first of its type in the United States, came about as a result of some forward thinking and creative efforts on the part of local county officials.
Led by county commissioner Cheryl Musgrave, the county received funding from the federal government under the American Rescue Plan Act of 2020. With that support, Vanderburgh County was able to contribute $9.9 million in public funds to the project, while AT&T covered the remaining $29.7 million.
Stankey thanked Musgrave for her efforts and credited her for creating the conditions that made the project possible. He also clearly signaled AT&T's intent regarding future possibilities in other parts of the country.
"I'm really excited and incredibly proud to be partnering with you for what we're doing here, and believe that AT&T can do this and have a viable business model that will allow us to build fiber broadband into the unincorporated portions of the county," he says. "This is an example of a great public-private partnership. We want this to go well and for our customers to be happy with it. But more importantly, we want this to be an example for other places in the United States to follow similar models."
National broadband policy
Stankey then hearkened back to a time when much of rural America had no telephone service.
"Back in the 1930s, someone had the idea for a policy that every household should have a telephone, and that policy turned out to be highly successful," he says. "That was not only because it was socially important, but also because it would be a great economic engine for this country. The notion of universal service was born, and a deliberate policy was put in place in the 1930s for that to occur."
Stankey notes 25 years after the commercial founding of the internet, there is still no national policy to connect every American to high-speed service.
"So when we start to think about creating that equity, this is a wonderful opportunity for us to understand a model that actually starts to look at how the United States builds a policy that makes sense for America," he says. "We're starting to see that happen in places like Vanderburgh County, Ind., where informed policy comes together with private capital, and today is starting to make this a reality."
'Getting mad' gets results
Vanderburgh County Commissioner Cheryl Musgrave was the point person for accomplishing a first-of-its kind public-private partnership in the U.S. between a local government and AT&T, the world's largest telecommunications provider. She says part of what drove her desire to make fiber broadband accessible to all county residents was to help farmers.
"Farming is the basis of our community and an incredible part of Vanderburgh County," she says. "Today's farmers need fiber to compete in today's agriculture. I wasn't going to be satisfied with any solutions that didn't serve farms, as well as our suburban neighbors."
Although her efforts were ultimately successful, they didn't come without considerable angst and determination on her part. Musgrave recounted how she had initially applied for a state grant to help expand fiber broadband in the county, only to have to withdraw the application. She was told that the application didn't qualify because of "a lot of challenges from internet providers."
Then, after receiving funding through the American Rescue Plan Act (ARPA), she again found herself frustrated. The U.S. Treasury handled those funds, and had extremely stringent requirements that led her to believe the money wouldn't go nearly far enough.
"So, I got really mad, and set out to prove to the U.S. Treasury that their requirements were absurd," she says.
This time she sat down with engineers and her legal team, and using a request for proposal process, made the county's plan conform to the ARPA requirements. Musgrave was certain that nothing affordable would come from their efforts, but discovered that sometimes it's nice to be wrong.
"We got three responses from providers, with the first two being for very small geographies in the county," she says. "Then we got the AT&T response, which was a very affordable and comprehensive solution. So we entered into a contract."
"We got this done, basically because I persevered," she says. "I didn't realize that AT&T was looking to launch their rural broadband business. It wound up being a case where opportunity met preparedness, and we just found each other." 
Boone writes from Wabash, Ind.
About the Author(s)
Subscribe to receive top agriculture news
Be informed daily with these free e-newsletters
You May Also Like
---