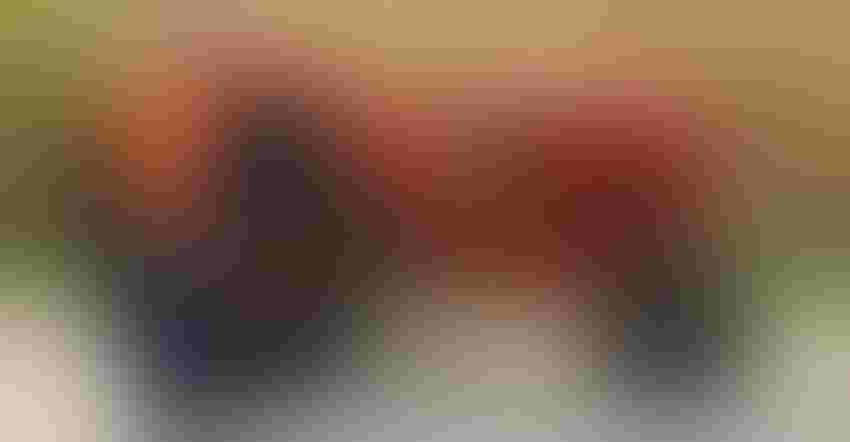 SENTIMENTAL FAVORITE: In 1963, the U was basically retired and parked in the shed until 1985 when Gerald Priesgen's brother-in-law, Donald Multhauf (shown), brought the tractor back to working condition.
Harlen Persinger
When a model 1936 Allis Chalmers U rolled off the assembly line in West Allis, Wis., the brand-new machine remained on an area dealership lot for 24 months. Eventually, George Friday purchased the tractor but then sold it in 1940 to his neighbor Eugene Multhauf from Rubicon.
"At that time, my father-in-law farmed 120 acres and teamed the U with a model Allis Chalmers WC. It became his main workhorse and pulled the three-bottom International plow, Gehl chopper; handled disking, dragging and other tillage chores; plus operated a threshing machine for a local crew," Gerald (Butch) Priesgen of Rubicon says.
"In 1962, at the age of 13, I drove the U for the first time," he adds. "After Eugene made the first round on 20 acres with a 12-foot John Deere spring-tooth harrow, he told me to finish the field. When I took off and opened up the throttle, it was scary for a few minutes and quite a rough ride. However, in no time I felt like I was king of the hill and a real big shot, teeming with tons of pride."
There were 19,009 models of this standard-tread tractor manufactured between 1929 and 1952. Features included a wide front-end, manual steering, hand crank starter, four forward and one reverse gear, one hand brake on the left side, PTO, belt pulley, seat frame (no spring action) with a 2-inch cushion, side fenders, 38 hp, and a 5.2L 4 cylinder gas engine.
Tires bring fame
The U was not a particularly advanced tractor, nor did it make huge impact for Allis Chalmers or on agriculture. Instead, it was the U's switch to pneumatic rubber tires from steel wheels by Harry Merritt, Allis tractor division manager, that helped this machine make history.
After being road-tested, those newly designed tires teamed with the Persian color sold like hot cakes, and steel wheels soon littered junkyards across the nation. The change will be forever associated with one of the most profound advances in tractor technology.
By 1963, Multhauf had purchased two bigger machines, a model 1954 Massey Harris and a model 90 super Massey Ferguson. The U was basically retired and parked in the shed until 1985 when Priesgen's brother-in-law, Donald Multhauf, brought the tractor back to working condition. He cleaned everything, fixed the dents in the fenders and added new paint. And since the tractor was always greased and had regular scheduled oil changes, the engine has never been worked on.
"The U came to me in 1990," Priesgen says. "From 1996 to 2004, I drove it to the Baraboo Steam Show but now just take the tractor out for joy rides twice a year.
"Since cranking has become somewhat cumbersome, I'll give it a quick pull to fire up the engine," he says. "Over the course of 80 years, the Allis Chalmers U shares a unique heritage with our family and has provided a host of unique memories for my wife, Betty, and son, Troy. Without a doubt, it will always be our favorite tractor."
Persinger writes from Milwaukee. To have your favorite tractor featured, email or send in a photo of yourself with your tractor, along with a 300-word write-up about the tractor to [email protected] or Wisconsin Agriculturist, P.O. Box 236, Brandon, WI 53919.
Editor's note: Gerald (Butch) Priesgen passed away recently.
Subscribe to receive top agriculture news
Be informed daily with these free e-newsletters
You May Also Like
---