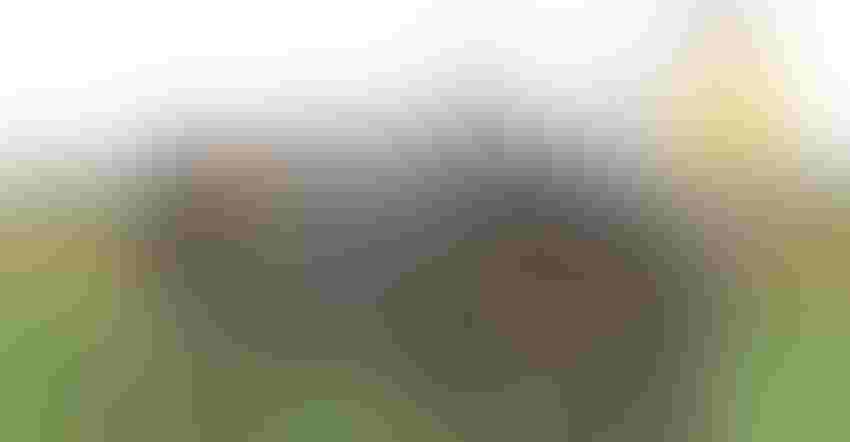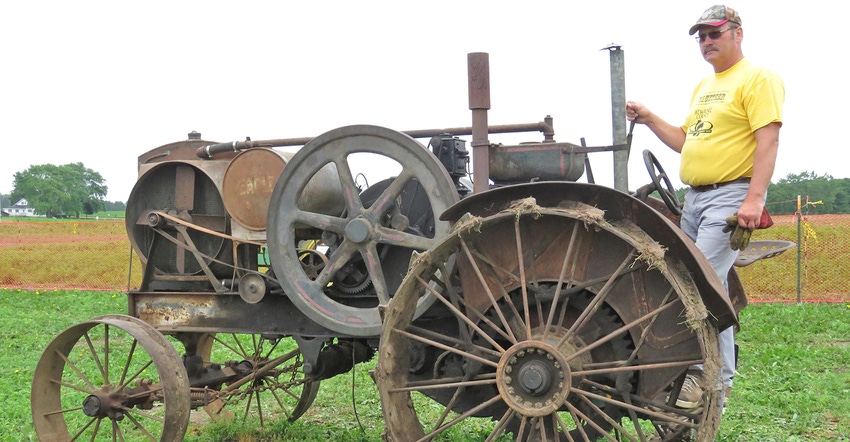 OLD FRIEND: "The Eagle was primarily used for belt work," says Doug Zillmer. "They operated median-size threshing machines and corn shredders, handled silo filling, and were used for sawing wood."
Harlen Persinger
Reaching 100 years is truly a milestone for a tractor. That's the history capsule for a 1917 Eagle Model F 16-30 owned by Doug Zillmer, who milks 80 cows and raises 450 acres of hay, corn and winter triticale near Algoma.
The machine was built at the Eagle Manufacturing Co. in Appleton, which was founded in 1888. In 1913, Eagle introduced the two-cylinder Model D series to meet farmers' demand for a lightweight tractor. These were soon followed by the well-known Model F and Model H series.
"I'm the third owner and purchased the F 16-30, which has a serial number of 631, from an older farmer from Baraboo in 1996," Zillmer says. "The Eagle was primarily used for belt work. They operated median-size threshing machines and corn shredders, handled silo filling, and were used for sawing wood. Of the 2,500 tractors made, 40% were shipped to Canada."
Besides featuring the two-cylinder engine, the tractor has chain steering like a steam engine, an open governor and 38-40 inch flywheel, open gear drive, 8-inch bore and chinch stroke, 20-gallon kerosene tank, angle iron lugs, steel wheels and a top speed of 3 mph. Even at the century mark, the machine is mechanically sound, and the drawbar and gearing are in excellent condition. To get the machine running at total capacity again, Zillmer cleaned up the fuel tank, which is not the original one, put in a set of rings and replaced the valves.
The Kewaunee County farmer currently owns 120 tractors ranging from a 1916 Case 10-20 to a 1991 model John Deere 2555. His inventory includes six other Eagles: two 1928 Model Es, a 1929 Model H, a 1936 Model H, a Model 6-A and a 1936 Model 6-C.
"Today the [Model F] Eagle goes to shows and operates the older threshing machines. I find enjoyment in chatting with folks and hearing stories about the models their grandfathers owned. This rig has the best running flywheel, and I feel blessed to own the F 16-30," Zillmer adds. "There still may be 2,500 of these engines left because it was like a religion for farmers to own them so they could be passed in their estates to the next generation."
To have your favorite tractor featured, send in a photo of yourself with your tractor, along with a 300-word write-up about the tractor to: Wisconsin Agriculturist, P.O. Box 236, Brandon, WI 53919.
Subscribe to receive top agriculture news
Be informed daily with these free e-newsletters
You May Also Like
---