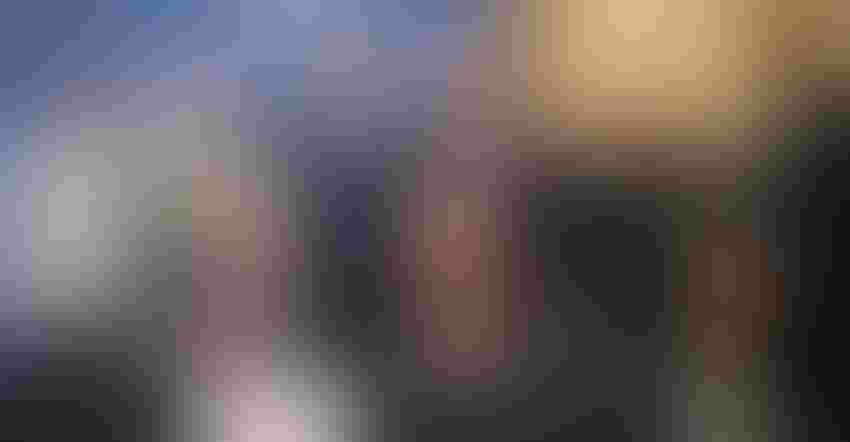 RIGHT-TO-REPAIR: David Gilmore, vice president of sales and marketing for John Deere, signs memorandum of understanding with Zippy Duvall, AFBF president and Georgia farmer. In the background are several state Farm Bureau presidents who were also involved in securing the MOU and on the far right is Collis Jones, vice president of U.S. Policy and Strategy for John Deere.
Holly Spangler
The American Farm Bureau Federation announced a new memorandum of understanding with John Deere during the group's annual convention in Puerto Rico. Farm Bureau President Zippy Duvall says it will address long-running issues farmers and ranchers have had accessing tools, information, and resources.
"A piece of equipment is a major investment. Farmers must have the freedom to choose where equipment is repaired, or to repair it themselves, to help control costs," Duvall says. "The memorandum of understanding commits John Deere to ensuring farmers and independent repair facilities have access to many of the tools and software needed to grow the food, fuel and fiber America's families rely on."
According to the memorandum of understanding, John Deere will ensure that farmers or their representatives have electronic access to its tools, specialty tools, software and documentation. It will also ensure that farmers and independent repair facilities will be able to access and obtain those items on "fair and reasonable" terms. Additionally, John Deere will ensure access to a customer service advisor.
In return, the AFBF will encourage state-level Farm Bureaus to recognize the commitments made in the MOU and refrain from promoting "right to repair" legislation at the state or federal level. The two organizations have agreed to meet at least twice per year to access how the MOU is working and address areas of concern.
"We at John Deere look forward to working hand in hand with the American Farm Bureau Federation, our customers, in coming months and years to ensure that our customers have the right access to properly maintain their equipment, to diagnose issues when they arise and to repair that equipment in the way that that customer would like to have that equipment repaired," says David Gilmore, John Deere Senior Vice President of Sales and Marketing.
After the announcement, some questioned exactly how the new MOU would benefit farmers. According to AFBF Vice President of Public Policy Sam Kieffer, the intent of the agreement was for the Bureau to work with manufacturers to solve problems instead of pushing for legislation. He added the AFBF is also having conversations with other manufacturers in hopes of striking similar agreements.
A key area of distinction is the difference between right to repair and right to modify. Some groups are pushing for access to control codes in machines to make changes they feel necessary. Kieffer says the MOU does differentiate between the two ideas – repair or modify. He explains that back in 2019 when the organization started discussing creation of the MOU, "the marching orders to the organization was to differentiate between the two," he says. "Farmers wanted an opportunity to repair, to be able to keep that equipment moving and that we didn't want, or need, the data."
He adds that the organization respects and supports intellectual property rights of companies – a sticking point in discussions over right-to-repair legislation across the country.
About the Author(s)
Subscribe to receive top agriculture news
Be informed daily with these free e-newsletters
You May Also Like
---