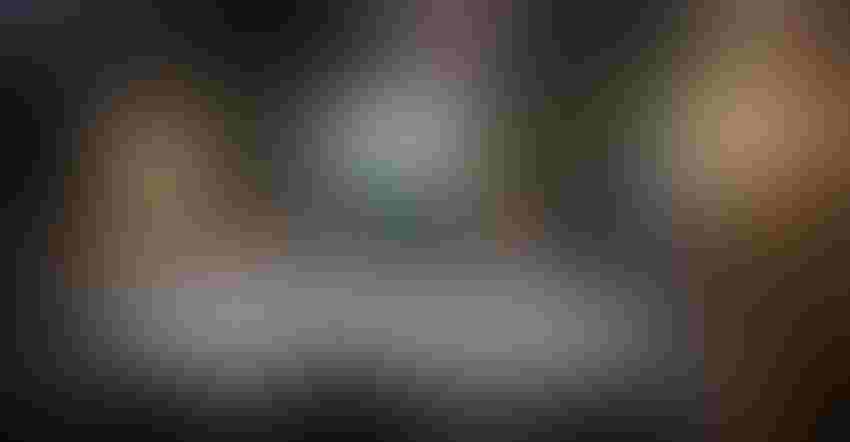 ROLLING OUT THE LATEST: The new Claas 8000 Series combine got new livery for 2020, but also those bin extensions, which, while for the U.S. market, are now popular globally. Maury Salz, outgoing president of Claas of Omaha, shares that story when discussing his career with the company.
Willie Vogt
The farm equipment industry is rich with history, and sometimes it's possible to hear stories directly from those who lived some key milestones as part of their career. Recently, Farm Progress connected with Maury Salz, retiring president of Claas of Omaha, and his successor, Matthias "Matt" Ristow, to learn more about how the company has grown and flourished.
For clarity, Claas of Omaha (Neb.) is the manufacturing side of the Claas brand in the United States, while Claas of America is the sales and marketing side of the company. Salz recently retired from Claas of Omaha after 19 years with the business.
"I actually started in Omaha for about three days, and then I hopped on an airplane and went to Germany," Salz shares.

MOVING ON: Maury Salz is retiring as president of Claas of Omaha, the manufacturing and engineering side of the farm equipment maker in the United States. He shared some of his experiences with the company over the past 19 years.
He explains that the original plan was that he was coming in as the new North American engineering manager — but kind of undercover, since the business had an engineering manager. "He was a German, but the plan was that he was going back, and I was coming in," Salz says. "I came in as an engineering manager covert trainee."
The idea, back in 2001, was that Salz would spend two or three years in Germany getting to know the ways of Claas manufacturing, get up to speed on the company's approach, and then return home and replace the current manager. "And so that was a good plan until December of 2001," Salz says.
That was when Caterpillar announced it was moving out of the agriculture equipment business, which mean Claas would be on its own in the combine market, with the Lexion that Caterpillar had been selling under its own brand.
Theo Freye, who at the time was president of Claas of North America, called Salz in Germany and said, "Son, come home," Salz recalls. "I hop on a plane Dec. 31, and I came back to Omaha and stepped in."
From supplier to stand-alone
Claas was already marketing forage and haymaking products under its own brand in the United States at the time, and gained a solid foothold in that market. The Cat-Claas arrangement also gave that new Lexion combine a kind of bootstrap lift into North America. When the arrangement ended, Salz explains that Claas kind of was back at square one with dealers.
That meant setting up new contracts and working with those Caterpillar dealers that wanted to remain in agriculture. Of course, the same was happening with the Challenger brand that ended up being owned by Agco.
Salz remembers the time, which included some employee losses, with some German expats returning home. As each did, he says, "I would pick up their job." It was a chaotic time, but as Salz reminisces about it, you can tell he recalls the challenge with the 20/20 hindsight of someone who ran a gauntlet and came through better for it.
A big advantage was getting closer to the customer. Under Caterpillar, Salz shares that connecting to customers through dealers meant working through layers of Caterpillar management. That ended when Claas went on its own. "It was quite liberating in the sense that we could really start working directly with dealers," he says.
That also meant the company was getting solid feedback on what could be done to make the combine better. He acknowledges that the Claas Lexion started as a European combine, better built for the wheat market. But even that high-yield wheat was no match for high-yield corn when it comes to handling residue and material through the machine.
Moving out from under Caterpillar also meant that Claas had to create a stand-alone company, which Salz says follows a global model of company manufacturing. As noted, there are two parts to Claas in North American — Claas of Omaha and Claas of America. The former is focused on design, engineering and manufacturing, while the latter markets and supports the machines in the field.
That was a significant change for the business and it took about four years to make real, but Salz says from that time on, it was "nothing but up."
Engineers in Omaha
The work of designing new equipment isn't easy. You know the basic task at hand, but getting that done can be achieved in a number of ways. The Lexion combine got a leg up in the market with access to Caterpillar dealers. Salz says that when that relationship ended, work began recruiting dealers — including new contracts for those Cat dealers.
But now the company was on its own. He acknowledges that Caterpillar was supportive of market moves, including use of the Cat logo for some time, as well as the familiar Caterpillar yellow. But the work also began on creating the right product for the U.S. market to carry the Lexion name.
"The key functionality for the engineering team in Omaha is interpretation of the customer's requirements," he says. "It's one thing to say [a piece] needs to be this wide, but then filtering around that to know how well this equipment will work in North America."
He says that new ideas in what amounts to a smaller, family-run business can be challenging. Choices for design, technology and other features have to be considered in a global as well as a local context. But eventually, the North American engineers made their case.
"That's how we got Trimble and Precision Planting integration on our products," Salz recalls. "That came from our voices inside Omaha, communicating that the precision farming [technology] from Europe does not work in North America."
He adds that getting to the 8000 Series Lexion combine took years, and that even the hopper topper was a challenge to get incorporated, though Salz adds that this feature is now popular in Europe.
But Salz points to more challenges U.S. farmers face with a combine. He notes many think about row crops and wheat, but it was soybeans that drove equipment changes. "If you think about soybeans with the row crop of corn, of course, row crop doesn't matter so much in soybeans," he notes. "But cutting crops close to the ground is the main difference in soybean harvest versus corn or wheat. So that drove a significant number of changes needed by our machines."

MEET THE NEW GUY: Matthias "Matt" Ristow has been with Claas for six years and takes the reins from Maury Salz. He acknowledges the powerful team the company has built over the years as important to his work going forward.
The new guy
As Salz leaves his role at Claas of Omaha, he notes he'll remain active in the American Society of Agricultural and Biological Engineers. The new Claas of Omaha president and managing director, business administration, is Matthias "Matt" Ristow.
Ristow joined the company six years ago, first as vice president of finance and operations. He acknowledges the support Salz is providing during the transition; but as he takes the reins of the company, he notes the work on continuous improvement of product. His best feedback comes when sales and service folks from Claas dealers across the country travel to Omaha and see the facility.
"They tell us how happy they are to have the machines, and how little they have to do when the machines are delivered," Ristow says.
That's valuable, because machine setup can be costly for dealerships.
In addition, the Omaha facility is the first Claas factory to produce the same product as the company was building in Germany. Adds Salz: "[The farmer] is getting a North American-built combine with world technology in it, with a lot of the strengths of the European heavy-yield crops."
Ristow notes that when he started six years ago, he came to a company he discovered had a knowledgeable team for the market. "And I think this is one of the success factors of Omaha: that we have worked very well as a team and look out for each other," Ristow says. That includes an openness to share new ideas that can lead to improved products.
That team attitude goes farther. Ristow notes that the pandemic has hit different parts of the world in a range of ways. Yet he's proud to note that Claas of Omaha has not stopped production, and that no workers in manufacturing refused to work. While the company has a smaller volume than some, the line hasn't stopped. He adds that globally, the Omaha facility was the only one not closed due to the virus.
Claas continues its march forward. The "seed green" version of the new combine integrates what was once the Cat Lexion into the full line as the Claas Lexion. Salz watched over that process, and moves on to retirement after going through some significant changes in the industry.
About the Author(s)
Subscribe to receive top agriculture news
Be informed daily with these free e-newsletters
You May Also Like
---