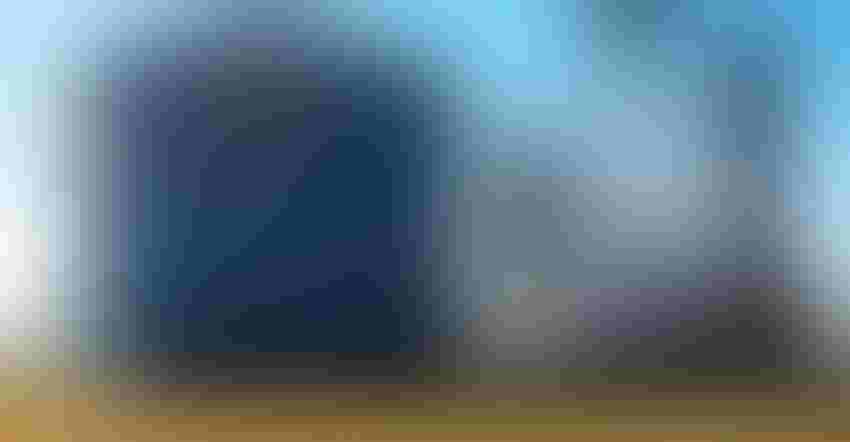 INSECT FIGHT: Using a grain cleaner and providing more airflow can help control insects in organic grain systems.
Organic grain farmers have much fewer options when it comes to controlling insects post-harvest. That's where practices such as integrated pest management (IPM) come into play and are crucial to ensuring the crop doesn't get damaged in the bin.
Several species of beetles and moths, such as the sawtoothed grain beetle or granary weevil, can attack stored grain. Here are seven tips from Penn State Cooperative Extension that can help you ensure your stored organic grain doesn't fall prey to hungry critters:
1. Use a grain cleaner. Fine materials in grain can attract insects. Proper combine adjustment should be used to reduce the amount of grain breakage, fines and foreign material.
A grain cleaner can be used to improve storability. A good example is a gravity cleaner that allows grain to pass over a screen during housing.
With a perforated auger, grain is conveyed over the auger and the fines are separated. This type of cleaner has limited effectiveness when the auger is operating at 100%
Rotary screens can also be used to separate fines from grains while aspirator precleaners use airflow to remove dust, chaff, husks, awns and other lite materials.
2. Monitor stored grain. Various kinds of traps are available to monitor for stored grain pests. Depending on the pest, lures may include female sex pheromones, male aggregation pheromones or food attractants.
Temperature, carbon dioxide and feeding damage are signs of insect infestation. Insects release heat as they respire, and at high insect densities "hot spots" can be created. You can monitor temperatures using a probe, but hot spots can be very localized and hard to detect.
Increased carbon dioxide concentration in the grain indicates the presence of insects. You can use monitoring tubes, placed in the top and the center of the grain, and sample the air every two weeks.
3. Keep bugs out. There are many ways to keep bugs out of the grain bin.
A small-perforation bin floor will slow the build-up of fines beneath the floor. Stirrers cause fines that can harbor insects to move down and collect at the bottom of the bin.
4. Re-distribute grain for airflow. The top of the grain mass should be level to facilitate air flow. Improper leveling results in moisture wicking up and accumulating in the peaked grain mass.
Even in bins with stirrers, fines tend to concentrate in the center of the bin, potentially reducing air flow in the core and allowing hotspots to develop. The outside edges of the grain may appear to be dry, but the core of the grain mass is moist, creating a habitat that can harbor insects.
Periodically remove grain from the core and redistribute it to the top of the bin.
5. Use vacuum sealing. Hermetic sealing, or vacuum sealing, to generate a low-oxygen condition is allowable for organic grain storage. Oxygen levels of 1% to 2% are insecticidal to all major stored insect pests when applied at common room temperatures for one to four days.
6. Cool stored grain. The use of low-volume airflow rates to cool stored grains (aeration) is an important component of stored grain pest management. Airflow rates are usually specified as 0.1 to 0.5 cubic feet per minute per bushel. Clean grain contributes to uniform airflow and successful drying.
Because many stored grain pests originated in the tropics, they are susceptible to cold temperatures. Most require temperatures above 60 degrees F to reach damaging populations. Some need temperatures above 70 degrees. Therefore, storing grain in a cool place will slow pest development.
Cooling the stored grain mass to between 50 degrees and 55 degrees causes insects to become inactive. Periods of warm fall temperatures can increase the risk of late-season infestations. In spring, the grain mass should be warmed to a minimum of 60 degrees to prevent condensation of moisture on bin walls and subsequent damage from insects and mold.
7. Create a low-oxygen atmosphere. Insects need oxygen to survive. Carbon dioxide or nitrogen, both naturally occurring gases, can be used as fumigants to create a low-oxygen atmosphere. Creating a low-oxygen atmosphere requires specialized equipment and airtight containers, bins or silos.
At 2% oxygen, adult insects can't survive when maintained for 21 days with a grain temperature above 77 degrees. For grain below 77 degrees, this period is extended to 28 days. The oxygen concentration in the bin or silo must be checked the day after fumigation and may need further purging to remove oxygen that has diffused from the grain.
Source: Penn State University
Subscribe to receive top agriculture news
Be informed daily with these free e-newsletters
You May Also Like
---