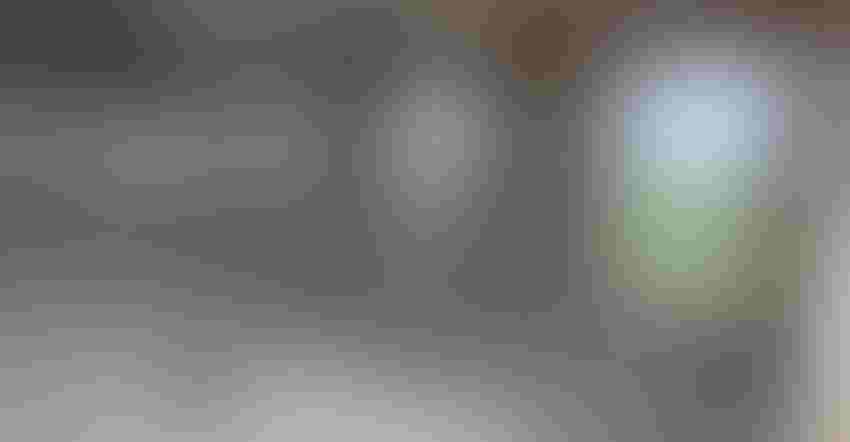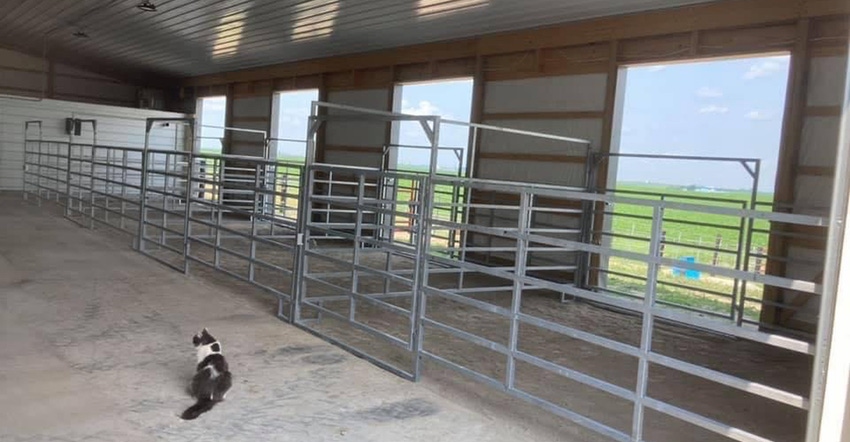 SKILLED WELDING: Eric Amos does repairs, but he also builds pens and gates like these in his business, Amos Welding, Rushville, Ind.
Amos Welding
"Sorry, we're going to have to fix it." That's a statement farmers dread. Breakdowns lead to delays in planting, harvesting and day-to-day tasks. Welders come to the rescue, but it takes time to complete the job.
Having your own welding equipment can speed the process. Eric Amos, owner of Amos Welding, Rushville, Ind., outlines the top six pieces you should have around your farm shop:
1. MIG welder. "A MIG welder is at the top of the list and can fix anything — specifically, a Miller 252 MIG welder," Amos says. He says a MIG welder is an easy welder to run. "I grew up using the Miller 252. I know it, and it's easy to use. Once you use a piece of equipment for so long, that's all you want to use."
2. Metal saw. Having a dry-cut metal saw is extremely important, Amos says. His preference is a Milwaukee Metal Saw. Longevity makes it a desirable piece of equipment. "I have cut up to 1-inch-thick material with my Milwaukee," Amos says.
3. Welding table. There are a ton of options for welding tables, Amos says. He prefers a 4-by-8-foot table that is 5/8 inch thick. He uses a mild steel table with a solid top.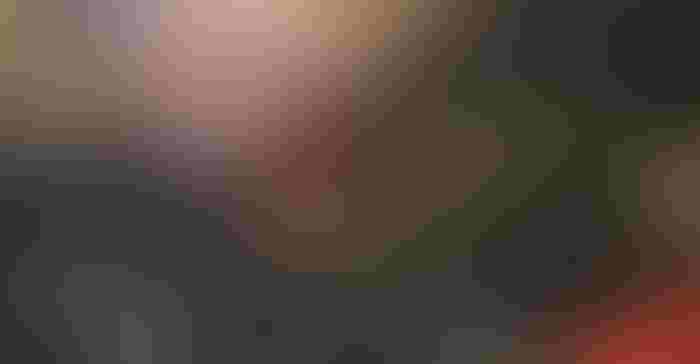 4. Welding helmet. A good welding helmet is necessary for your safety, Amos says. A lot can go wrong with a cheaply made helmet. Amos uses a Shade 11 auto-darkening welding helmet. The minimal lens requirement for a welding helmet is Shade 9.
5. Welding gloves. A pair of suitable gloves are essential to ensure your hands are protected from flying scraps or flames and sparks coming from the metal. MIG leather gloves are the best suggestion, Amos says. They're durable and fire-resistant.
6. Tape measure. A good tape measure is a small item, but it is imperative, Amos says. It's often abused by farmers because it seems so minor. Amos recommends keeping a Stanley metal tape measure on your shop table. He says his family always used that type growing up, and he continued to use it as he began welding himself.
More welding tips
The best source for buying welding equipment is cyberweld.com, according to Amos. Buying good equipment and having it on-site will allow you to complete projects and get back to work.
Here are three common repairs welders often see coming into their shops, Amos says. If you understand why the equipment wears out, it might be possible to delay the need for repairs.
Grain trailers, specifically axles. Farmers overload trucks and crack main beams under them when they twist and turn while driving, Amos says. This keeps the truck down for about a week to repair.
Field cultivators. Know the limits of the equipment you use, Amos says. For example, if you don't know the working depth of the cultivator, you could pull the hitch apart if it runs too deep.
Semitruck fuel tanks. Keep a close eye on semitruck fuel tanks. As time goes on, the band that the fuel tank rests on will begin to oxidize.
Hauger is a senior in ag communication at Purdue University.
Subscribe to receive top agriculture news
Be informed daily with these free e-newsletters
You May Also Like
---