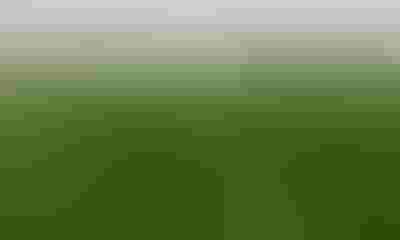 Hopefully the farmers managing the Crop Watch '16 field don't believe talking about something bad will make it come true. No one wishes hail on anyone. But this is the time of year when summer storms tend to be prevalent, and corn is lush and vulnerable.
Take a look at these three examples from a previous season. The pictures are all from the same general location, but not the same field. This particular hailstorm covered an area encompassing several miles, which is unusual for hailstorms. The same storm damaged buildings near where the worst hail damage occurred. Most corn was just above waist-high when the storm hit.

PRIME TARGET: Corn is vulnerable to hail at all stages. Hail at this point in the season can cause considerable damage to leaves.
Information about defoliation was gathered from the Purdue University Extension Corn & Soybean Field Guide. Thanks also to Dave Nanda, a crops consultant with Seed Consultants Inc., 2016 sponsor of Crop Watch. Nanda provided information for this story.
Here are three examples of the damage hail can have on corn.
1. A cornfield on the outer edge of the storm suffered minor to moderate damage.
Any corn hit by hail looks tough soon after the storm, Nanda notes. Sometimes it's best to walk away for a few days before assessing the damage. If a storm hits at this time of year, it's generally too late to consider replanting anyway, he notes.
Based on the defoliation table in the Purdue guide, if corn was at the 12-leaf stage and 25% of the leaf area was destroyed, the potential yield loss would only be 2%. If original yield potential was 200 bushels per acre, that means the crop could still yield 196 bushels per acre.
Potential yield loss for 25% total leaf loss decreases for younger plants and increases for older plants. However, it peaks at 9% for plants tasseling. That means in theory, corn could still yield more than 180 bushels per acre if the original potential was 200 bushels. This assumes leaf loss was the only concern, and there wasn't damage from bruised or broken stalks.
MINOR TO MODERATE HIT: This field was on the outskirts of a major hailstorm. Leaf tissue was lost, but yield loss turned out to be negligible.
2. Corn that escaped the "steamrolling tile" still suffered significant damage.
Wind whipped this tile across the road from a field where it was being stored for installation in another field. One similar piece of tile to the one pictured traveled an estimated half mile into the field, knocking down corn in its path.   
Suppose this corn was at the 14-leaf stage and yield loss due to defoliation was estimated at 50%. The table in the Purdue guide suggests 13% yield loss. Instead of 200 bushels per acre, the new yield potential after the storm would be 174 bushels per acre. What actually happens after this type of damage depends upon weather conditions during the rest of the season, Nanda says.
If corn was tasseling and 50% of all leaf tissue was destroyed, yield loss would be estimated at just under one-third of the original potential yield. That would put remaining maximum yield potential at somewhere around 140 bushels per acre.
MAJOR HIT: No, the farmer didn't steamroller his field. It looked like it wherever this large piece of plastic drainage tile rolled through the field. Wind brought it over from an adjoining field awaiting tiling.
3. Corn closer to the center of the storm got smacked hard!
Notice dead tissue on the ground, beginning to dry up just a couple of days after the storm. If 75% of the leaf tissue was lost on 14-leaf corn, the yield loss would be estimated at 28%. That amounts to 56 bushels of lost yield potential per acre. On 10-leaf corn, the same damage would only knock yield by about 10% or less. But if the corn was tasseling, yield loss would be greater than 60%. What was 200-bushel-per-acre corn would now be 75-bushel-per-acre corn.
At 100% defoliation, yield loss for 10-leaf corn is only gauged at 16% in the Purdue guide. However, if corn was tasseling, it would be a total loss. In this particular storm, a field of 14-leaf corn was totally destroyed. The loss due to defoliation was estimated at just under 50%. However, stalks were broken in places, many at ground level, contributing to the total wipeout in that case.
SEVERE BLOW: This field was near the center of the same large hailstorm. Right at the epicenter there was nothing left but pieces of stalks. It was 100% wiped out.
Subscribe to receive top agriculture news
Be informed daily with these free e-newsletters
You May Also Like
---