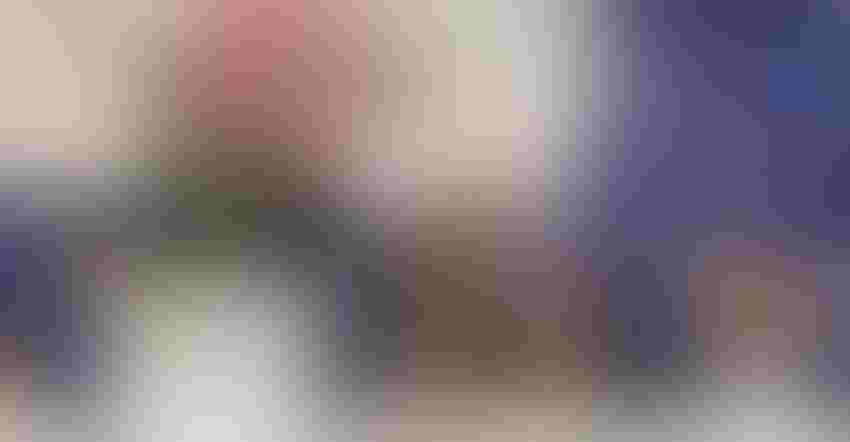 Robert Saunders accepts the 2022 Swisher/Sunbelt Expo Southeastern Farmer of the Year award Oct. 18 at the Sunbelt Expo in Moultrie, Ga., on stage with this wife, Pat, Van McCall, the award's master of ceremony, and Georgia Governor Brian Kemp.
Willie Vogt
The anticipation in the airplane hangar finally settled. The announcement had been made. Robert Saunders shook congratulatory hands of nine farmers on the stage. He moved to the podium, where his wife, Pat, joined him as the Swisher/Sunbelt Expo Southeastern Farmer of the Year award for 2022.
"What a moment to be in this room when they brought the (U.S.) flag down the aisle … and there was total silence, and everyone stood and said the pledge of allegiance to the flag and everyone stood for the American anthem," he said. "An incredible moment to be in the room with people who love agriculture, like my family and I do, who love God like we do and have been blessed in so many ways in everything that we do."
In Piney River, Virginia, Saunders and his family grow woody ornamentals, annuals, perennials, field ornamentals, grafted trees, peaches, nectarines, apples, and Asian pears with a robust, technological approach to conservation and efficiency. The family operation began in 1915, has remained in the family since and now has wholesale customers along the East Coast.
Saunders father, Paul, passed away March 11. Saunders said his father instilled farming principles to Saunders and his six brothers. "He told us he lived a dream every day of his life doing what he loves to do every day," Saunders told the crowd. "And that's what we get to do today."
At first, Saunders said, he didn't want to return to the farm. In 1986, he graduated Virginia Tech with a BS in Agricultural Engineering. He married Pat in 1987. He went for a job offer for a textile company in North Carolina. He came back from the interview and told Pat he turned it down and decided to return to the farm. "Thank God I'm a farmer and not a textile man. What a life I've had on that one."
The overall winner was announced to more than 800 attendees inside one of the Maule Flight Inc. hangars during the opening day luncheon at the Sunbelt Ag Expo Oct. 18 in Moultrie, Ga. Saunders and nine state farmer of the year winners from Alabama, Arkansas, Florida, Georgia, Kentucky, Mississippi, North Carolina, South Carolina, Tennessee vied for the overall spot.
The overall winner is picked by three judges. This year, they were John McKissick, long-time University of Georgia agricultural economist; David Wildy of Arkansas and the overall winner of the award in 2016; and Joe West, Tifton, Ga., retired dairy scientist and assistant dean of the University of Georgia Tifton Campus.
Each state winner receives $2,500 in cash and an expense-paid trip to the Sunbelt Ag Expo from Swisher.  A Columbia vest from Ivey's Outdoor and Farm Supply is given to each state winner and nominator. Syngenta donates $500 to each state winner's charity of choice and Massey Ferguson North America provides each winner with a gift package.
As the overall winner, Saunders received an additional $15,000 from Swisher.  Other prizes for the overall winner include use of a Massey Ferguson tractor for a year or up to 250 hours from Massey Ferguson North America, a Columbia jacket from Ivey's Outdoor and Farm Supply, a Hays LTI Smoker/Grill, and a Henry Repeating Arms American Farmer Tribute Edition .22 rifle from Reinke Irrigation.
About the Author(s)
Subscribe to receive top agriculture news
Be informed daily with these free e-newsletters
You May Also Like
---