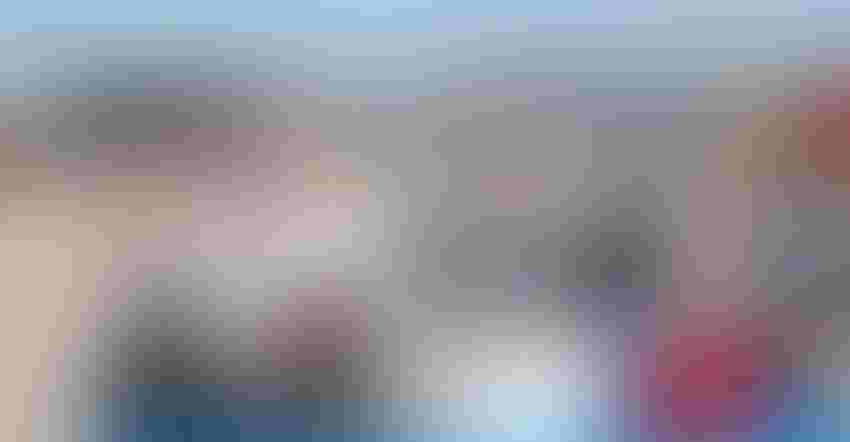 The 44th Sunbelt Agricultural Expo begins Oct. 18. A welcome return to normal, strong exhibitor lineup and attendance is expected for its full three days. And it looks like good, mild 'chamber of commerce' weather awaits it all in Moultrie, Ga.
"We are hoping for a much larger crowd this year. People are hopefully getting past the pandemic and are ready to get out there. There is a concern for people traveling with high gas prices, but if people invest their time to come, they will learn tips and techniques, whether it's about new seed varieties, soil protection and fertility, irrigation procedures, things to lower their input costs. It will allow us to improve and maintain our economic and environmental sustainability," said Chip Blalock, Sunbelt Expo executive director.
Mild temperatures are expected the week of the show, with daytime highs in mid-to-upper 60s, or near perfect weather for an outside show in south Georgia.
A highlight of the show will take place Tuesday when the overall winner will be named Swisher Sunbelt Expo Southeastern Farmer of the Year. Ten state winners attend the show to learn who will be selected as the overall winner.
Education is the key component of the show with over 300 seminars and demonstrations offered over the 3-day event.  These seminars and demonstrations are taught in exhibit areas for beef, dairy, poultry, forestry, pond management, equine and cattle management.  Farmers and ranchers attending gain beneficial knowledge on the latest in cutting edge techniques from industry leaders and university specialists. 
The Expo works with 21 different education sponsors to host a strong seminar and demo schedule.  These education sponsors include major universities and colleges with six of these having permanent exhibit buildings on-site.  
The Expo will feature Youth Educational Challenges sponsored by Country Financial for 6th-12th graders as a competitive and fun opportunity for students to demonstrate their knowledge in five different content areas.
Additionally, an Ag Mechanics contest sponsored by Farm Credit Associations of Georgia will be offered for students. Finally, the Advocacy in Action contest sponsored by Georgia Farm Bureau will be held for high school and college students with a particular interest in ag policy, law, and communication.
River Fresh, created by the Flint River Soil & Water Conservation District (FRSWCD) and run by Frenando Jackson, "Farmer Fredo," will organize the display that attracts hobby gardeners and enthusiasts alike.  A bounty of information on gardening tips, tools, healthy recipes, and more will be offered in the Georgia Metals Pavilion and in the demonstration garden.
A crowd pleaser is the 600-acre research farm's field demonstrations. These demos showcase harvesting and tillage equipment for peanuts, corn, soybeans and hay.  In addition, hay demos will include all facets of hay harvesting from cutting to baling and will provide visitors the opportunity to see 80 different types of hay harvesting equipment run in a true farm setting.
Arkansas is the Expo's 2022 Spotlight State.  Agriculture has been Arkansas' largest industry since this southern wonderland gained statehood in 1836.
Chevrolet, a ten-year partner of Sunbelt Agricultural Exposition, will feature the Chevy Truck Tour with multiple consumer engagement stations and on-site product staff.
The Expo always features an array of aromatic compliments of the delicious food sold within the grounds during the show.  In addition, many demonstration areas, including the Georgia Ag Building, the Aquaponics display, the Backyard Garden, the Georgia Peanut Commission building and the Georgia Grown Marketplace within the Family Living Building, host segments throughout the day with chefs and food enthusiasts alike.  Be sure to stop by for a sample of some scrumptious treats.
There is a daily rolling Antique Tractor Parade, the American Grand Finals Stock Dog Trials (the largest field of competition in recent Expo history), and even a Cow Milking Contest. Add in rural lifestyle fun, truck, tractor and ATV test drives, and the venue is perfect for rural enthusiasts.
The Sunbelt Ag Expo opens Oct. 18-20, from 8:30 AM to 5:00 (T,W) and 4:00 (Th).  Admission at the gate is $10 per person per day. For more information, see the show website at sunbeltexpo.com.
Subscribe to receive top agriculture news
Be informed daily with these free e-newsletters
You May Also Like
---