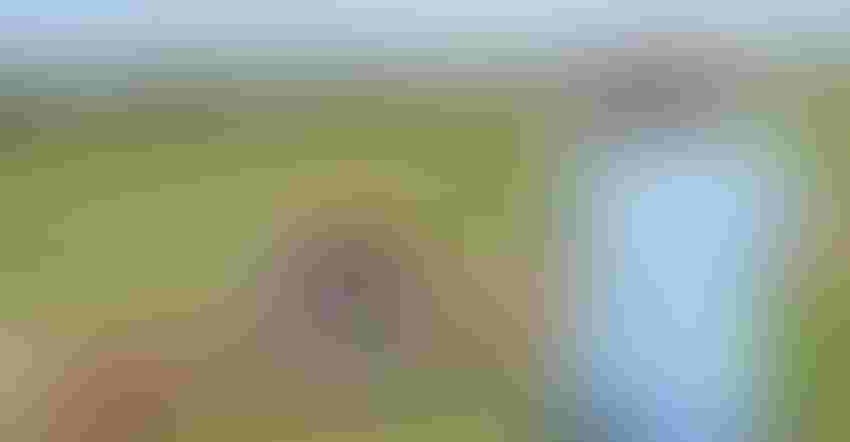 Wearing the themed "This Is My Shooting Hunger Shirt", J.P. Powell, Medina, Tenn., one of 325 shooters participating in the Tennessee Farm Bureau's Shooting Hunger fundraiser, takes aim at a pink clay target.
Brad Robb
When people or organizations speak negatively about agriculture or put down farming and farmers, it gets under Bryan Wright's skin. Wright is the director of membership at the Tennessee Farm Bureau. Five years ago, he and a co-worker were brainstorming ideas about what they could do to publicize agriculture while placing it in the positive public light in which it deserves.
The pair kept coming back to one overriding and central theme: feeding the hungry. "It just seemed like the most logical fit, because that's what farmers in this country do — grow food and fiber to feed and clothe people," said Wright. "Over the years I've learned I'd better be careful what I ask my boss for because he could approve it, and then it's up to me to deliver!"
Fast-forward to this past June 7, at the Carroll County Shooting Sports Park in Huntingdon, Tenn., where the vision of Wright and other organizers was again brought to reality. This is the fourth year "Shooting Hunger" has been held. The organization, sponsorship, and spirit of volunteerism necessary to put on a special event like this is hard to fathom, but when the cause is fighting hunger, those who have a special place in their hearts for agriculture answer the call.
Carroll County Mayor Kenny McBride is the president of the Carroll County Shooting and Sports Park. "Mayor McBride is very community-minded and understands the positive impact our events have on curbing hunger in Tennessee," says Wright. "Their efforts to prepare the park for our guest shooters and sponsors should be commended."
There were so many shooters at the fundraiser, the 65 five-man teams had to be separated into morning and afternoon flights. Like a golf scramble, each team began the event at separate shooting stations where clay targets were electronically activated to fly pre-set patterns. After each team member took their five shots and were scored, they would move to the next shooting station.
Money comes from and goes to
Money raised at the Shooting Hunger events is donated directly to regional food banks. The Mid-South Food Bank in Memphis covers those counties along the Mississippi River corridor, and the Second Harvest Food Bank of Middle Tennessee covers 46 counties in middle and west Tennessee.
"This event has seen tremendous growth since the first one was held four years ago," says Nancy Keil, chief development and marketing officer, Second Harvest. "A fundraiser of this magnitude is made possible by our friends at the Tennessee Farm Bureau, Farm Credit Mid-America, and Tennessee Farmer's Co-op. This year's event was bolstered when Ford and Archer Malmo agreed to sponsor at $20,000 each. Their kindness cannot go unmentioned or overappreciated. We are already preparing for our next Shooting Hunger event on Sept. 27, at the Nashville Gun Club."
Shane Joyner, live production manager, along with Allen Lyle and Mike Armour, grill masters, all with Tyson Farms, may have been the busiest men on site the morning of the event. Tyson Farms has been supporting Shooting Hunger since its inception. Joyner and his staff were working furiously to grill 550 chicken quarters on four huge cookers to feed the staff, volunteers and shooters.
"It's a lot of work, but we've cooked for so many events over the years, we've basically got it down to a science," laughs Joyner, as he raised the heavy metal grill lid to reveal rows of perfectly smoked chicken. "This event is special to Tyson because it not only involves farmers, it centers around one of our core corporate goals at Tyson, providing quality food to people."
Second Harvest will earmark some of the funds they receive from the event to build a new distribution center in Camden, Tenn., to better serve lower income, poverty-level families and those living in food deserts in the areas they serve. "It's difficult for us who are lucky enough to have access to food each day to grasp the fact that there are Tennesseans living in 'food deserts' where they have limited or no access to affordable or quality fresh food each day," adds Joyner.
Tosh Farms
Tosh Farms in Henry, Tenn., has been a sponsor of Shooting Hunger since the first one was held in 2015. Jimmy Tosh, along with his two sons, operate a 17,000-acre row crop farm that produces corn, soybeans, wheat, barely, and canola. They also have 36,000 sow pigs and will sell around a million top hogs in 2019. "I will always support this event," says Tosh, who earned an Animal Science degree at UT Martin in 1972. "Shooting Hunger is a well-run event, and we're proud to be a contributing partner."
Other corporate and business sponsors of Shooting Hunger include Costa Del Mar, Mack's Prairie Wings, and Yeti Coolers. By the time all the money is counted and forwarded to the food banks, Wright expects to hit the mark of one million meals donated by the end of this year. This event alone raised $65,000. 
After the last sporting clay was dusted, there were a lot of tired participants who had sore shoulders and sunburned faces. Thousands of spent shotgun shells were lying on the ground from hundreds of shotguns, and the only thing anyone shot down the entire day… was hunger.
Subscribe to receive top agriculture news
Be informed daily with these free e-newsletters
You May Also Like
---