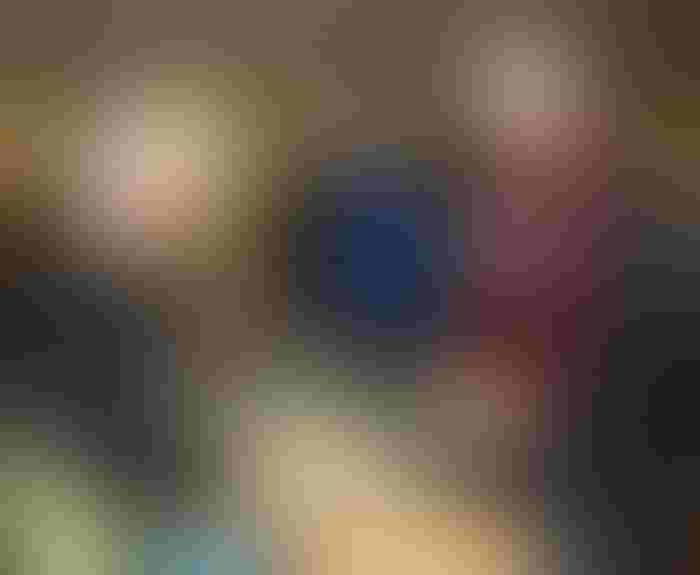 It has become a tradition: Tennessee FFA Organization members giving up part of their Saturday to come to the Mid-South Farm and Gin Show to package food for regional food pantries. This year nearly 50,000 meals were packaged. 
Tim Price, executive vice president of the Southern Cotton Ginners Association and manager of the show, understands the impact these volunteers make toward reducing hunger in the Mid-South. "For those of us lucky enough to have adequate food each day, being in a situation where you rely on food pantries for your daily sustenance may be difficult to comprehend. These young men and women from FFA are literally making a difference in the fight against hunger across our region." 
The event, known as Farm Show Feeds, is possible thanks in no small part to longtime volunteer coordinator Amanda Bell. "This was my fifth year coordinating the Farm Show Feeds project, and the FFA Organization volunteers came through once again in a big way to make it successful," she says. 
The event was created a few years ago to package nutrient-rich food that is delivered to over 400,000 Mid-Southerners who are in "food insecure" areas — many living just above the poverty line. 
This year, eight Tennessee FFA Organization chapters participated in the packaging event Saturday from 8 a.m. until noon at the Cook Convention Center. Members from Brighton, Collierville, Covington, Crockett County, Halls, Munford, Ripley, and South Side High School at Jackson, Tenn., gave up a day of their weekend, traveled to Memphis, and volunteered their time and energy for the worthy cause. 
A majority vote by FFA members at their 1988 annual convention officially changed the name from Future Farmers of America to National FFA Organization. "They wanted to broaden the organization's reach and better reflect the growing diversity and ever-expanding opportunities available to young men and women, both inside and outside of agriculture," says Bell. "I really think this has made the organization stronger and open to more young adults seeking a career path." 
The FFA Organization holds fast to its mission of building interpersonal skills and character, while instilling a desire to reach out to local communities through volunteerism, cooperation, and a positive attitude. "If you attended the Mid-South Farm and Gin Show, you more than likely saw groups of eager FFA volunteers throughout the Cook Convention Center before and after they participated in the packaging event," says Price. 
Unbeknownst to many Mid-Southerners, Bell says, there are many areas of the Mid-South where healthy food is just not readily available to low-income families, many of whom have limited or no transportation to take them to areas where there are healthy food choices. Organizations that battle this conundrum have a term to describe such areas: food deserts. 
"That term can paint a painfully vivid picture in your mind, if you stop and think about it," says Bell. "Unfortunately, nutrition that is available to folks in these food deserts consists mostly of processed foods that are extremely high in sodium and/or sugar content, which often is associated with obesity and other health problems." 
Through the READY program, some high school FFA members continue to be a part of the organization at the collegiate level. One requirement for participation is eight volunteer hours per semester, starting with their junior year. 
To date, the Farm Show Feeds event has been staffed by Tennessee chapters, but Bell is a visionary and is making inroads to including chapters in Mississippi and Arkansas. "I want to encourage these other state FFA chapters to become a part of this worthy effort," she says. "We have plenty of space in the Cook Convention Center to expand the size of the event."
Bell's drive and energy for the event are infectious, which transfers to everyone around her and culminates in the successful food packaging event to aid the Memphis Food Bank. But she wants to make it even bigger. "Anyone can volunteer," she says. "You don't have to be an FFA member."
The last line of the FFA motto is "Living to Serve," and Bell, the adult volunteers, FFA chapter chaperones, and all the FFA members who give their time and dedication, epitomize that motto. 
If you would like to play a role in the annual Farm Show Feeds event, contact the Southern Cotton Ginners Association office at 901/947-3104. To volunteer your time for the Memphis Food Bank log on to http://www.midsouthfoodbank.org/volunteer
The Mid-South Food Bank is located at 239 South Dudley, Memphis TN 38014, telephone 901/527-0841.
Sponsors of this year's Farm Show Feeds include Growmark, Vandergriff American/Sowega MFG, and AgWatch Network.
Subscribe to receive top agriculture news
Be informed daily with these free e-newsletters
You May Also Like
---