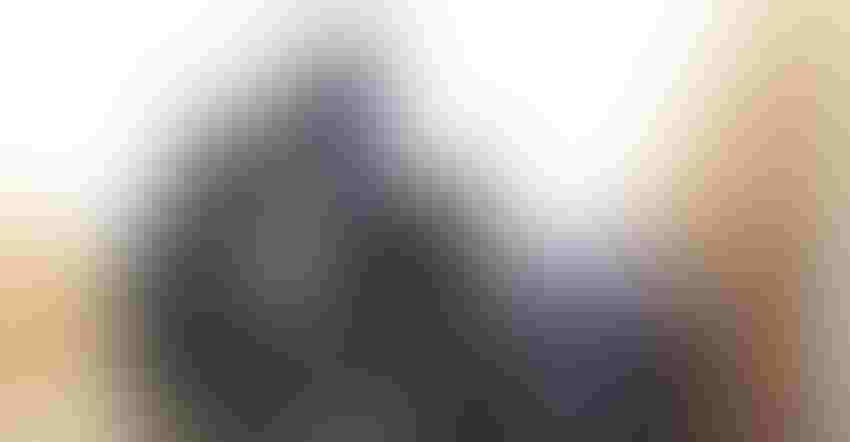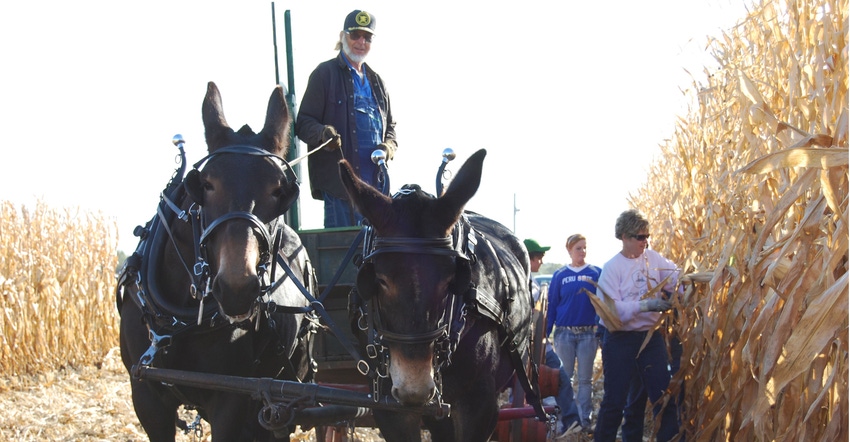 TIME-HONORED TRADITION: The 2010 Nebraska State Hand Cornhusking Contest was near Central City.
Don McCabe
Nebraska is the Cornhusker State for a good reason, and the traditional farm skill of handpicking corn from the field is still alive and well. For the second year in a row, Hecox Farms south of Gothenburg is the host site for the Nebraska State Hand Cornhusking Contest on Sept. 16. The event is held in conjunction with the community's annual Harvest Festival.
You won't find hand cornhusking on the list of new summer Olympic sports, but in Nebraska, it is a time-honored tradition being passed on from one generation to the next. "We had a big crowd to our farm when we hosted it last year," says John Hecox, operator of the host farm for the event. "Inside our shop, we had 42 vendors, and outside, we had all kinds of antique tractors, old corn shellers, antique harvesting equipment, horse-drawn implements, and of course, wagons and bang boards for picking corn."
About 50 corn pickers participated in last year's contest, with an estimated 1,000 or more visitors and antique farming fans.
The Hecox family is not new to such events. "My grandfather and dad hosted the event here in the early 1990s," Hecox recalls. "When we decided to host it back in our area, people remembered that we had hosted it before."
Preparation for the competition starts at planting time. "Last year we planted a 96-day maturity corn variety, but it was a little wet when we had the contest," Hecox says. "This year, we planted 90-day corn, so it should be ready to go."
Last year, the corn was planted at a higher population, so after the hand cornhusking was completed and horse-drawn binders were demonstrated in the field that cut and bundled cornstalks, it became evident that the population was too high for the older equipment to handle. "This year, I used my new technology on the planter to turn down the population to about 10,000 seeds per acre to accommodate the older implements that are used during the demonstrations," Hecox explains. "After the corn binders, there are horse-drawn plows and plow-disks that run through the field to demonstrate tillage."
The ear corn that is harvested during the contest is shelled on the site and augered into Hecox's semi-trailer, mixing the old technology once again with the new.
Before 2016, it had been 17 years since the state's hand cornhusking contest had been held in the Gothenburg area. "We had it in our area for about 10 years at six or seven different farm locations during that time," says Verlin Janssen, a longtime Gothenburg Chamber of Commerce Agriculture Committee member. "The day of the event is pretty hectic," he says. "During the contest, we are always thinking of ways to improve things for next year. Then after the contest, we will have a debriefing meeting to talk about ways to do better."
For Janssen, it is a fun event with a strong family connection. "My uncle, Roland Lauer, has won the Nebraska and National competitions a time or two over the years," Janssen says. "He picked corn for a living and has participated in the event for many years. He is still ranked among the top two or three pickers. His son Matt and Matt's five sons — Roland's grandsons — all handpick corn in the contest, so it is a family tradition."
According to Janssen, 90-year-old Lauer is planning to be out picking corn again at this year's competition, hoping to please his family and hometown cheering section. "There are a lot of families like that, with a strong tradition in this event," Janssen notes. "But we have lots of others who don't know what a corn hook is, but are willing to give it a try."
Janssen's brother, Lee, is known statewide for his mule teams, so he provides 12 to 15 teams to pull the corn wagons. Rich Armstead will also round up teams of draft horses, Janssen says. "It is a close-knit group of people who make it all happen," he says. "They just find a way to get it done."
This year's event will also include tractor games, craft and food vendors, and kids' activities like a kiddie tractor pull. To learn more, contact the Gothenburg Community Development Office at 308-537-3505.
About the Author(s)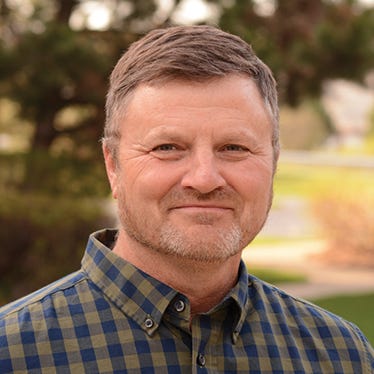 Curt Arens began writing about Nebraska's farm families when he was in high school. Before joining Farm Progress as a field editor in April 2010, he had worked as a freelance farm writer for 27 years, first for newspapers and then for farm magazines, including Nebraska Farmer.
His real full-time career, however, during that same period was farming his family's fourth generation land in northeast Nebraska. He also operated his Christmas tree farm and grew black oil sunflowers for wild birdseed. Curt continues to raise corn, soybeans and alfalfa and runs a cow-calf herd.
Curt and his wife Donna have four children, Lauren, Taylor, Zachary and Benjamin. They are active in their church and St. Rose School in Crofton, where Donna teaches and their children attend classes.
Previously, the 1986 University of Nebraska animal science graduate wrote a weekly rural life column, developed a farm radio program and wrote books about farm direct marketing and farmers markets. He received media honors from the Nebraska Forest Service, Center for Rural Affairs and Northeast Nebraska Experimental Farm Association.
He wrote about the spiritual side of farming in his 2008 book, "Down to Earth: Celebrating a Blessed Life on the Land," garnering a Catholic Press Association award.
Subscribe to receive top agriculture news
Be informed daily with these free e-newsletters
You May Also Like
---