Mid-South FFA members package 50,000 meals for needy during Mid-South Farm and Gin Show
Mid-South FFA members package 50,000 meals for needy during Mid-South Farm and Gin Show
Tennessee FFA chapters joined forces Saturday morning at the Mid-South Farm and Gin Show to package a record 50,000 meals for the needy.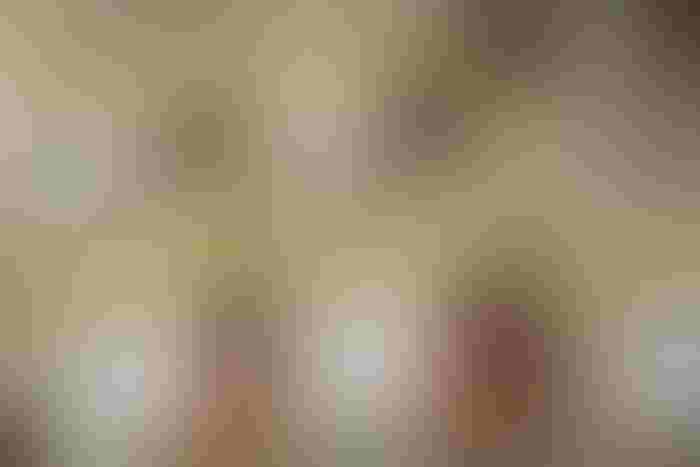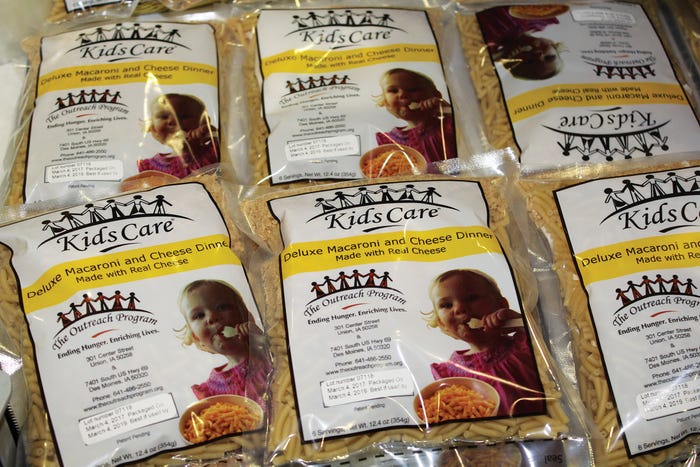 Hands were flying as scores of youngsters from five Tennessee FFA chapters joined forces Saturday morning at the Mid-South Farm and Gin Show to package a record 50,000 meals for the needy.
The packages were delivered to the Memphis Food Bank for distribution to rural and urban counties in Tennessee, Arkansas, and Mississippi.
Also pitching in were a number of adult show attendees who volunteered for the effort.
The Farm Show Feeds project was started at the 2013 Farm and Gin Show, and FFA volunteers packaged 10,000 meals that year. It was done with such efficiency and speed that the goal for the next year's show was doubled — and easily met by the energetic youngsters. A year later, they more than tripled that first year's effort, and at the 2016 show they packaged 40,000 meals.
This year, they were determined to reach the 50,000 mark — and they did it.
"It was awesome to see the energy and enthusiasm of these youngsters as they pitched in to help with this project," says Tim Price, executive vice president of the Southern Cotton Ginners Association and show manager.
"Everyone who saw these youngsters at work was just amazed at how enthusiastic, energetic, and focused they were on getting the job done and doing it right. One observer told me, 'I've just never seen anything like what these young men and women were doing to help others.' That they were willing to give up a part of their weekend to help others speaks well of the work ethic of today's youth and the ideals of FFA."
Members participating in the project were from Brighton FFA, Brighton, Tenn.; Covington FFA, Covington, Tenn.; Bolivar Central FFA, Bolivar, Tenn.; Munford FFA, Munford, Tenn.; and Collierville FFA, Collierville, Tenn.
"Farm Show Feeds is an offshoot of Memphis Feeds, which works to combat hunger in the greater Memphis area and beyond," Price says. "Because of the more than six decades influence of the Mid-South Farm and Gin Show in the region, and because of agriculture's key role in the Mid-South, we feel it's important to be a part of humanitarian efforts such as this.
"For the past several years, we've collaborated with various associations, including Mid-South Food Bank, to increase awareness of anti-hunger efforts. We have collected funds and food for the Mid-South Food Bank and other organizations, such as Feeding America. When we became aware of this initiative, we felt it was the next logical step in our outreach efforts.
"We're always looking for ways to tell agriculture's story, to make the general public more aware of what farmers do, and this sort of effort helps to show that we're more than just producers of food — that we also have a concern and a compassion for those less fortunate. We're grateful that a number of corporate entities, as well as a host of farmers and other individuals, have contributed funds for this effort."
Major contributors of funds for purchasing the food ingredients this year were Growmark, Vandergriff, Dow AgroSciences, Americot, AgWatch Network, and New York Life.
"We appreciate the generosity of all who helped to support this effort financially. As awareness of this effort spreads each year, more and more people contact us, saying 'I want to contribute,'" Price says.
Ingredients for the meals came from Outreach, Inc. The organization says each package provides six nutritionally complete servings. The meals, developed in cooperation with internationally-recognized nutritionists, include rice, fortified soy protein, vegetables, and essential vitamins and minerals. A macaroni and cheese dish has also been developed for distribution to local food banks and pantries for distribution to the needy.
He expressed appreciation to those who made monetary contributions to purchase food items for this year's effort.
"It was money well invested," he says. "It's incredible how much good, nutritious food can be provided for such a small amount of money — $25 will buy 100 meals; $250 will buy 1,000. That's a really great return."

FFA members who participated in the Farm Show Feeds food packaging effort were:

COVINGTON, TENN. CHAPTER: Bryan Cole-Advisor; Liz Flanagan-Advisor; Jerry Johnson-Advisor; Tyler Poole, Sam Bolton, Averi Cole, Ryan Wick, Greg Mullins, Bailey Black,
Micheal Poole, Kenneth Parr, Madison Miller, John Hartsfield, Wes Montgomery, Nathan Oliver, Quentin Morris, Rallie Williams, Jonathan Merrell, Ethan Newman, Corbin Coughlin, Alex Daniel, Steven Sartain.

BRIGHTON, TENN. CHAPTER: Teri Lea-Advisor; Cambridge German-Advisor; Thomas Elam, Hayden Cline, Preston Motz, Nathan Scott, Taylor Overstreet, Will Elam, Hunter Thomas Conrad, Hayden Elam, Preston Cline, Taylor Scott, Will Overstreet, Hunter Elam, Rilee Winters, Kylie Hunter, Dalton Ray, Ashton Quarles, Emily Schneider, Will Ballard, Maryselle Lea, Chance Anderson, Brandon Hill, Grant Hunter, Madison Johnson, Cody Porter.

MUNFORD, TENN. CHAPTER: Ann Johnson-Advisor; Diana Jenson-Chaperone; Jessica Roberts, Rebecca Sanders, Abigail McConnell, Brianna Reames, Maggie Wendel, Kelsey Max, Grant Patricio, Collin Clark, Erin Holmes, Dakota White, Tyler Mayfield, Autumn Meredith, Victoria Auth, Zana Buford.

COLLIERVILLE, TENN. CHAPTER: Jordan Sawyers-Advisor; Christie Sawyers-Advisor; Luke Adams, Becky Adams, Kylee Andrews, Brianna Green, Taylor Hiatt, Brooke Hollaway, Dalton Luna, Chandler Meier, Brandon Moore, Kaeli Pendleton, Joshua Robertson, Joshua Sanders.

BOLIVAR CENTRAL, TENN. CHAPTER: Aaron Gibson-Advisor; Victoria Burnette-Advisor; Andrew Bullion, Jordan Baker, Colton Moore, Brianna Howell, Christopher Hannis, Brandon Harris, Lacey Thompson, John Garrison, Will Prine, Gabriel Dellinger, Joseph Lambert, Steven McCay, Jordan Avent, Paul Williams, Jessica Pinner, Chelsea Hughes, Truman Mayfield, Peyton Flanders, Zack Merek, Tanner Parker, Charisma Fingers, Madeline Benard, Wynton Brooke, Drew Ubelhor, Colten Watkins, Dakata Weaver, Coby Baker.
Subscribe to receive top agriculture news
Be informed daily with these free e-newsletters
You May Also Like
---