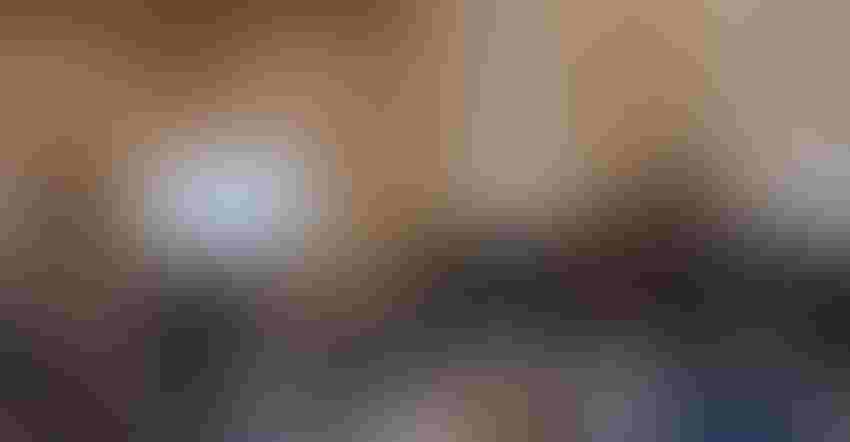 Past President of the Southern Cotton Ginners Association, Sam Angel, speaks to attendees at the associations 2022 Annual Meeting.
Brent Murphree
By the time this article is published, the holidays will be over. Many will be a few days into their New Year's Resolutions, still pumped with excitement that whatever change is on the list, is doable. Maybe a resolution is to be a better grain marketer, or better manage weeds and pests on the farm. In these two areas specifically, information at the Mid-South Farm & Gin Show, Feb. 24 -25, 2023 can help you achieve your goals.
Two Ag Update seminars feature market outlooks for all major Mid-South crops as well as grain marketing recommendations. Joe Nicosia, head of the cotton platform at Louis Dreyfus Company, will focus on domestic and global cotton markets, while Richard Brock, Brock & Associates, will help attendees understand factors impacting grain trade and marketing. Nicosia will headline the Friday, Feb. 24, Ag Update, and Brock will be the featured speaker on Saturday, Feb. 25. Both Ag Update seminars begin at 8:30 a.m. in the Cannon Center at the Renasant Convention Center, Memphis.
"We know attendees want to hear from these industry experts on the cotton and grain markets and how farmers can navigate a volatile landscape," said Tim Price, Farm & Gin Show manager. "We also know attendees want access to the latest technology, equipment, machinery, products and services exhibitors at the show offer."
Exhibitors will be showcasing products and services that can address farm-gate issues, like weed and pest pressure, for example. Attendees can also see equipment and machinery that can address many in-field and edge of field issues. "We are excited to welcome exhibitors from across the U.S. with new technology and equipment that can impact farmer productivity and profitability," Price said.
The 71st annual Mid-South Farm & Gin Show is sponsored by Southern Cotton Ginners Association and Foundation and Delta Farm Press.
SCGA Annual Meeting
On Feb. 23, 2023, the Southern Cotton Ginners Association and Foundation holds its annual meeting at The Peabody Hotel. Representatives of Staplcotn and The Cotton Board will address current industry issues including cottonseed research. The Ag Achievement Award will also be announced at the annual meeting. The Association's Honors Banquet on Feb. 23, recognizes award winners including Ginner of the Year, Memorial Scholarship Winner, and Vandergriff Pioneer Award. The Honors Banquet is held at The Peabody Hotel and is a ticketed event. For ticket information, contact Southern Cotton Ginners Association.
Price said there are many activities ongoing during the two days of the Farm & Gin Show, including cash prize give aways, the chance to win a Labrador puppy, and the opportunity to catch up with friends and peers. "Cash prizes are awarded three times daily, and the drawing for the puppy is held at 3 p.m. on Friday and Saturday," Price said. "There is a cash prize — $1,000 – for one individual who pre-registers for the show. Someone will be randomly selected on Feb. 10 to win that prize. Pre-register by that date to be eligible to win," he said.
Attendees can get a head start on attending the show – and be eligible for the $1000 cash prize -- by pre-registering at farmandginshow.com. Once pre-registered, onsite printing of nametags is easy and quick, accelerating the pace of getting into the show. "We encourage everyone to pre-register to make onsite entry much easier," Price said.
Show hours are Friday Feb. 24, from 9 a.m. to 5 p.m. and Saturday, Feb. 25, from 9 a.m. to 4:30 p.m. More information can be found at farmandginshow.com.
Subscribe to receive top agriculture news
Be informed daily with these free e-newsletters
You May Also Like
---