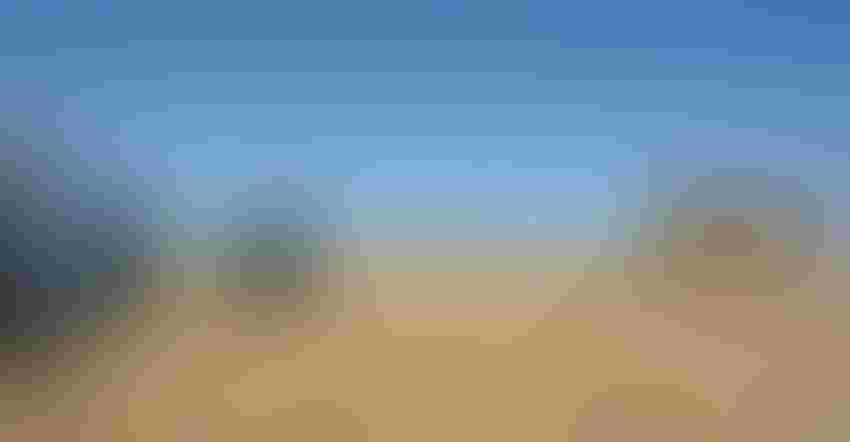 CHECK IT OUT: Farmers and cameras capture all the action of 2020 field demos, so you can tune in and watch.
Holly Spangler
Ask any farmer and they'll tell you: If you go to a farm show, you want to see the field demonstrations. That's why Farm Progress mounted cameras on equipment and flew drones all around, recording every pass for the Farm Progress Virtual Experience, which all begins at 9 a.m. each day, Sept. 15-17.
And it's why a team of farmers from Illinois, Indiana, Iowa and Nebraska were on hand at both the Boone, Iowa, and Grand Island, Neb., Farm Progress Show sites to evaluate it all.
No company video here! Like always, the equipment ran in real-world conditions — and in Iowa in 2020, that meant leaning corn and laid-over corn. The farmer panel got to observe performance of combines and corn heads in less-than-ideal conditions. "You could tell some lagged behind others," says Brian Scott of Delphi, Ind.
Now that the show has premiered you can check out each of the demos listed below online,
Watch the rest of the farmer panelists' observations in a special wrap-up segment at 3 p.m. Sept. 15 and Sept. 16 and 2:30 p.m. Sept. 17. In the meantime, here's a look at what they say are the can't-miss pieces of equipment:
1. Claas 8700 combine and chopping head. The farmer panelists all commented on this one! "Head was very impressive on how it sized residue and how even it was, all the way across the deck. Also had very minimal shatter and rotor loss out the back. They run three blades per row where most only run two blades. It was super-impressive how fine everything was chopped and how good tillage looked on the pass where that head had been."
The snouts on the head have a forward design on gathering chains that make it easier to pick up laid-over or down corn. The system lets the operator concentrate on the front of the machine while the combine self-adjusts to provide a clean grain sample.
2. Case IH Speed Tiller 475. This is another farmer panel favorite: "The high-speed disk did a really nice job blending the stalks and trash throughout the entire soil profile. Left almost a perfect seedbed even in the fall." They were all impressed with its high-speed productivity, too.
3. Brandt grain carts. Brandt demonstrated two grain carts —1520XT and 1120XT — and they stood out to the farmers. "A grain cart is a grain cart — not much you can do to reinvent the wheel on those, but Brandt added a lot of really nice features, like the LED lights on the spout to show how far open the gate is. I also liked the trapdoor and stepladder on the back side for easy cleanout, so you don't have to go up and over the top. That's a really smart idea."
They also liked the ease of moving the spout for optimal grain placement into the trailer: "Small things like that help new and experienced operators."
4. John Deere X9 combine. The X9 is a brand-new introduction that editors are calling "more than just a bigger combine." It's redesigned based on the features farmers told John Deere they wanted in a combine. The heads are all new, too, and they also work on the large S Series combine.
The new draper header features a grain-saver feature that should keep more grain in the head and get it in the combine instead of losing it on the ground. It's not for everyone, but it will fill an important niche for those who need much higher harvest capacity.
The farmer panel says: "It's impressive. I think its extra threshing width and capacity will have a big impact on its overall harvesting performance."
5. Landoll 7833 HSL. Farmers say this tillage implement's heavy-duty frame and ability to get into the dirt and turn it over was super-impressive at high speed. "It stood out as one of the better implements we got to watch."
6. Dot autonomous fertilizer spreader. This technology is already working in broad-acre crops, so it's not entirely new — but the farmer panel got to see it run and learn how Raven hopes to adapt its design for row crop use. Farmer response: "Very neat to see. Autonomous technology is going to have a huge impact on the future of farming, especially on simpler jobs like spreading fertilizer or tillage." Look for Willie Vogt's recap on the Dot demo on Sept. 15 at 1 p.m.
7. Updated 2021 John Deere Gator. Interior updates make the UTV more usable, plus there's an updated display and better power steering.
8. Case IH AFS Connect Steiger 540 Quadtrac. Editors say this machine brings data gathering and machine control to a new level for farmers. Look for remote display access and nearly hands-free end-row turns.
9. Brute Stealth Autonomous Catch-chute Elite. This chute was a favorite of the farmer panel in Nebraska, as it offers a hands-free way to work cattle. Brute Cattle Co., Dodge, Neb., unveiled the upgrades to this chute, which has an original patent dating back to 2014.
This automated ACE chute uses sensors to recognize when an animal enters, closing the headgate and employing the squeeze automatically, while the producer administers vaccinations and implants and processes the animal. As part of the startup of the system before processing, the ACE chutes have four presettings that allow for parameters on the headgate and squeeze to cover animals ranging from calves all the way up to mature cows and bulls. Main controls to release each animal after processing can also be done from remote control.
10. Claas Disco. The cattlemen on hand were impressed by the sheer speed of this machine. This triple mower-conditioner was cruising across the alfalfa field at around 20 mph. In Grand Island, the mower reached speeds close to 20 mph, and that was in wet haying conditions. The quality of the cut was still top notch, one producer said, adding, "It was fun to watch it run."
Subscribe to receive top agriculture news
Be informed daily with these free e-newsletters
You May Also Like
---