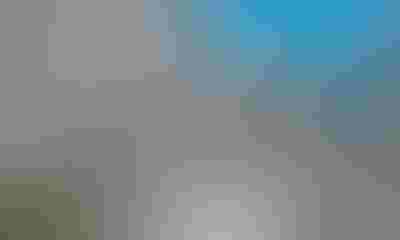 With their cameras and notebooks, four Farm Progress editors headed down street after street at the fall farm shows, looking for new products. They didn't have to look too far; some products were so new, they weren't even named or priced yet. Once their notebooks were full, each editor selected two favorite products, based on what he or she thought was innovative and would appeal to farmers and farm families.
The new-products team included Curt Arens, Nebraska Farmer; Tom J. Bechman, Indiana Prairie Farmer; Lon Tonneson, Dakota Farmer; and Mindy Ward, Missouri Ruralist.
Here are their favorite products, two by two.
CURT'S CHOICES

Convenient bin lid opener. When bad weather is on its way, it can be a daunting task, especially late at night, to climb up grain bins to close the lids. Thanks to the Universal Lid Opener produced by BAK Enterprises, Tripoli, Iowa, the task can be done remotely, without putting farmers in danger during impending storms. ULO enables wireless communication to operate a sturdy, lightweight unit that will close a grain bin lid with the tap of a screen. To open a grain bin lid, ULO lifts the lid to the desired height, rotating it open and into a bin lid saddle. To close the lid, the mechanism rotates the lid from the saddle back to the closed position and secures the lid down tight. A standard ULO unit costs $2,950. For more information, email [email protected].
Universal Lid Opener
Keeping cattle cool. After a long, hot summer, producers are looking for something to keep their cattle comfortable. The new Kool Cow Shade from T and T Quality Buildings makes the job of keeping animals cool a breeze. The units consist of a huge, square self-standing shade measuring 32 by 32 feet, made from 88% shade fabric for maximum heat protection. The units are centered on a heavy 8-inch-square tube as the main support, with a 3-ton base for stability. The shade is built on a 3-by-5-inch main frame, with ratchet straps used to tighten the fabric down. A standard unit costs $4,200. For more information, call T and T Quality Buildings, Fordyce, Neb., at 605-461-3317 or 605-660-3830.
Kool Cow Shade
LON'S PICKS
Quake LED lights. Turn night into day when you are planting, combining, haying, drying corn or doing anything on the farm or ranch in the dark with Quake LED lights. LED stands for light-emitting diode. It is a semiconductor device that converts electricity into light. LEDs use far fewer amps and are better at shining light in a single direction than high-intensity-discharge or halogen lamps. Quake LED lightbars have flood, spot, or a mix of spot and flood beam patterns, giving you unlimited lighting options. Lightbars are also available with flashing red warning or yellow caution lights. Learn more by calling Quake LED, Lakewood, Colo., at 720-305-8979 or see quakeled.com.
Quake LED lights
Grain cart auger stretch. Unloading a grain cart may be a little easier with the latest innovation in the Brent V-Series grain cart from Unverferth Manufacturing, Kalida, Ohio. The V-Series unloading auger will reach so far forward that the discharge spout is about even with the tractor operator's seat. That means you don't have to twist around and look over your shoulder to precisely unload the cart's contents into a waiting truck. The spout can be turned to the left or right, or moved in or out, with a minimal change in discharge height. For more information, contact your Brent dealer, call Unverferth Manufacturing at 419-532-3121 or see unverferth.com.
Brent V-Series grain cart
MINDY'S FAVORITES
Machinery trifecta. It's a tractor. No, it's a combine. No, it's a grain cart. Well, actually it is all three. The latest ag equipment invention by Indiana farmer Ben Dillon takes three field tasks and rolls them into one machine. The Tribine drew a crowd of onlookers at farm shows. Recalling his days as a farm kid driving a tractor and a grain cart, Dillon says he knew "there had to be a better way." He wanted to increase farmers' efficiency while decreasing soil compaction. The Tribine has a 1,000-bushel grain tank that can unload in less than two minutes. It also boasts a 500-gallon fuel tank that allows for a full day's worth of harvesting. To reduce compaction, Dillon designed the Tribine with four low-ground-pressure tires and center articulation with a pivoting rear axle. He notes that it leaves just one set of tracks through the field instead of multiple passes with a combine, tractor and grain cart. And the Tribine has the ability to tow a corn or soybean header to the field. The Tribine will be available in limited capacity for the 2017 harvest. For more information, call Tribine Harvester LLC, Newton, Kan., at 316-282 8011 or visit tribine.com.
Tribine
Compact cover crop precision. Seeding a blanket cover crop mix across a field may not be the best method for dealing with health issues for individual fields. The manufacturers at Montag offer a solution with the Gen II Mini. The Mini blends dual product on the go with four-section, variable-rate control, which allows farmers to customize a blend for each field. The Mini also works for applying micronutrients. You can add rows as you need them. For more information, contact Montag Manufacturing, Emmestburg, Iowa, at 717-852-4572 or visit montagmfg.com.
Montag Gen II Mini
TOM'S TAKES
Fuel pump defender. If theft is a problem in your area, or if you just want to protect your portable fuel pump from the elements, consider installing a Defender Pump Guard. Made of mild steel, the attractive cabinet encloses the pump and metering system on portable fuel tanks. Models are available for AC and DC pumps. Basic cabinets start at $548. A solar-powered battery option is available for DC pumps. It takes just 20% sunlight to power the battery. Once charged, it can pump 6,000 gallons. Defender Pump Guards are made by Maverick Industries, Brecksville, Ohio, and are available from Thunderstruck Ag Equipment. Call 877-775-3286 or visit defenderpumpguard.com.
Defender Pump Guard
Side ditch improvements. Who said ditch-digging is a hard, low-tech job? The Hurricane Ditcher Co., Vincennes, Ind., introduces the Baby Side-Arm Ditcher with a GPS control option. As a smaller version of the company's original side-arm ditcher, which is still available, the Baby can be operated by tractors from 90 to 150 hp. With GPS controls attached, you get accuracy two ways. You can control the grade along with side-to-side variation, eliminating bobbles in ditches. This model lists for $32,000 without GPS, or $49,000 with complete GPS controls. Contact the company at 812-886-9663 or visit hurricane-ditcher.com.
Baby Side-Arm Ditcher
Subscribe to receive top agriculture news
Be informed daily with these free e-newsletters
You May Also Like
---