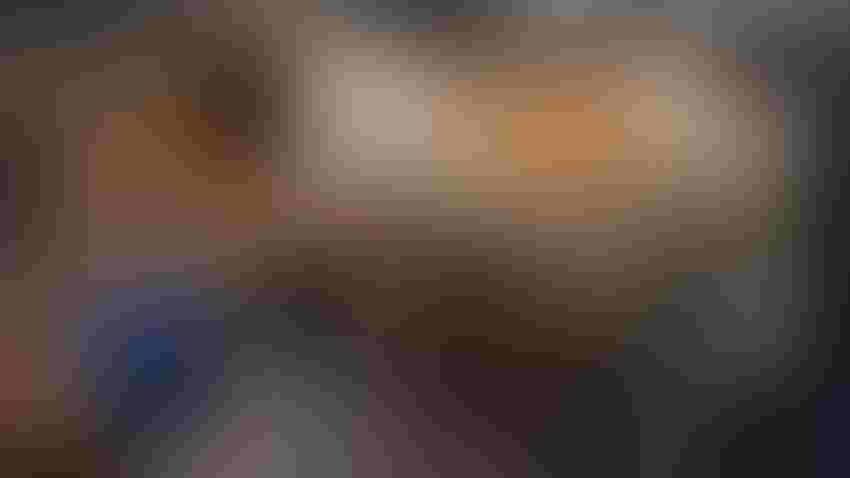 Interaction on the floor show is just one opportunity the Farm and Gin Show provides.
Brent Murphree
By Tim Price, Mid-South Farm and Gin Show Manager
This article also appears in the 2023 Mid-South Farm and Gin Show program. The farm and gin show takes place in Memphis at the Renasant Convention Center on February 24 and 25. Admission is free, but advance registration can be made at: www.farmandginshow.com
When "The World is Flat" was published in 2005, the primary thesis was globalization was (and is) flattening the world – removing the barriers between countries and companies, increasing the connectedness of everyone and everything in the world.
This connectedness has been very evident the past few years, accelerated by the COVID pandemic. Zoom and other online collaboration tools were heavily used during the pandemic to connect and collaborate from multiple locations. Many companies stayed in business and "open" as a result of the technology, at a time when cities and states enforced restrictions on group interaction.
Our world has become even more connected. How many of us would have taken for granted the ability to place an online order one day and it show up on your doorstep two days later? That is the reality of world connectedness.
I suggest that many of us have a keen understanding of the meaning of the words "supply chain" now. It's a world in which everything and everyone are connected; even those folks who think they're insulated from the rest of the world. The world supply chain has dominated ag group discussions, as well as consumer platforms. Top tier media outlets – Wall Street Journal, New York Times, Bloomberg – covered supply chain disruptions as part of their regular news cycle. Consumers felt the impact of a broken supply chain as well.
Consider lots full of equipment, or the backlog on new cars, the wait for a new computer, refrigerator, or other appliance. Each one takes a computer chip to work, and when there is a shortage of computer chips, other parts of the supply chain suffer. Who can forget the shortage of paper products, or the long delivery time for furniture, or the high cost of lumber, all driven by supply chain issues?
Supply chain challenges
We have lived through two years of supply chain challenges. The question becomes how to move forward so we're not so vulnerable to the disruptions that can occur? What steps do we need to take to make sure we can meet international market demands, even if there are breaks in the supply chain?
The war in Ukraine has made us very aware that there are two sides to supply chain issues. On one side, there's the supply chain element that was a blessing to Ukraine. On the other side, it has become a strategic tool used by others, and now we are worried about basic supplies. The war has shown that the food supply is so key to a war that is dominated by drones and bombs, which destroy critical infrastructure that makes up supply chain channels.
The price of fuel has risen to a global concern. We have seen Russia use its fuel supply as leverage for what little leverage they have left.
Everything we have taken for granted many times has been met with the stark reality that we cannot count on what we have in the past. We may not get the type of fertilizer we need to support our crops because of tight supplies and increased shipping costs. We may need to contract for future needs to get what we need, when we need it. We must be nimble enough to adjust to what seems like an ever-changing landscape.
Moving past COVID and the years of turmoil, what is next on the horizon for us?
International Trade
Over the past few years, we have realized how important trade is, not just for us but the world. Look no farther than Ukraine, a major grain exporter. According to federal statistics, in 2021, Ukraine wheat exports were valued at $5.1 billion, with Egypt, Indonesia, and Turkey being Ukraine's largest customers. Ukraine is also a major exporter of sunflower oil and corn, and reportedly provides around 40% of the World Food Programme's wheat supplies.
When Russia invaded Ukraine, Russian forces prevented ship traffic in and out of Ukrainian ports on the Black Sea. This drove up global food prices and was a major threat to many countries already at risk of food insecurity. Turkey and the United Nations brokered a deal which facilitated exports through the Black Sea, avoiding a large-scale humanitarian catastrophe.
Domestically, the Mississippi River shrunk to its lowest level ever at Memphis, producing backlogs in the movement of goods, and higher prices for consumers. When more than half of US exports of corn and soybeans move on the Mississippi River, low water levels can negatively impact trade.
Attendees at the Mid-South Farm & Gin Show can attend in an International Trade Forum, sponsored by University of Tennessee, Tennessee Department of Agriculture, and Tennessee Farm Bureau Federation, on Friday, February 24 beginning at 11:30 a.m. This event is designed to inform farmers, agribusinesses, and agricultural leaders in Tennessee and the Mid-South about the role and significance of international trade on local agricultural production, global markets and economies, as well as increase awareness of agricultural exporting tools and resources. Experts on trade as well as state and national commodity leaders will provide context on today's changing trade landscape. We're still working on the speaker line-up and some final details, but this is a very timely addition to the show.
Ag Labor
Supply chain issues move beyond traditional goods to the pool of labor available in agriculture. H2A labor, those temporary, non-immigrant workers who provide temporary seasonal labor, has become critical and requires government attention. While it seems like some of the items that affect our chain of interconnectedness are out of our control, we need involvement at all levels to focus on migratory immigration policies and migratory labor along with settling intellectual property issues.
Change begets change, and improvement
Every year is a year that was, and it causes us to reflect on changes that have positive outcomes. More efficient water technology, precision farming practices that Kenneth Hood, (a Mississippi cotton farmer and this year's AL Vandergriff Award winner, posthumously), started years ago is commonplace now. Thank goodness for technology that lets us better weather environmental conditions and helps us manage better. We can now be far more precise and far less wasteful with water, fertilizer, and with everything that goes into making a crop.
Huge gains in terms of machinery and technology have alleviated some of the strain of fewer ag laborers available. Drones can scout fields for pests or target specific weeds for eradication. The marvel of the engineering that goes into a tractor or piece of equipment has helped us control labor costs, manage operations in shorter timeframes in between weather that makes or breaks a crop, and the harvest that makes or breaks a year to get it in.
Drought, volatile markets, overall pressure of what this brings to people impacted every day, we're reminded of the importance of total well-being – physical, emotional, financial, and social – are all part of our weathering a storm and being better prepared for the next storm.
We know there is momentous change ongoing, and some parts of the world will never be the same. We can intensify our efforts to be more productive, more efficient, more willing to learn from others and make connectedness the crucial tool in our toolbox for the future. People to people connections can truly be a part of the chain of information. We can link minds and experiences with others, for the benefit of all. Doing so will make us a better industry and a better country.
Investments in the infrastructure, particularly in cotton, in market research and promotion and technology, will continue to be important links in the supply chain. Cotton Incorporated and Cotton Council International are on the frontlines of increasing awareness about the value and quality of our crop, connecting us with consumers, are the key to future markets, and our sustainability efforts.
Our investments are beginning to produce positive results. Looking ahead there is a widespread interest in sustainability initiatives, at the farm and in agribusiness. Farmers inherently have a green sense of things, a stewardship sense of things, and apply these techniques to farm more productively and efficiently. Many new opportunities supporting sustainability efforts are surfacing every day. We need to take advantage of every opportunity.
Each year we examine how to reach more people who can benefit by participating in this event. We have cast a wider net and are offering new and different seminars, along with the traditional Ag Update seminars, cash prize drawings, and puppy give away. We're using different communication channels, including social media to reach different groups of farmers and attendees. We want to connect attendees with exhibitors who offer these opportunities.
Every year, regardless of our struggles, we look for ways to do things differently, on the farm and at the show. The Mid-South Farm and Gin Show brings it all together. Welcome to the show and welcome to Memphis!
Subscribe to receive top agriculture news
Be informed daily with these free e-newsletters
You May Also Like
---