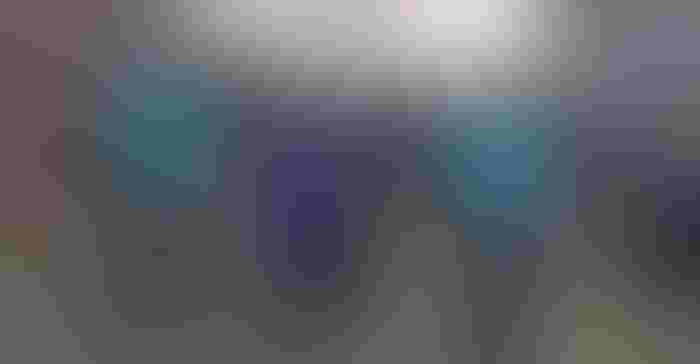 "We've always said the greatest crop we've ever raised is our kids," Iowa Pork Producers Association President Kevin Rasmussen says, as a group of 4-H and FFA youth help a group of Special Olympics athletes drive their pigs in the show ring at the Iowa State Fair during the Bacon Buddies show.
Sixteen Iowans with intellectual and/or developmental disabilities learned about pigs, and each got to pet, wash and brush a pig prior to the show, as their mentors who were exhibiting the pigs during the fair guided them through the activities.
Development of the show
Bacon Buddies was developed in 2019 after Kylee Brown, a then-high school student from Earlham, heard about a similar show in Wisconsin. "My FFA advisor and a couple other members and I traveled to the 2018 Wisconsin State Fair to watch their All For One show," she says. "After seeing the joy on the faces of the participants, I knew we had to try it here."
Discussions among Brown and her classmates, the Iowa Pork Producers Association, the Iowa State Fair board, and Special Olympics of Iowa helped get the first such show at the fair the following year. "While it takes special mentors to be able to communicate with the Special Olympics athlete, it also takes an athlete who will be able to handle so many aspects of showing that we take advantage of every day," Brown says. "It's inspiring to watch these athletes work through their disabilities to be successful."
Inclusion for everyone
"This is a great opportunity for our Special Olympics athletes," says John Kliegl, president and CEO of Special Olympics Iowa. "They want to do what their peers are doing, and it's great to work with the 4-H and FFA youth who see them as their equals."
Kliegl says those with developmental or intellectual disabilities have the opportunity to participate in sports, school and other activities, but this lets them get involved with agriculture. Once word got out about Bacon Buddies, he says, calls started coming in from other states about the program.
"We know there are several counties in Iowa starting to provide this opportunity for these athletes to build friendships and be included with their peers," Kliegl says. "Besides being part of Special Olympics Iowa, I'm also the parent of a daughter with special needs. Being able to watch her experience this has been such a joy."
Barb Clawson's son, Tyler Osborn, participated in Bacon Buddies in 2019 and 2021. While Tyler has shown cattle and sheep, this was a new experience for him. "He tells me every time we see a pig, how excited he was to show a pig," Clawson says. "This show does three important things. It gets 4-H and FFA members to think about special needs kids and why they might need help in the ring. It lets the special needs kids experience being around an animal to feed, wash, pet, walk and talk to. And it forms a special bond between the mentors, the buddy and the animal. It's such a great experience."
Clawson says Tyler has been able to help other special needs kids experience showing as well. Their home county of Boone has had a Bacon Buddies show for a couple of years. Two years ago, a child who was signed up for the show got to their county fair and feared going into the pig barn. Tyler was able to show the boy that the animals were nice, and he helped the boy build confidence to participate in the show that year.
"That same boy came back this summer for the Bacon Buddies show at our county fair and had similar fears; but when he saw Tyler, they walked off hand in hand into the barn, and everything was fine," she adds.
Expanding the opportunity
Joyce Hoppes, consumer information director for the Iowa Pork Producers Association, says Bacon Buddies is a natural fit for the We Care principles set up more than 30 years ago to focus on building an active role in communities.
"We are starting to see the program develop at the county level," Hoppes says. "We know of 10 counties who have a Bacon Buddies or similar show."
Kliegl says this is exciting because only a small number can participate at the state fair — but by expanding it to the county fairs, more Special Olympics athletes can be involved. "What is exciting is the number of county fairs around Iowa that have started to hold these shows on the local level, creating those local connections between youth," he says.
Milo 4-H and FFA member Suzi Fredricks was a mentor for the first time this year, "I've been wanting to be a part of this program since it started. It was an honor to participate this year and learn how to help my buddy with the experience."
Fredricks says she knows everyone communicates differently, but figuring out how to focus on helping her buddy, Katie, be sure she was comfortable was a learning experience. "I talked to Katie's mom to get to know more about her personality and then help her get out of her comfort zone, since she isn't normally around animals," Fredricks says. "I enjoyed helping someone who's not normally able to be around pigs have fun doing what I love to do."
Seeing so many people enjoying the show and learning to work together is just what Brown was hoping for back in 2018, when she brought the idea to Iowa.
"A lot of times these kids are looked at differently than the rest of us, but this gives them a chance to do what we do, and be a part of what we are doing every day. It shows that we are there for them — and that is what Bacon Buddies is all about," Brown says.
For more information about Bacon Buddies, visit iowapork.org/bacon-buddies.
Subscribe to receive top agriculture news
Be informed daily with these free e-newsletters
You May Also Like
---