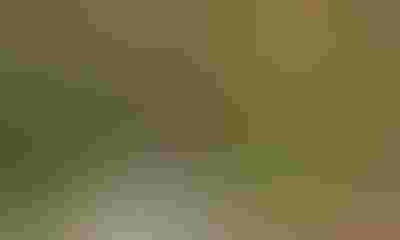 The numbers came together for the University of Minnesota College of Food, Agricultural and Natural Resources Sciences during the 9 Billion and Counting: Abolishing Hunger conference Oct. 17.
The title references the world population predicted for 2050.
Nine was the number of CFANS researchers who presented results of their projects addressing the challenges of world hunger.
And billions are the lives believed saved by Norman E. Borlaug, the abiding focus of the day, both through the Norman Borlaug Memorial Lecture and his statue at the heart of the new Eldon Siehl Garden and Plaza.

MAN WITH A MISSION: The U-M conference concluded with the dedication of the Eldon Siehl Garden and Plaza where the new bronze statue of Norman Borlaug was unveiled.
Borlaug is credited for ushering in the Green Revolution with his research about wheat and is one of only five people to be awarded the Nobel Peace Prize, the Presidential Medal of Freedom and the Congressional Gold Medal.
Almost 300 participants gathered for the conference and learned from scientist Jan Low how orange is the color for good health and potential life-saving attributes — in the form of sweet potato. The regional leader for Africa of the International Potato Center in Nairobi, Kenya, Low discussed sweet potato breeding to which she has dedicated years of research. Her advances in an integrated approach to assuring diet quality and quantity by using biofortified sweet potato are part of why she became the most recent recipient of the World Food Prize.
When asked about current concerns in genetic engineering of plants, Low said it's important to "use the best you have while you breed for better."
HONORING HER FATHER: Norman Borlaug's daughter, Jeanie Borlaug Laube, attended the special event at the University of Minnesota.
Following her address, CFANS experts shared how they are driven to abolish hunger and working toward improving global food security. Kayla Altendorf discussed intermediate wheatgrass. Jule Grossman focused on agroecology. Candice Hirsh talked about translating data into improved crop performance. Ben Lockhart presented on maize lethal necrosis and its threat to food security. Shantal Pai imagined what a hunger-free world would be like. Phil Pardey traced agricultural research and development through the 20th to 21st centuries. Michaela Trudeau talked about myths in animal agriculture. Paul Venturelli offered insights into inland fish as food. And Ce Yang talked about remote sensing in ag production.
Following comments from U.S. Sen. Amy Klobucher, D-Minn., a lunch panel focused on the importance of public and private partnerships in addressing world hunger. Panelists were David Fiocco, associate partner, McKinsey & Co.; Gabe Gusmini, research and development director of the PepsiCo Agro-Discovery Group and CFANS adjunct associate professor; Mary Wagner, senior vice president of Global Research and Development/Food Safety, Quality and Regulatory at Starbucks; Rob Zeaske, CEO, Second Harvest Heartland; and Kenneth Quinn, World Food Prize Foundation president and ambassador.
The day concluded with the dedication of the Eldon Siehl Garden and Plaza, which celebrates Siehl Prize laureates and portrays the accomplishments of those who have made contributions in agriculture to alleviate world hunger. Focal point of the garden is the 7-foot bronze statue of Borlaug, created by artist Benjamin Victor.
More details of the day can be found at z.umn.edu/nbplus.
Source: U-M
Subscribe to receive top agriculture news
Be informed daily with these free e-newsletters
You May Also Like
---