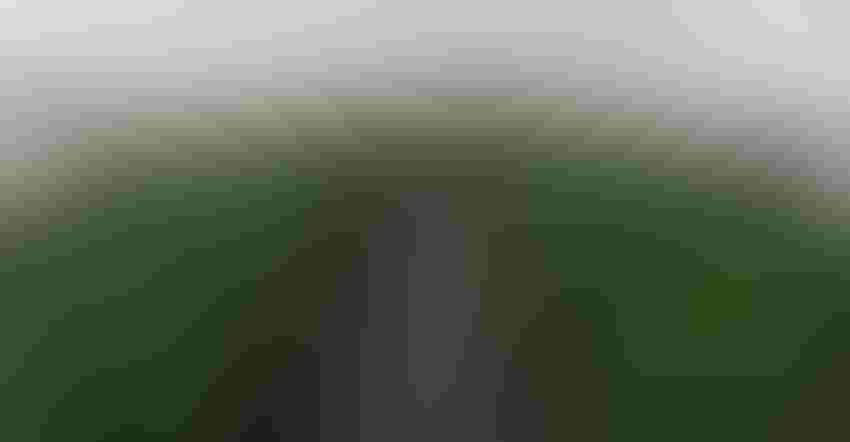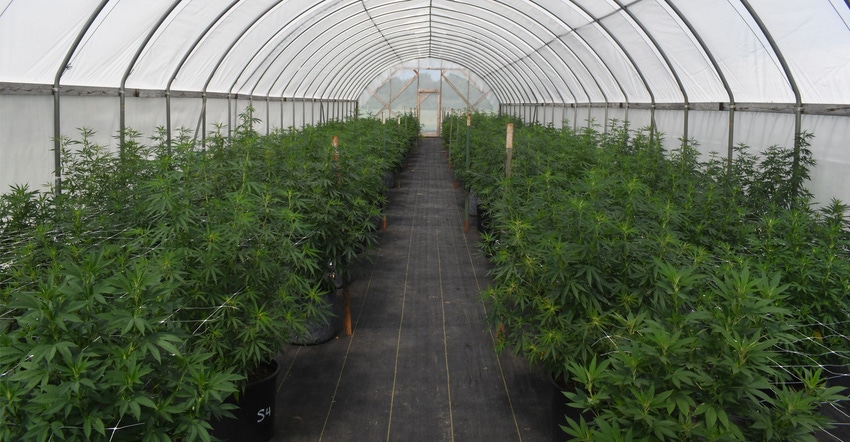 GROWING TALL: This test crop of industrial hemp was grown in a high tunnel at Kansas State University's John C. Pair Horticulture Center near Wichita. It was one of three university research sites in 2019. Research will continue in 2020.
With data from the first year of growing research plots of industrial hemp in Kansas coming in, growers are anxious to see what lessons have been learned and what the prospects for hemp to become a valuable new rotational crop in the state.
On March 19, the opening day of the 3i Show in Dodge City, Jeff Vogel, plant protection and weed control program manager with the Kansas Department of Agriculture, will present a seminar titled "Industrial Hemp in Kansas: Looking at 2019 and ahead to 2020." The seminar will be held at 11 a.m. in the presentation area on the west side of the Expo building,
Vogel will speak on the regulatory requirements to grow industrial hemp, results from 2019, and an outlook for 2020, including the upcoming change from the research to commercial industrial hemp program. Vogel will also briefly discuss other topics such as sampling and testing procedures, how to maintain relevant producer and land information, inspection procedures, and much more.
The Kansas Department of Agriculture reported that 254 licenses were issued in 2019: 190 growers, 20 distributors, 35 processors and nine university licenses. Growers were licensed in 68 Kansas counties to grow a total of 5,700 acres. The top counties were Haskell, Reno, Johnson, Miami and Sedgwick.
As the growing season got underway, only 2,700 acres were actually planted and only 1,757 acres were harvested. Some licensees said they did not plant hemp because it was too wet, they could not find seed, or it got too late. About 90% of the planted acreage was grown as floral material for CBD production.
Getting the word out
KDA staff helped host almost 50 informational and educational events across the state in 2019.
KDA communications director Heather Landsdowne said applications for the 2020 growing season were due by the end of November of last year, and licenses were being issued throughout January and February. She said about 40% of the applications were from new growers who did not have a license in 2019.
Kansas has submitted its commercial program plan to USDA for approval. Once the regulations are formally adopted and USDA approves the plan, KDA will implement the commercial industrial help program and discontinue the research program.
Kansas State University was the only institution that applied for a hemp research license in 2019. They were granted licenses in five counties. Three research plots were planted.
Those were the John C. Pair Horticulture Center near Wichita, the Olathe Horticulture Research and Extension Center in the Kansas City area and the Northwest Research Extension Center in Colby.
High tunnels worked better
The Pair center planted seven CBD varieties, including five in high tunnels that offer protection from the environment.
Jason Griffin, executive director of the Pair center, said the research station found that the hemp grown in the high tunnels was much more successful than that grown outdoors.
Griffin said that in the hemp industry, pollination "is a big deal. CBD is produced in the female flower buds, and if those female flower buds get pollinated, your concentration of CBD just tanks into the basement. You get almost none. So, you have to keep pollen away from those female flower buds."
That caused problems for the hemp varieties that K-State grew outside, Griffin said, noting that pollen can travel as far as three miles.
"I think it would be very difficult to have a large-scale, outdoor CBD production system successfully without somehow protecting those plants from pollen," he said.
Because they were protected from insects and other pollinators, "the plants inside the high tunnel were just superior," Griffin said. "In that protected environment, they were larger and had more flower buds. Because they had more buds, they had a higher CBD content."
This article contains information supplied by Kansas State University News Service.
Subscribe to receive top agriculture news
Be informed daily with these free e-newsletters
You May Also Like
---