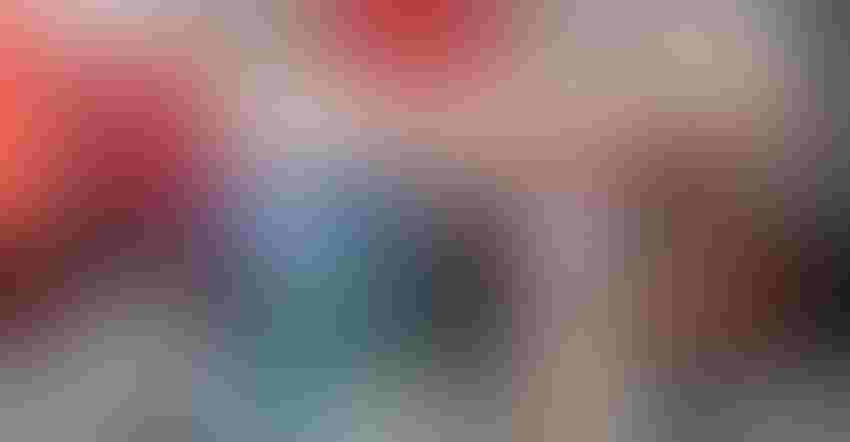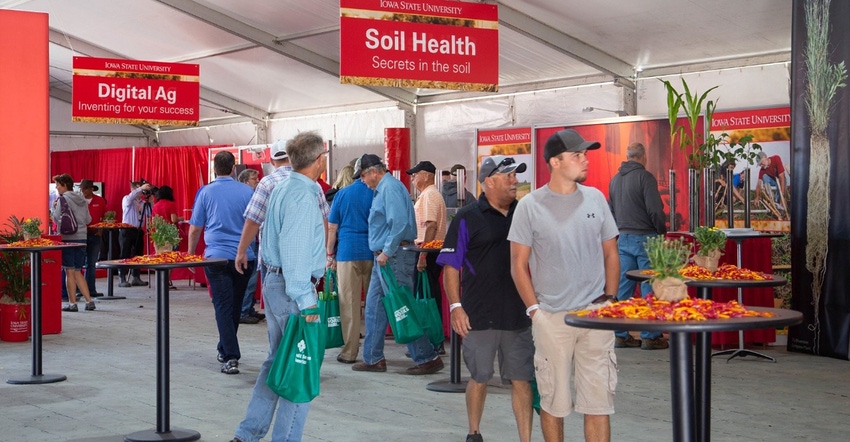 1-STOP WEATHER: Iowa State University Extension will have the Iowa Environmental Mesonet on display in its tent at the 2022 Farm Progress Show.
Courtesy of ISU Extension
Each growing season brings its own weather and climate challenges for farmers. While it can be difficult to predict what will happen from year to year, the data shows extreme weather events — like flooding, drought, and temperature abnormalities — are becoming more abundant.
Farmers in Iowa and much of the Midwest battled a wetter and cooler than normal start to 2022, following drought conditions that affected Iowa and surrounding states in 2021. In order to help farmers analyze what is happening with the weather, specialists with Iowa State University Extension and Outreach collaborate with the Iowa Environmental Mesonet, a collection of current, historic and predicted weather events across the state, with information that is county-specific.
The mesonet will be on display at the 2022 Farm Progress Show, with monitors that show the tools related to soil temperature, rainfall data, storms, temperature extremeness and historical changes over time. It provides county-level maps of Iowa precipitation and soil temperature — key factors in the production of most agricultural crops. The data is updated daily, from weather stations across the state.
Weather data clearinghouse
"The 'mesonet' is basically a data clearinghouse for all sorts of different environmental data collected in Iowa," says Daryl Herzmann, systems analyst at ISU. "We realized many years ago that there was a lot of environmental data being collected by a lot of different groups, but there was a need for a one-stop place to find this information. And there was also a need to distill this data down into a more meaningful and understandable product."
Farmers can access the Environmental Mesonet from their home computer or a smartphone; because it is updated daily, they are sure to find current data relevant to their part of the state. The mesonet also features Iowa roadway conditions, National Weather Service data, radars, webcams and more.
Improvements to the site now allow for more county-specific data, which helps Iowans confirm what many have already noticed — that the weather and climate where they live is changing.
Herzmann says farmers have noticed the changes for years, especially in a planting season like 2022, when the suitable days for planting were very limited. The shorter planting window required them to extend their planting hours when the weather was fit, making up for lost time and trying to finish before the next rain event.
He says climate change continues to be a contentious term for some — but not so much over whether it's happening. Farmers have picked up on the changes for years, and over time have moved toward shorter-maturity hybrids, partly due to a shortened growing season.
"The climate is definitely not static," says Herzmann, who earned a meteorology degree from ISU in 2001. "The data simply does not support the idea that the climate is the same as it's always been. That is not the case at all."
Sixty years ago, he said farmers could have expected a more balanced start to the growing season, with more days suitable for fieldwork and planting. This year, like the past several, most of the planting happened in a matter of days.
Climate changes
Interestingly enough, the signs of climate change in Iowa are not always what people might think. Iowans might anecdotally notice a cooler summer or cooler winter, but in truth, the climate is still changing.
"In Iowa, one of the strongest signals of climate change is an actual decrease in summer high temperatures, which is overwhelmed by an increase in summer low temperatures," Herzmann says. "Similarly, winter highs are increasing, even though winter lows have not changed as much."
Herzmann says the monitors at his display will allow farmers to track weather and climate data where they live — and confirm or refute what they believe is happening in their area.
He said he enjoys the Farm Progress Show because he gets to hear directly from the people who rely on the weather information provided by ISU. Their opinions and concerns help shape the kind of data he and his staff help track, and the improvements they make to websites like the mesonet.
Herzmann grew up with a farming background and said he appreciates the different ways farmers regard weather forecasts, and how they make their decisions.
"They have their own ideas in their heads about when certain sequences of events should occur, and when they should be doing things," he says. "They are very savvy about this stuff, and they look at the forecasts all the time."
Visit the mesonet online at mesonet.agron.iastate.edu.
Kick writes for Iowa State University Extension.
Subscribe to receive top agriculture news
Be informed daily with these free e-newsletters
You May Also Like
---