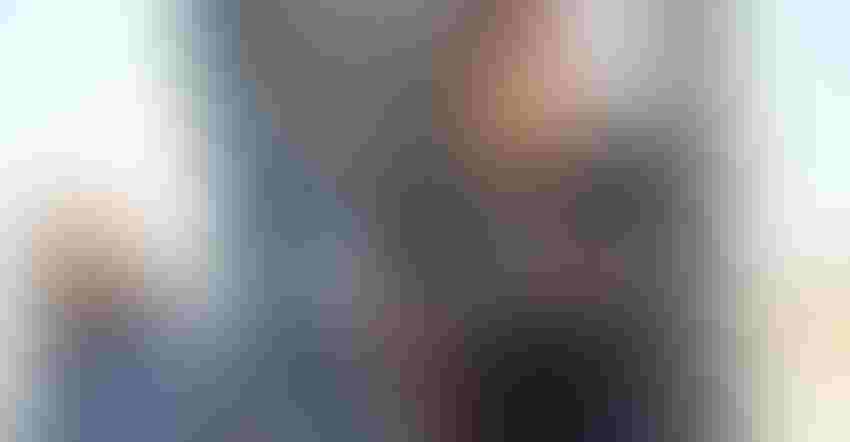 RETURNING TO THE BIG SHOW: Lee Brice will be back on the Farm Progress Show grounds this time in Boone, Iowa, which is a first for that site. Brice's powerful song "Farmer" was launched at the Decatur show. The concert starts at 5:30 p.m., Wed. Aug. 31, and is included in the price of the Farm Progress Show ticket.
Holly Spangler
Farm Progress Show 2022 welcomes a proud voice in support of agriculture and American farmers: country music singer and songwriter Lee Brice. On Aug. 31, attendees will enjoy a special concert presented by Case IH and co-sponsored by Farm Progress at this year's show in Boone, Iowa.
Brice first performed for Farm Progress Show at the Decatur, Ill. grounds in 2021. 
He has penned multiple hits, including "Farmer," which he debuted at last year's show in celebration of producers' tireless work. Brice's 2022 performance will mark the first-ever concert held at the show site in Boone.  
"We're proud to again work alongside Case IH to bring Lee Brice to Farm Progress Show," said Don Tourte, senior vice president of sales and events with Farm Progress. "It's a great addition following the Wednesday show's events, and we're excited to have this high-caliber talent perform for our first concert at the Central Iowa Farm Progress Show site."  
As a brand ambassador for Case IH, Lee Brice — and his song, "Farmer" — continues to reinforce the mission of the Case IH Built by Farmers initiative, which tells the stories of its employees and their collective farming backgrounds.
"Our partnership with Lee Brice personifies what we are all about at Case IH — we celebrate the hard-working producers whose perseverance is like no other," said Kurt Coffey, Case IH vice president of North America. "Our work with Lee not only brings the recognition farmers deserve but also showcases the importance of the agriculture industry and its impact on every single person in North America."
General admission tickets to the Farm Progress Show on Wednesday, Aug. 31, will include entry to the concert. The opening act, Tim Montana, starts at 5:30 p.m. CT. The Farm Progress Show will be held Tuesday, Aug. 30, through Thursday, Sept. 1, in Boone.   
Visit farmprogressshow.com for more information about Farm Progress Show 2022. For more information about the Case IH Built by Farmers campaign, visit BuiltByFarmers.com. 
About Farm Progress
As part of Informa Markets, Farm Progress is the largest, most diversified agriculture information business in North America. Through a robust network of live events, digital products, data, marketing services, broadcasting and local and national publications, Farm Progress enables the nation's most economically significant farmers, growers and ranchers to connect and do business. It serves 80% of the 2 million farms and ranches in the U.S., and an estimated 85% of the nation's annual agricultural gross domestic product. Visit our website at https://Marketing.FarmProgress.com.
About Case IH
Case IH is a global leader in agricultural equipment, committed to collaborating with its customers to develop the most powerful, productive, reliable equipment — designed to meet today's agricultural challenges. With headquarters in the United States, Case IH has a network of dealers and distributors that operates in over 160 countries. Case IH provides agricultural equipment systems, flexible financial service offerings and parts and service support for professional farmers and commercial operators through a dedicated network of professional dealers and distributors. Productivity-enhancing products include tractors; combines and harvesters; hay and forage equipment; tillage tools; planting and seeding systems; sprayers and applicators; and site-specific farming tools. Case IH is a brand of CNH Industrial N.V. (NYSE: CNHI / MI: CNHI).
About Lee Brice
When Curb Records recording artist, Lee Brice, isn't selling out arenas, writing and recording songs, or building new brands like American Born whiskey, you'll find the family man with his wife Sara, two young boys, and daughter. Meanwhile, with over 3.7 billion on-demand streams, and over 3.6 billion spins on Pandora, Brice continues to enjoy massive success at country radio, digital streaming services, and on the road. He recently reached #1 at Country Radio with "Memory I Don't Mess With," which consecutively follows three prior #1s: ASCAP's 2021 Country Song of the Year "One of Them Girls," "I Hope You're Happy Now" with Carly Pearce, and "Rumor," which was nominated in the category Single of The Year at the 55th Annual ACM Awards. One of the most-played country artists of all time on Pandora, he was the second country artist behind Keith Urban to receive the Pandora Billionaire plaque. Lee is also a GRAMMY nominee, a CMA and ACM award winner, and he's taken nine radio singles to Number One: "A Woman Like You," "Hard to Love," "I Drive Your Truck," "I Don't Dance," "Drinking Class," "Rumor," "I Hope You're Happy Now," "One of Them Girls," and "Memory I Don't Mess With." Garth Brooks, Jason Aldean, Kenny Chesney and others have recorded his songs, and he's performed on numerous TV shows, including NBC's Today, ABC's The Bachelor, NBC's The Voice and FOX's Miss USA 2018. Lee performed as part of the Library of Congress Gershwin Prize for Popular Song honoring Garth Brooks, aired on PBS March of 2020. At the 54th Annual CMA Awards, Lee took home the prize for Musical Event of the Year for his song with Carly Pearce, "I Hope You're Happy Now." At the 56th ACM Awards, "I Hope You're Happy Now" won Single of the Year and Music Event of the Year, and Lee and Carly Pearce performed the song live. Lee's latest album, Hey World, features current radio single "Soul."
About CMS Nashville
CMS Nashville is a 23 year old sports and entertainment marketing firm based in Nashville, TN that connects its brand clients with artists, labels and events. CMS's long track record includes partnerships with MLB, NASCAR, NCAA, NFL, American Idol, along with major labels and artists in all genres of music. For more information visit: www.cmsnashville.com.
Subscribe to receive top agriculture news
Be informed daily with these free e-newsletters
You May Also Like
---