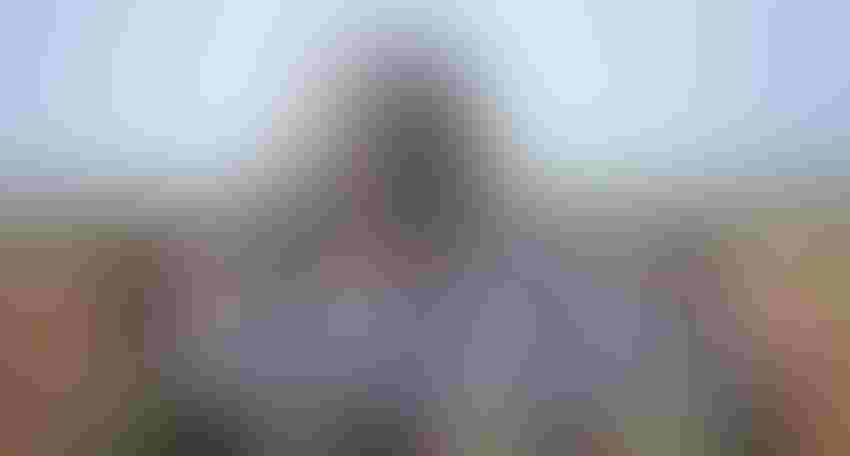 A field is treated.
USDA ARS
Washington agriculture officials are warning pesticide applicators about the dangers of drift and are suggesting ways to minimize the risk.
Last year, the state Department of Agriculture investigated more than 70 complaints alleging violations of the state's pesticide laws. About half of them (34) involved allegations that pesticides had drifted onto neighboring properties. These involved both agricultural and non-agricultural settings. These drift complaint investigations resulted in four civil penalties, nine notices of correction, and four advisory/warnings issued.
To ensure that pesticides do not drift beyond the intended treatment area, pesticide applicators must:
Read the label on the pesticides and abide by all precautions and restrictions on safe handling, necessary protective equipment, buffers, the effect on crops, and more.

Be especially diligent near areas such as highways, homes, schools, and other occupied dwellings, or where workers are present.

Properly calibrate and configure equipment, using the proper nozzles, pressure, and if applicable fan speed, to keep the spray on target.

Scout the areas bordering the treatment area for people and animals before and during the application.

Evaluate conditions such as wind speed, wind direction, and temperature.

Stop applying pesticides if conditions change and the risk of drift rises to an unsafe level or if anyone approaches the area without proper protection. Only proceed with the application when you have assessed that it can be completed without contacting them.
WSDA currently licenses about 32,000 pesticide applicators, dealers, consultants, and inspectors a year. Licensees train to apply pesticides safely. When problems do occur, WSDA will investigate complaints alleging violations of the state's pesticide laws, including cases of drift, human exposure, property damage, or environmental harm.
Some investigations involve unlicensed applicators, such as homeowners applying pesticides. Remember, pesticide is a broad term that includes herbicides, insecticides, miticides, fungicides, and more.
To file a complaint, email [email protected] or call 1-877-301-4555. WSDA also maintains and monitors a toll-free drift exposure line for farmworkers, 1-844-388-2020. Bilingual staff monitor the exposure line.
Be sure to have as much information as possible regarding the incident to share with the department or when an investigator returns the call. WSDA strives to respond to all cases of possible human exposure within 24 hours and all other complaints within 48 hours.
The state Department of Health investigates potential cases of pesticide illnesses.
Source: Washington State Department of Agriculture
Subscribe to receive top agriculture news
Be informed daily with these free e-newsletters
You May Also Like
---