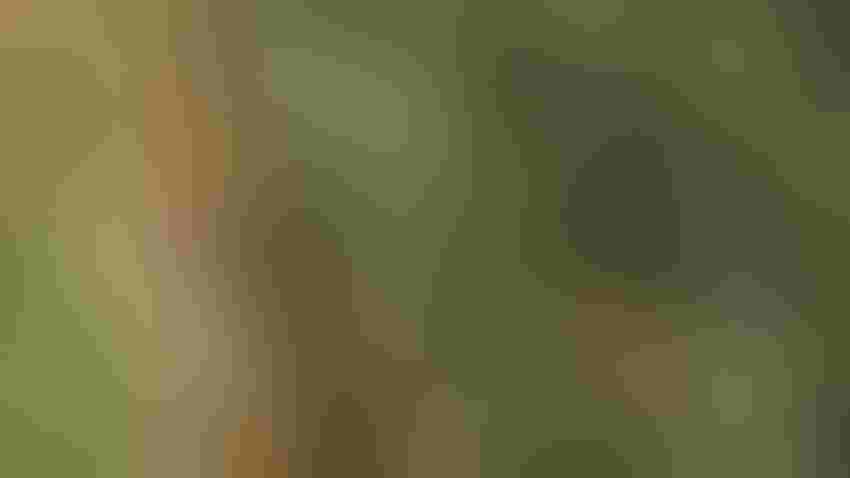 HARD HIT: Drought in northeast Nebraska and other parts of the Plains states and West has been ongoing, prompting a visit from Robert Bonnie, USDA undersecretary for farm production and conservation. During his visit, Bonnie talked with producers and USDA employees in local offices about ways federal programs can help.
Curt Arens
A large swath of Nebraska — all but the very southeastern tip — remains in some sort of drought area through the first weeks of May, according to the U.S. Drought Monitor. A large region of northeast Nebraska remains in D3 or D4, which is extreme or exceptional drought, respectively.
The dust was flying behind planters and sprayers in the field outside West Point, Neb. — smack dab in the middle of the worst of the drought conditions and the center of Nebraska's livestock sector — on May 3, when Robert Bonnie, USDA undersecretary for farm production and conservation, visited the USDA service center to speak with local farmers and USDA office and field personnel.
Bonnie came to the area to talk with producers and USDA employees about drought-related programs that are available, to hear about the intensity and impacts of the drought on producers, and to discuss how USDA's Climate-Smart Commodities initiatives can help.
What producers told him
"It's clear that this is critical for a lot of producers everywhere," Bonnie said in an interview with Farm Progress. "Lots of folks we talked to today are in the livestock industry, and we are seeing this across the country, producers having to sell cows."
He asked those producers how to make the federal programs work better for them. "Can we stretch the Livestock Indemnity Program or the Livestock Forage Disaster Program — we are looking for ways to have these programs work better for producers," Bonnie said. "I think there is more we can do to help producers deal with drought, and we want to make sure we are being as responsive as we can."
Bonnie said in a year when the new farm bill will be developed, there may be opportunities for the U.S. Congress to address ways to help producers with drought as well. "On both the crops and the livestock side, there are some pretty serious challenges for producers here," he added.
Local USDA offices
The local USDA Service Center staff at the county level is the delivery system to producers for most federal farm programs. Bonnie acknowledged that staffing today is down from levels five to six years ago, and it is hard to hire new staff.
"We want to make sure junior employees are retained and that we are getting the best employees," he said, "but the time to hire takes too long right now. We just talked about training at this office in West Point, and how providing training to folks helps to retain them."
He said that USDA Secretary Tom Vilsack wants to make USDA one of the best places to work in the federal government. "We know how strongly farmers and ranchers feel about their local USDA offices," Bonnie said. "We want to make sure local offices have current technology and are equipped. We know that we ask a lot of local county employees, and how important local staff are."
There is a recognition of this fact among farmers and farm groups. To make sure the engine is running smoothly, people who run these programs have to be well compensated and well taken care of, Bonnie said.
Climate-Smart Commodities
USDA is investing in 141 selected projects under the Partnerships for Climate-Smart Commodities. "One of the things important here is the approach," Bonnie said. "These projects are voluntary, incentive-based and producer-led. We are looking for ways to see value for things that farmers are already doing, like cover crops and conservation tillage, and things they can do. This is not a conservation program. It is a commodity program, so maintaining productivity and making sure it works economically for producers is really important."
So far, about 40 projects have agreements signed, and another 10 projects are scheduled in the near future, he added.
"Producers have just started to enroll, and about one-third of them are livestock producers," Bonnie said. "Projects like capturing methane and improving grazing practices are on the list. There are lots of opportunities."
The goal is to learn from what works in a cost-effective way and a way that works for farmers and ranchers.
"It's a big investment, but there will be a bunch of learning," Bonnie added. "The good news in all of this is that agriculture is at the table and is serious about doing things, serious about measuring and monitoring. We want people to know that a voluntary, incentive-based approach is one that works. We have partnerships with USDA, private sector, farmers, ranchers and forest owners and others. We hope the public and the press see that this approach can work if it is done in collaboration, in a way, arm and arm with agriculture and forestry."
With the first round of projects signing agreements, Bonnie noted that there was a total of more than 1,050 proposals submitted. "This tells you how serious people are in agriculture, both large players and smaller players," he said. "These are projects that can work for everybody."
Finding solutions that work will further interest in investing in agriculture as a climate solution, he added.
In addition to a stop in West Point, Bonnie also visited the USDA service center in Walthill, Neb.
Resources
Learn more about Climate-Smart Commodities at usda.gov.
Get details on federal drought disaster programs at fsa.usda.gov.
Visit the Nebraska Farm Service Agency site at fsa.usda.gov.
Subscribe to receive top agriculture news
Be informed daily with these free e-newsletters
You May Also Like
---