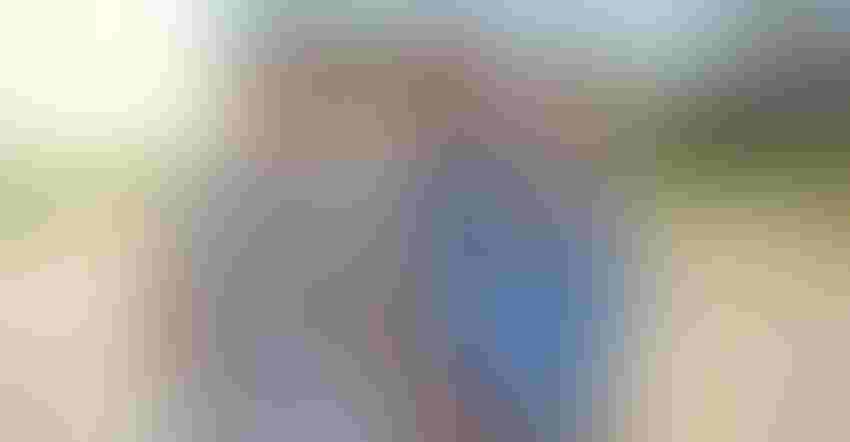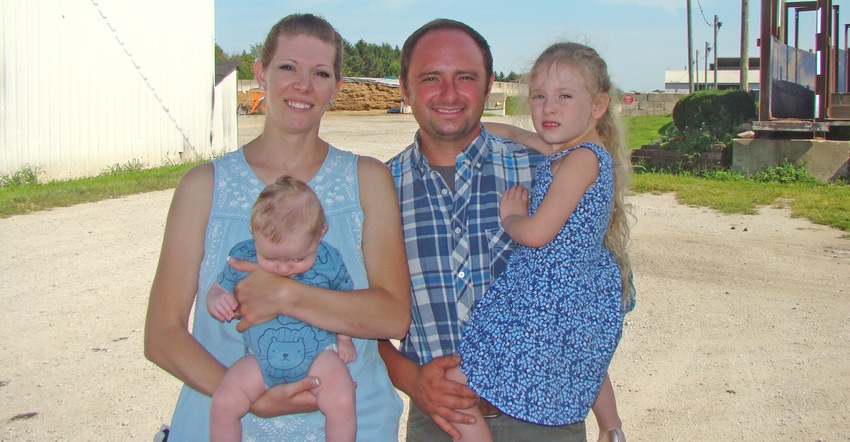 RIDE IT OUT TOGETHER: Jill and Jake Smoker and their kids, Elijah and Catherine, are committed to making things pencil out in 2021.
Darrell Boone
Young farmers are taking different paths to weather the storm of 2020, but they all have a common goal. They want to survive this challenging period and be ready to move forward when better times return.
Here's a closer look at what some young farm families are thinking and doing:
Jake Smoker and wife Jill, Wanatah, Ind. Their operation includes beef cattle, corn, soybeans, wheat, seed corn and non-GMO crops.
Concerns: Personal and ag? Finding and retaining quality employees is always an issue, because the depth of the pool isn't what it used to be. We've lost some people because of health insurance. And generally, while COVID has put some of the million issues facing agriculture on the back burner, none of them have left.
Adjustments due to COVID-19 and low prices? Our operation is very stripped back. From an early age, I've been trained to use what you've got and make it work. The biggest change we've made is making sure we're stocked up on supplies, six months to a year in advance — chemicals, parts, medicines. There's a cost to adding inventory, but we must be ready for the next supply chain shock.
Personal plans for 2021? The numbers are going to have to dictate. We've always been guided by cost per acre, per head and per bushel, but that's going to be even more so this year. Like, what to spray, when to plant, what to do — does that pencil out?
Ag opportunities in 2021? Necessity is the mother of innovation, and I believe technology is going to play an even bigger role in farming. I've been involved with some preliminary testing of AI —artificial intelligence — for combines, sprayers and planters. I believe that it's also going to be very affordable.

COUNT ON CUSTOM BUSINESS: Aaron and Allison Chalfant farm, but their operation also includes a custom manure application business. They're pictured with their kids, Ruby and Knox.
Aaron Chalfant and wife Allison, Winchester, Ind. The operation includes corn, soybeans, contract hogs and custom manure application.
Concerns: Personal and ag? Cash flow and tight margins — there's not a lot of meat left on the bone. We're going to need pretty good yields to make up for $3.20 corn and $8.50 beans. The coronavirus and trade issues are the biggest concerns for an ag producer. China's been taking advantage of us for a long time, but it's unfortunate that it impacted ag exports. And how much market share have we lost long term to South America? 
Adjustments due to COVID-19 and low prices? We really haven't made too many changes. If this continues into 2021, there's a chance some corn acres will get switched to soybeans.
Personal plans for 2021? Right now, we're going to move forward with business as usual. We've been given an opportunity to expand our current custom manure application business of 20 million gallons and add 8 million to 10 million gallons. While crop prices are depressed, this side hustle gives us some flexibility in tight margins. 
Ag opportunities in 2021? The average age of a farmer is 58 years old. I foresee some farmers renting their farms rather than reinvesting into them. This provides an opportunity for a young farmer to step in, create a relationship, and build on the legacy.

URBAN SPRAWL: Low commodity prices are hamstringing Brent and Ashley Reed, with daughter Ciara, but urban sprawl is causing them to reach out farther to find land.
Brent Reed and wife Ashley, Nappanee, Ind. They raise conventional, non-GMO and organic corn and soybeans, plus hay.
Concerns: Personal and ag? Low commodity prices are the big one. Right now, everybody's trying to figure out how to survive, including doing specialty or niche crops, or other ways to make more money. Another concern here is urban sprawl. In Elkhart County, when nonfarm residents move into the country, it presents challenges. Partly because of that, land prices here are high. We've been forced to move some of our operation into Kosciusko and Marshall counties. Another challenge is health insurance.
Adjustments due to COVID-19 and low prices? Our day-to-day operations haven't changed much. After COVID kicked in, we wished we'd sold more corn for 2021, but at this point, we're just going to put it into the bin and hope for a positive price correction. We'd also purchased a new grain dryer that's over two months behind in delivery, due to COVID-related slowdowns at the factory.
Personal plans for 2021? We're continuing with our non-GMO crops, because the premium we get helps a lot. Besides the new storage bin, we're also going to put in a new wet bin and grain leg.
Ag opportunities in 2021? In a tough year, there should be a few opportunities to sell at a profitable level sometime, but you must be ready.

WATCH CASH OUTLAYS: There is not enough money to do everything that Chelsea and Aaron Overman would like to do right now, including installing lots of tile. Their kids are Connor (left), Cameron, Callie and Aiden.
Aaron Overman and wife Chelsea, Peru, Ind. Their operation includes non-GMO corn, non-GMO and food-grade soybeans, wheat, double-crop teff for hay and seed sales.
Concerns: Personal and ag? My biggest concern is will low commodity prices allow us to truly take care of the ground like we should? Or will we have to pull back on fertilizer and other inputs? While it's nice to get government checks, that's usually a sign that things aren't going well. I really hope we can get the trade issues with China resolved so we don't need government checks anymore.
Adjustments due to COVID-19 and low prices? We switched quite a few acres from corn to soybeans, and cut back some fertilizer applications to maintenance level, which we hadn't done for years.
Personal plans for 2021? I believe that today, young farmers aren't going to be able to just grow commodity corn and beans and make money. We need to diversify and consider specialty crops. Right now, I'm looking into maybe alfalfa or some organic crops. I'm also considering partnering with another farmer on sharing some equipment. We need to do drainage but are only doing bare basics for now.
Ag opportunities in 2021? For those who can think outside the box and manage their risk well, there will be some good opportunities. Like with organics, that's kind of scary, but I think they could pay good dividends. And if you're managing your risk well and taking care of your farm, I believe other people will notice, which could help you pick up additional ground.
Read about more young farmers' views and plans in this related story. 
Boone writes from Wabash, Ind. Overman is his nephew.
Subscribe to receive top agriculture news
Be informed daily with these free e-newsletters
You May Also Like
---