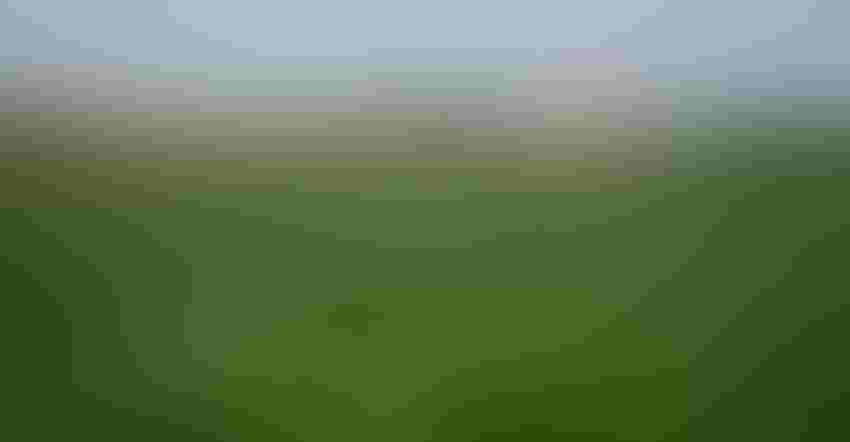 ON THE REBOUND: The Bureau of Business Research's latest long-term forecast projects Nebraska's net farm income will decline by nearly 16% for 2017.
Weak farm income will continue to hamper Nebraska's economic growth during the next three years, according to the latest long-term forecast produced by the University of Nebraska-Lincoln's Bureau of Business Research and the Nebraska Business Forecast Council.
"Farm incomes have been driven down over the last four years and are expected to bottom out in 2017," says Eric Thompson, director of the Bureau of Business Research, an applied economic and business research entity of the College of Business at Nebraska. "Weakness in its largest sector will cap growth in the Nebraska economy, despite strong performances in select sectors like construction and business services."
Ag to begin rebound in 2018
The updated forecast, which covers 2017 through 2019, was released June 9.
Nebraska's net farm income is projected to decline by nearly 16% for 2017, to $3.7 billion, as federal support for agriculture continues to decline and as yields normalize following a strong 2016 harvest. It would be the fourth straight year of declining farm income and would equal about half of the nearly $7.5 billion Nebraska farmers realized in 2011's record-high year.
Still, the forecasters say agriculture should hit bottom in 2017 and begin trending upward in 2018 and 2019. Better-than-expected grain yields in 2016 softened the impact of sinking crop and cattle prices. Farm income decreased by 9.2% in 2016, compared to previous predictions of a 17% decline for the year.
Farm income is projected to rise nearly 4% in 2018 and more than 7% in 2019, mostly as a result of improved productivity. The forecasters say they don't expect a rebound in crop prices.
The outlook for farm income contrasts with the good news that nonfarm income is expected to grow by an annual average of 4% during the next three years, exceeding both population growth and inflation. Job growth will hover around 1% a year.
Other takeaways
Other highlights from the forecast:
• Fueled by an expanding service sector, and new roads and homes, construction will be Nebraska's fastest-growing job sector, projected to add 4,500 jobs, a nearly 9% increase, by the end of 2019.
• The services industry will be another fast-growing part of the economy. Thanks to population and income growth and an aging population, health-care employment is expected to increase by 1.2% to 1.4% per year. Expansion also is anticipated for professional and business services and the hospitality sector. Forecasters project an additional 19,000 jobs in the services sector by the end of 2019, an average annual increase of 1.6% to 1.7% per year.
• Manufacturing will be challenged by shortages of skilled workers and declining farm income. Jobs in durable goods manufacturing will decrease in 2017, as farmers continue to limit purchases of new machinery and equipment. However, a new chicken processing plant under development near Fremont will help add more manufacturing jobs in non-durable goods in 2019.
• A shortage of long-haul truck drivers and railroads' declining coal business will prevent significant growth in transportation jobs. After a decline in job numbers in 2016, the sector is projected to add only about 500 jobs as of 2019 – annual growth of about 0.5%.
• Although net taxable sales are projected to grow by more than $3 billion over the next three years, relatively few new retail jobs will be added. That's because of rapidly growing online sales and increasing automation in the retail labor force. The sector is projected to add 2,100 more jobs through 2019, an annual increase of less than 1%.
• New investments in high-speed internet are a source of new jobs in the information sector. But increasing automation in areas like publishing, broadcast media, data processing, website design and telecommunications has slowed sector job growth. Only about 300 jobs are projected to be added to the information sector through 2019, an average annual growth of less than 0.5%.
• Financial services employment is projected to add as many as 2,100 jobs by the end of 2019, with annual growth of 1% in 2017 and 2018 and 0.8% growth in 2019.
• Government jobs are expected to grow slowly during the next several years as state and local governments wrestle with budget deficits.
The Business in Nebraska forecast, which is updated every six months, is prepared in consultation with the Nebraska Business Forecast Council. Along with Thompson, the council is comprised of John Austin and David Rosenbaum of the Bureau of Business Research; David Dearmont of the Nebraska Department of Economic Development; Phil Baker of the Nebraska Department of Labor; Ken Lemke and Scott Loseke of the Nebraska Public Power District; and Brad Lubben of the university's Department of Agricultural Economics.
The complete Business in Nebraska economic forecast, including information about a noon June 9 webinar discussing it, is available at the Bureau of Business Research.
Source: IANR News
Subscribe to receive top agriculture news
Be informed daily with these free e-newsletters
You May Also Like
---