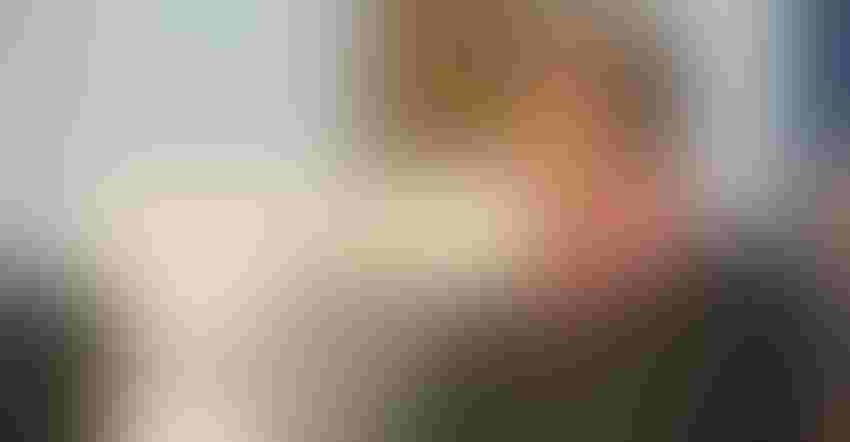 EXPLAINING THE NEED: Minnesota Department of Transportation commissioner Margaret Kelliher explains how a proposed 20-cent per gallon gas tax would be phased in over two years.
When it comes to future investments in Minnesota roads and bridges, the winter weather has been an ally of the Walz administration.
Potholes in paved roads are everywhere, causing headaches for motorists dealing with flat tires and dented rims, and prompting challenges for transportation maintenance crews who struggle to get ahead with filling them.
With a proposed $45 million highway project north of Anoka as the backdrop, Gov. Tim Walz, Lt. Gov. Peggy Flanagan, Minnesota Department of Transportation commissioner Margaret Anderson Kelliher and local officials held a brief meeting and press conference March 19 at the Anoka-Hennepin school district offices located on Ferry Street to emphasize their belief in the need to invest in Minnesota's transportation infrastructure.
They highlighted the administration's transportation budget proposal that includes increasing the gas tax 20 cents per gallon along with one of the projects the proposal would help fund: an overpass bridge at the BSNR railway crossing Ferry Street, which is also State Highway 47.
Officials note that the Ferry Street railroad crossing is one of the most dangerous crossings in the state, with major crashes dating back to 1972. Today, more than 18,000 vehicles and up to 80 trains cross the intersection per day at speeds as high as 75 miles per hour. Traffic backups are a daily occurrence, frustrating drivers as they wait for trains to pass.
Kelliher said that MnDOT has two railroad projects on the board — the one in Anoka and another in Moorhead.
"This is a long-overdue overpass," she said, adding that projected community growth will only add to the traffic congestion at this site.
PHOTO OP: After a meeting in Anoka discussing his administration's proposed 20-cent per gallon gas tax hike, Gov. Tim Walz posed north of the Ferry Street train tracks by a large pothole so his media team could take video of him for his "pothole tour." The video, uploaded to Facebook and Twitter, asks Minnesotans to post photos of potholes around the state.
Kelliher said MnDOT has estimated an $18 billion gap for projects over the next 20 years. To help fund those and maintain others, Walz has proposed increasing the gas tax by 20 cents per gallon, which will be phased in over two years; indexing that tax to inflation beginning in 2023; increasing the registration tax and base tax fee on vehicles from $10 to $45; and increasing the motor vehicle sales tax from 6.5% to 6.875%.
The increased gas tax would raise approximately $6.5 billion, the increased registration tax would raise $4 billion and the increased motor vehicle sales tax would raise $505 million over 10 years.
The Anoka railroad overpass is one of more than 500 transportation projects statewide on MnDOT's list.
Walz noted that if adequate funds had been dedicated to transportation in the past, the Anoka project would have already been done. He expressed some frustration with lawmakers simply saying no to new taxes.
"This isn't an argument about gas tax, this is about moving people safely and efficiently," Walz said. "The alternative 'no' is not a plan… no one has debated whether this has to be done or not… [they have] said we're not interested in paying for it."
State Sen. Jim Abeler, R-Anoka, was not able to attend the meeting yet knew about its discussions. In a later interview with The Farmer, Abeler said that the 20-cent gas tax is high and noted that the governor during his campaign offered a 10-cent gas tax hike proposal. He added that the other two tax increases — the registration and motor vehicle sales taxes — were excluded during the meeting's presentation.
Plus, Abeler said he does not agree with Walz's proposal to transfer $460 million that is being used for transportation projects back into the general fund. A Republican-led effort in 2017 had that money transferred from the general fund to transportation for the biennium. If Walz's proposal becomes reality, the first 6.8 cents gas tax per gallon replaces that funding and doesn't buy roads at all, Abeler said.
HEAVY RAIL AND MOTOR TRAFFIC: Anoka's Ferry Street railroad crossing, pictured in the background, sees more than 18,000 vehicles and up to 80 trains per day. Gov. Tim Walz was late for the March 19 meeting due to a train crossing here. Potholes abound on this stretch of road as well. MnDOT crews work at catching up on the number of potholes requiring maintenance.
"So really it is a 13-cent net increase for roads," he said. "That makes it more difficult for me to vote for."
Abeler added that he is not alone in not supporting the proposed gas tax. Other Republicans are not in favor of it, either.
"I'm open to discussing it," he said. "Money for a gas tax is not easy [to pass]."
About the Author(s) Paula Mohr has been editor of The Farmer since 2004. She enjoys covering a wide range of topics that are of interest to Minnesota producers.
Subscribe to receive top agriculture news
Be informed daily with these free e-newsletters
You May Also Like
---