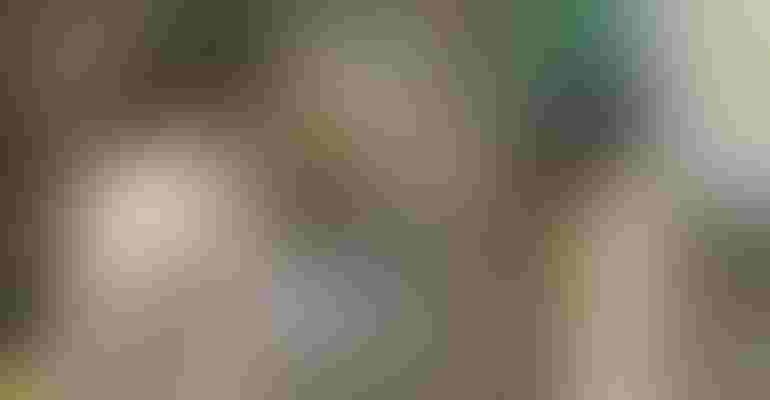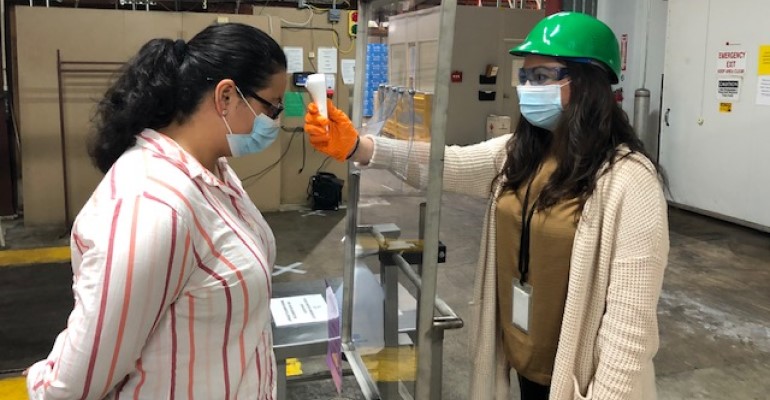 Perdue Farms requires temperature checks before food workers can start work each day.
Perdue Farms
USDA's Office of the Inspector General is initiating an audit of USDA actions that may have contributed to the spread of COVID-19 in meat processing facilities and other agricultural processing facilities. The USDA OIG initiated this audit in response to a request made by Sen. Michael Bennet, D-Colo., in August.
"Early in the pandemic, meat processing plants saw some of the highest rates of COVID-19 infections, harming a workforce predominantly comprised of immigrants, refugees, and people of color, and raising serious questions about any federal actions that may have contributed to the spread of the virus in these facilities," says Bennet. "Hardworking Americans who are serving on the front lines during this crisis deserve answers. I'm glad the USDA Inspector General is making it a priority to get to the bottom of this."
Due to comprehensive COVID-19 protections recently reaffirmed in guidance issued by the Biden administration, current case rates in the meat processing sector are more than five times lower than in the general population and are down more than 95% from the pandemic's peak in the sector, the North American Meat Institute reports.
In a letter to Bennett, Phyllis Fong, USDA inspector general, says the audit will focus on how FSIS spent its $33 million in CARES Act funding. In addition, it will determine whether FSIS had sufficient critical resources to ensure reliable COVID-19 tests, personal protective equipment, hand sanitizer, soap and warm water, workplace dividers, and disinfectant available to inspectors at all establishments.
The USDA OIG investigation will address specific concerns Bennet raised in his August letter, including inquiries into:
USDA actions following the Executive Order on April 28, 2020 that invoked the Defense Production Act 

USDA actions taken to communicate the federal government's authority, standards, and expectations with State Departments of Health; and 

USDA actions taken to ensure health and safety of inspectors, and protocols in response to COVID-19 positive tests at meat processing facilities.
Fong also says the IG office will be conducting a pulse survey to obtain information about how FSIS' frontline inspectors perceive COVID-19 safety conditions in their work environments.
Related: Meat industry concerned on extra COVID worker requirements
Bennet and his colleagues raised concerns about the Trump Administration's Executive Order that pressured meat processing facilities to open without verifying the necessary safety measures to protect workers and the food supply. In June, Bennet joined UFCW Local 7 in Greeley to honor the hardworking UFCW Local 7 members who lost their lives while serving on the front lines of the pandemic.
Meat worker vaccinations
As some states begin to vaccinate essential meat and poultry workers, the Meat Institute called for the Biden Administration's help in ensuring all states prioritize these workers to receive the vaccine and its long-term protection from COVID-19.
"Some states like Kansas, Colorado and Iowa are working with meat and poultry companies to facilitate the vaccination of their frontline employees to ensure these dedicated workers are protected so they can keep food on America's tables and our farm economy working," wrote Meat Institute President and CEO Julie Anna Potts.
"Other states have inexplicably pushed essential workers back into line. We are asking the Administration to convey to all states the importance of prioritizing these workers and ensuring their swift vaccination," Potts says.
On March 4, Kansas Governor Laura Kelly joined National Beef CEO Tim Klein (and Meat Institute member), United Food and Commercial Workers (UFCW) Local 2 President Martin Rosas and other community leaders to announce a public private partnership to vaccinate thousands of Kansas meat packing workers.
In December, the Meat Institute and UFCW jointly urged all 50 U.S. governors to follow Centers for Disease Control guidance and prioritize vaccines for frontline meat and poultry workers. 
Subscribe to receive top agriculture news
Be informed daily with these free e-newsletters
You May Also Like
---