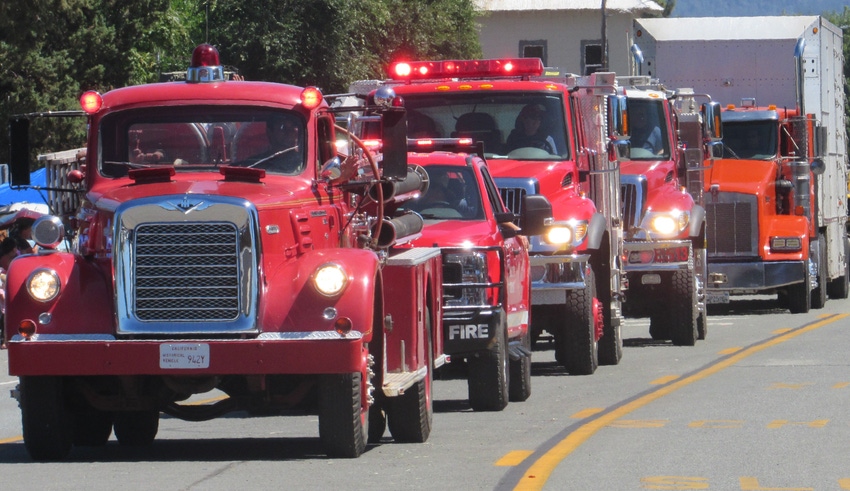 Fire engines make their way along Highway 299 in Shasta County, Calif.
Tim Hearden
After the destructive LNU Complex Fire burned through farms and ranches where Morgan Doran lives and works, he immediately volunteered to help families and local authorities take care of animal victims.
Doran, the UC Cooperative Extension livestock and natural resources advisor for Yolo, Napa, Solano and Sacramento counties, spent two full days the weekend of Aug. 22-23 in a truck with a county sheriff's deputy escort to search for live animals and provide information on how to handle dead livestock.
Nearly 300 animals – mainly horses, sheep, goats and alpacas – were killed during the LNU Complex Fire in Solano County. Some were hit by vehicles, others couldn't escape burning buildings.
"I helped locate animals that needed attention and shared burial and other disposal options and guidelines," Doran said. He also created an online survey for dead or missing animal reporting.
Doran, also the director of UC Cooperative Extension in Sacramento, Solano and Yolo counties, and his staff and partner organizations – including the USDA Farm Service Agency, Natural Resources Conservation Districts, local resource conservation districts and county officials – have organized a free webinar to help local residents in fire recovery. The webinar is from 9 a.m. to 12:30 p.m. Thursday, Sept. 10. Pre-registration is required.
Topics to be covered are:
Navigating the agency alphabet soup for disaster assistance

Understanding wildland fire impacts

Impact of fire on oak woodlands, what to expect and what to do

Impact of fire on rangelands, what to expect and what to do

Impact of fire on orchard trees, what to expect and what to do

Impact of fire on vineyards and wine grapes, what to expect and what to do

Erosion risks and mitigation measures

USDA disaster programs and how to apply
Evacuating animals
In areas where the Moc Fire burned near Moccasin, Calif., UC Cooperative Extension 4-H advisor in the Central Sierra, JoLynn Miller, joined partners to activate Team ELITE (Evacuation of Livestock in Tuolumne Emergencies) so trained volunteers could help move animals to safety and ensure they are fed and housed during the wildfire.
The organization was established in the wake of the 2015 Butte Fire, when officials recognized the need for coordinated animal evacuation planning. They drafted Miller, an experienced horsewoman and community volunteer, to spearhead the group.
"We work closely with and are dispatched by animal control during an emergency," Miller said. "Team ELITE requires members to be trained in incident command systems and they are sworn Disaster Service Workers once they complete a Team ELITE orientation and training. The Moc Fire was the first fire where we've done evacuations."
Team ELITE was placed on standby on Aug. 20. A few hours later, three teams were behind the fire lines.
"Volunteers worked throughout the night to pick up animals," Miller said. "The first night we had donkeys, chickens, horses, alpacas and pigs evacuated." The animals were held at the Mother Lode Fairgrounds in Tuolumne County.
The team spent three days, Aug. 22-24, feeding and watering animals. Aug. 25 the evacuation orders were lifted and they helped families get their animals back home.
For more information about Team ELITE, see its Facebook page https://www.facebook.com/TeamELITEinformation/.
Valuing the losses
Federal, county, CALFIRE and other officials routinely turn to UCCE experts to gather information about the impact of wildfire on agricultural lands.
Two UC Cooperative Extension rangeland advisors, Theresa Becchetti of Stanislaus and San Joaquin counties and Sheila Barry of San Mateo, Alameda, Santa Clara and Contra Costa counties, both cover areas burned by the SCU Fire.
In order for a disaster to be declared and for insurance payouts, a value must be attached to losses caused by the wildfire. In rangeland areas, components of the losses include hundreds of miles of fencing, forage, stock ponds and damage to the soil and seedbank that could impede grass growth for years. Livestock may also be lost in wildfires.
"In some respects, the SCU Fire was an invisible fire because it didn't threaten vineyards or redwoods – landscapes that get more attention. It is grassland, oak woodland and brushland. Some very small pockets of forest," Barry said. "But it is actually the second largest fire in the state's history."
Becchetti had previously developed a methodology for calculating forage losses. The two scientists were able to use the system for establishing the economic loss to ranchers and government agencies caused by the blaze. CALFIRE also used the information to inform the distribution of its firefighting resources.
"The Farm Service Agency has told us that the information we put together on the value of the area is enough for the local county committees to declare a disaster, which will release emergency cost share programs," Becchetti said. "We are continuing conversations with the agencies in the four counties and starting to put information out for ranchers."
UCCE will host meetings regarding fire recovery and disaster assistance programs. Visit local UC Cooperative Extension websites for details.
Source: University of California Divsion of Agriculture and Natural Resources, which is solely responsible for the information provided and is wholly owned by the source. Informa Business Media and all its subsidiaries are not responsible for any of the content contained in this information asset. 
Subscribe to receive top agriculture news
Be informed daily with these free e-newsletters
You May Also Like
---