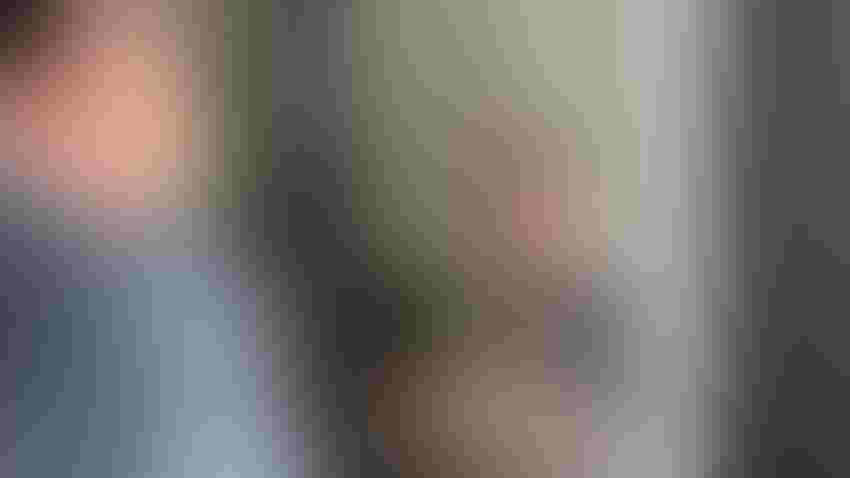 University of California agricultural economist Dan Sumner (right) talks with emeritus extension advisor Bill Krueger before a workshop in 2018.
Tim Hearden
Despite worrisome disruptions, the food system in the United States is resilient and there is little reason for alarm about long-term food availability amid the coronavirus crisis, assert three University of California economists.
While shoppers across the country have seen empty store shelves and rising prices for some products, neither overall consumption nor farm supply of food has changed much, according to a study by the UC's Agricultural Issues Center.
Shelves have been empty because consumers are stocking up and shopping less frequently, and because people gravitate to baking supplies, eggs and similar "comfort food" items during a time of economic and emotional stress, observes a team led by agricultural economist Daniel Sumner.
"Finally, demand in retail stores has increased because food consumption is happening more at home rather than away from home at restaurants, fast food chains, schools, and events," Sumner and fellow UC economists Ellen Bruno and Richard Sexton wrote.
Meanwhile, temporary supply disruptions have resulted from:
Rearranging production, packaging and shipment from the food services market to retail stores;

Managing the impact of COVID-19 on farmworkers and food processing and shipping workers; and

Ramping up farm production of items that are now facing higher demand.
Related:Dumping milk in California: Dry markets force caps
"As consumers who stockpiled goods consume from their own inventories, the supply chain has an opportunity to adjust and respond," the economists wrote. "However, additional waves of stockpiling may occur if consumers feel ongoing anxiety, or if those who missed out originally now seek to accumulate their own inventories as products return to the shelves."
Consumers unnerved
The report in the current edition of the UC's Agricultural and Resource Economics Update comes as consumers have been unnerved in recent weeks by news reports of farmers dumping milk and meat processing plants closing because some of their workers were diagnosed with the virus.
In normal times, food demand is regular and predictable, and suppliers deliver goods to stores on a "just in time" basis by anticipating demand and product turnover, Sumner and the other scientists explain. Perishable produce items are planted, harvested, packed and shipped according to a precise schedule to replenish store shelves "just in time," they add.
"The amount of product in the various stages of the supply pipeline is largely fixed," they wrote. "Shifts in demand across specific items, largely a reflection of differences in produce items demanded by food services and retail, have caused major disruption and losses for grower-shippers."
Related:COVID-19 leads to milk dumping, plunging dairy prices
Farmers and marketers specializing in restaurant sales have had to reconfigure their operations, which can be difficult, Sumner, Bruno and Sexton explain. For instance, a fluid milk plant that normally packages small school-milk cartons and large food-service containers faces challenges in redesigning its operation to supply gallons and half-gallons to retail.
How quickly supply can ramp back up for stores depends largely on the product, the scientists caution. A full year's canned fruits and vegetables are often processed shortly after the fall harvest and can be moved quickly, but other products take longer.
"The retail demand for in-shell eggs has increased due to a surge in at-home uses," the study asserts. "However, it takes months to add to the flock of laying hens, making supply essentially fixed in the short term. When stores seek more eggs to satisfy their retail customers, egg prices naturally rise substantially to ration limited supplies among buyers."
Likewise, dairies adjust their production according to anticipated shifts in consumer demand, primarily by increasing or reducing the number of cows, which can take months. Processing plants have capacity limits that are difficult to adjust, the economists explain.
Shift to fluid milk
As demand during the coronavirus closures has shifted to fluid milk, the price of this milk has risen at retail. But the overall demand for dairy products has fallen in large part because of a loss of cheese sales to food service, causing the farm price of milk to fall, they note.
As for meat processing, plant closures forced by COVID-19 outbreaks have affected as much as 10 percent of the capacity, causing a reduction in the demand for farm production and lowering prices for farm animals, Sumner and the others observe. The disruption will cause a shortfall until the plants reopen or production is re-routed to other plants, they add.
Manufacturers and grower-shippers who rely primarily on food service must decide whether to recalibrate their production for retail or try to wait until the economy reopens.
"The answer that will minimize losses to these operations hinges on how long the shutdown will last, and, at present, nobody really has these answers," the scientists wrote.
However, most U.S. farms' ability to produce is little affected by the coronavirus, although a key concern is for the health of workers and preventing outbreaks within the farm labor force, they note. The recession that will likely result from all the closures will mean little or no reduction in overall food consumption, they add.
"Despite the incredible disruptions that the coronavirus and economic shutdown have caused, our food supply chain from our farms to our tables has continued to supply Americans (and many others around the world) with the foods that allow a safe and healthy diet," Sumner and the other scientists conclude.
"Over the next weeks and months, there will surely be more uncertainty, controversy, and troubles. But, nothing in the data or the underlying economics suggests that there will be a lack of healthy, safe food available."
About the Author(s)
Subscribe to receive top agriculture news
Be informed daily with these free e-newsletters
You May Also Like
---