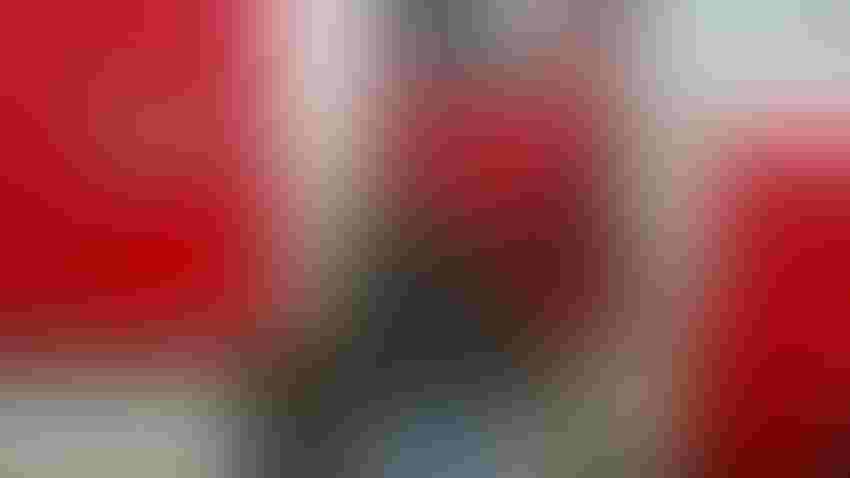 Chris Yana examines all options when it comes to surviving the current crop price scenario. That includes shifting to lower cost, but still high yielding non-GMO corn and soybeans, as well as shifting to his acres to second year soybeans on a third of his acres. Yana also turned his farm semis into a profit center, doing commercial trucking with them when they aren't busy hauling his own corn and soybeans.
Think Different
Don't get stuck in a one crop rotation mindset.

Keep your options open on all your acres.

Look for ways to work with other farmers.

Don't settle on being a price taker.
Indiana farmer Chris Yana stopped being a price taker and opened up his 2,000 acres to all options. Illinois farmer Zach Bailey hasn't included corn in his crop rotation since prices went south.
Both growers represent a different way of thinking.
They are farmers who are taking a sharp knife to input budgets while challenging conventional agronomic dogma.
"I work with other farmers, and we talk about what works and what doesn't," says Yana, who farms near Goodland. "We have a lot of choices where we purchase inputs for our crops. Prices can vary from one supplier to another on the same product and can be negotiated."
Find negotiating suppliers
Not simply taking the price asked is something he encourages other farmers consider doing. "Some suppliers won't negotiate, but others are more willing," says Yana.  
He suggests that now is prime time to look at all options. For him, that includes doing his own applications, cutting back on traited seed and shifting from a corn-bean rotation to a corn-bean-bean rotation.
While he hasn't completely stopped planting traited hybrids, he is increasingly selective about what he plants and where. "It's all about risk management," says Yana. "There is no one system that is right every year. I want the best hybrids, traited or not, on my ground with the highest yield potential. Likewise, if I'm on 50/50 rent ground, I want the highest possible yield for the landlord."
On his own ground or on cash rent ground, Yana has room to maneuver.  In 2016, he went all conventional seed on those acres. In 2017, after reviewing plot data and seeing some traited hybrids that excelled, he went with a mix of one-third traited seed to two-thirds conventional. In a year of record yields, it was roughly a draw between the two.
Growing for premiums
Yana has also gone for the premium with non-trait soybeans in recent years. Weed control problems this past spring released waterhemp and marestail. He is now weighing the benefits of a non-GMO premium against using Liberty Link beans to clean up the weeds.
Traitless corn has meant increased time scouting for European corn borer. Spectrum Seed, one of Yana's seed suppliers, provided him with Spensa insect monitoring traps this past summer. While scouting and the traps indicated no need to spray, Yana knows that could change if more growers bypass traits. Plenty of weed control options in corn have kept his fields weed free, and in-furrow insecticide defends against corn rootworm.
Continuous soybeans
Switching to continuous soybeans on some of his acres was a simple change for Yana, especially with a premium for non-GMO beans. So far, he has seen no yield disadvantage, and he wonders why more growers don't try it.
"People get in a habit of flip-flopping corn and bean acres at harvest. Then they complain about the price of corn," he says. "You can't keep doing the same thing over and over and expect different results."
No more corn, more scouting
For the Bailey Family Farm in southeastern Illinois, flying in the face of conventional wisdom is family tradition. The longtime ridge tillers would normally plant about a quarter of the farm's 12,000 acres in corn. Since these aren't normal times, no corn has been planted for the past two years. This is nothing new for the Baileys. Corn has dropped out of the rotation for as many as four years in a row, never more...until possibly now.
"My grandfather started the farm in the 1960s, and whenever corn didn't pencil out, he stayed with soybeans," says Zach Bailey. "We've done the same ever since and continue to push bean yields year after year.  We've proven that on our ground we can grow good crops of continuous soybeans with minimal disease pressure as long as we stay on top of it. Scouting is key."
Bailey admits he gets push back from others on the practice, including landlords who say, "My dad never planted soybeans after soybeans."
"People get stuck in a mindset that rotation is the way you have to do it," he says. "If you're not considering all the options, that's a dangerous place to be."
Wheat is cash and cover crop
Bailey likes options. That's why nearly 4,000 acres are in winter wheat. For him, double cropping with wheat is like getting paid for planting a cover crop. It pays off in multiple ways. The stubble and residue help hold moisture while shading soybean seedlings from the sun. Combined with heavy rates of poultry litter and conventional tillage, the wheat residue also helps build organic levels in the soil.
He admits they have to be more flexible to sustain a continuous crop, including scouting every field at least every other week. That flexibility extends to crop planning itself.
"If we see a blip in the market, we may put every acre that isn't planted to wheat into corn next spring," says Bailey.
About the Author(s)
Subscribe to receive top agriculture news
Be informed daily with these free e-newsletters
You May Also Like
---