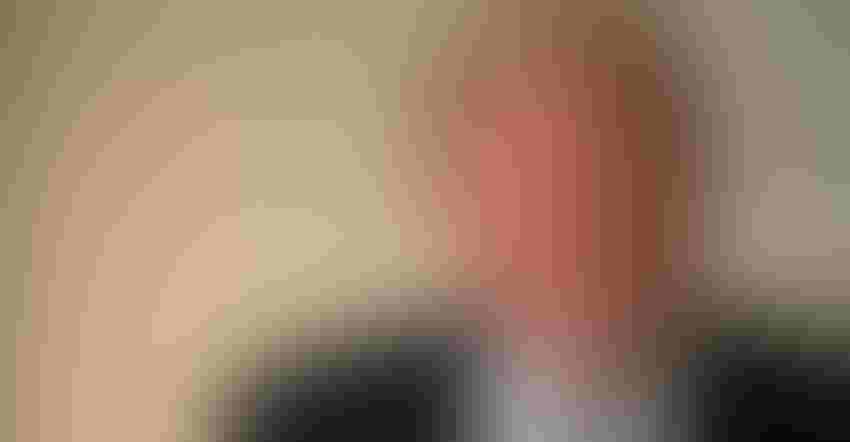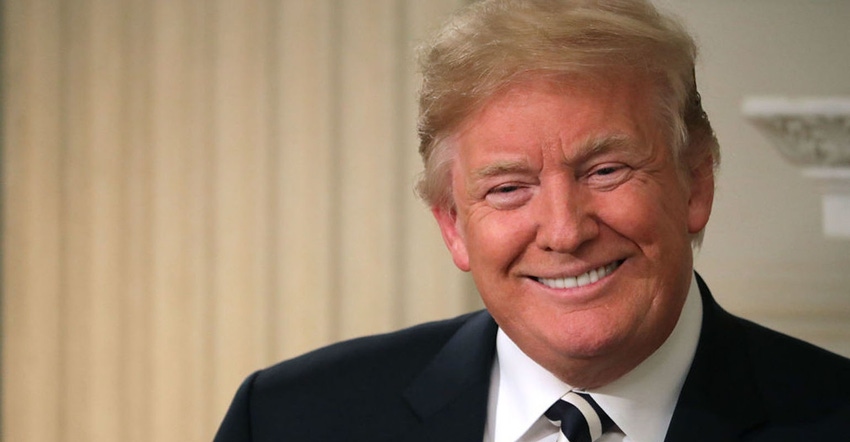 Chip Somodevilla/GettyImages
Three-quarters of U.S. farmers say they will vote for President Donald Trump in the upcoming November presidential election, despite trade disruptions, tumbling grain prices and rising farm bankruptcies.
The poll by Farm Futures, the Farm Progress brand that serves the nation's largest farmers and agricultural producers, asked, "If the presidential election was held today, would you vote for President Trump?" Some 75% said yes, a figure significantly higher from the 60% who said yes to the same question in 2018 just after the China trade war began, and 66% who said yes to an identically worded question in 2019.
The nationwide poll was conducted in late July via email and reaped 1,044 responses.
"It's no secret that there's an ongoing love affair between President Donald Trump and American farmers, and with all the chaos in the world that bond may be growing even stronger," says Farm Futures policy editor Jacqui Fatka, who has been reporting on the president's policy decisions at her FarmFutures.com blog, D.C. Dialogue.
How Washington operates
In 2016 Trump's pledge to "drain the swamp" and roll back regulations resonated with business owners, including farmers. In 2016 he won the rural vote by 33 points — 64% compared to Hillary Clinton's 31%.
Prior to the 2016 election, Farm Futures polled readers to learn what mattered most in the presidential election. "The way government in Washington operates" was the biggest concern at 30.6%, followed by "the economy" at 13.5% and "Supreme Court" at 12.6%. In Farm Futures' 2020 survey, "economic recovery" ranked first at 24% followed by "the way government in Washington operates" at a close 22%.
Farmers do worry about the pandemic and the trade war with China. But they appear to be giving the president a pass on those issues, in part because of concerns over potential government overreach under a Democrat-led Congress or White House.
"It's clear to see that the regulatory rollback President Trump has achieved during his time in office, including a rewrite of the waters of the U.S. (WOTUS) rule, environmental regulations, and other rules at USDA involving organic livestock and GIPSA reform, has resonated in rural areas," says Fatka.
Trade: mixed results
U.S. agricultural profitability depends in large part on farm exports. Within his first weeks in office Trump withdrew from the Trans-Pacific Partnership and was talked out of doing the same with NAFTA. Instead, he spent much of the next three years negotiating what we now know as USMCA as well as side deals impacting agriculture with Japan and South Korea.
The trade war began two years ago when Trump levied tariffs on China, due to alleged unfair trade practices. Recent large commodity purchases by China to meet so-called Phase 1 purchase commitments have raised hopes for an end to the dispute.
In a March 2020 Farm Futures survey, 76% of respondents agreed with the statement, "President Trump's tariffs will be worth it in the long run."
"Farmers continue to show patience in his handling of foreign policy with hopes of a long-term gain from short-term losses," notes Fatka.
High grades
In the most recent Farm Futures survey, Trump gets high "grades" from farmers on his handling of agriculture, domestic issues and foreign policy. In 2017, nearly 50% of farmers gave him either an A or B grade on his handling of agriculture and 44.5% on foreign policy. In 2018, his handling of agriculture slipped to 47.1% (A or B grade).
In Farm Futures' current survey, Trump received a score of 67% (A or B) on his handling of agriculture, and 63% on foreign policy.
"Farmers may not have known what they were getting with Trump four years ago, but I think our survey confirms they've found comfort in what they received," says Fatka.
Will the farm vote matter in 2020? Farmers make up only 2% of the nation's population.
Even in rural America where non-urban and rural votes extend beyond the farmgate, support for Trump will be an important one to watch in the final stretch this election season.
Subscribe to receive top agriculture news
Be informed daily with these free e-newsletters
You May Also Like
---