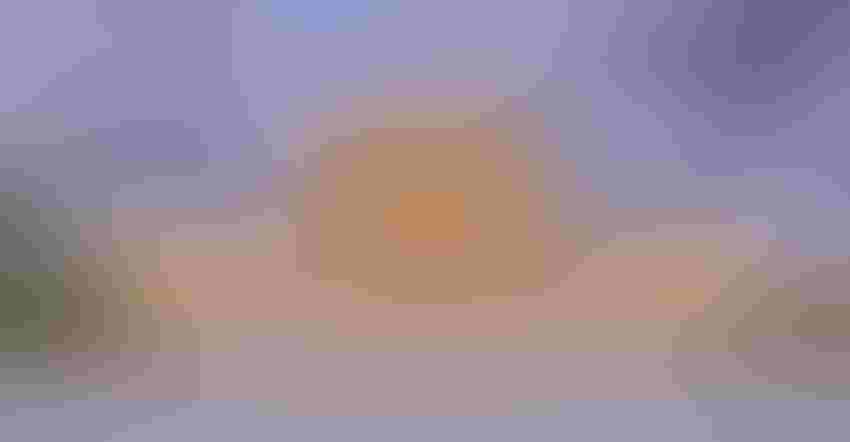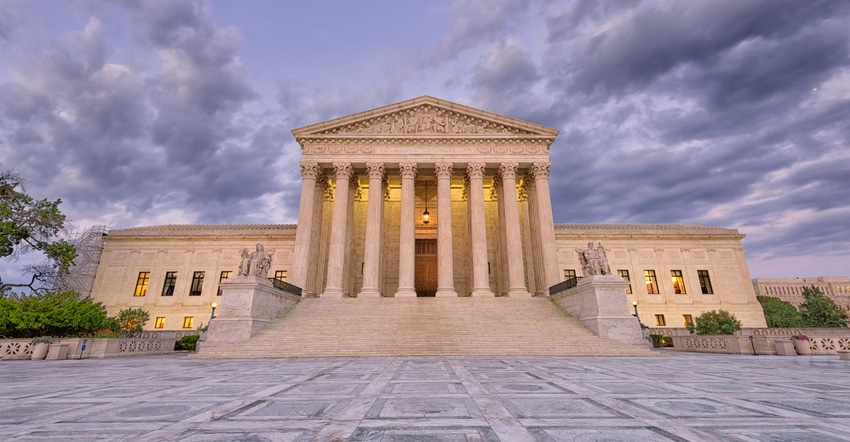 After nearly two months of waiting, the U.S. Supreme Court announced Monday morning they would be hearing the case brought by the National Pork Producers Council and American Farm Bureau Federation challenging California's Proposition 12 requiring additional space requirements for gestating sows. The state law seeks to ban the sale of pork from hogs that don't meet the state's arbitrary production standards, even if the pork was raised on farms outside of California.
The NPPC-AFBF case, which argues that Prop. 12 violates the Constitution's Commerce Clause, limiting states' ability to regulate commerce outside their borders, was relisted from the SCOTUS conference on Jan. 14 and again on Jan. 21 and finally was granted certiorari in action they took March 25. NPPC and AFBF in the coming weeks will file their initial brief with the Supreme Court, which could hear oral arguments in the fall and could render a decision by the end of the year.
"AFBF is pleased with the Supreme Court's decision to consider the constitutionality of California's law imposing arbitrary requirements on farmers well outside its borders," says AFBF President Zippy Duvall. "We share California's goal of ensuring animals are well cared for, but Prop 12 fails to advance that goal. We look forward to presenting the facts to the court, including how Prop 12 hamstrings farmers' efforts to provide a safe environment for their animals, while harming small family farms and raising pork prices across the country. One state's misguided law should not dictate farming practices for an entire nation."
In 2008, the voters approved Proposition 2, the Prevention of Farm Animal Cruelty Act, which took effect January 1, 2015. With exceptions, Prop 2 banned three forms of animal confinement: "gestation crates for pregnant pigs, veal crates for calves, and battery cages for egg-laying hens." Prop 2 did not prohibit sales of food derived from animals wrongly confined.
In November 2018, the voters built upon Prop 2 by approving Proposition 12, the Prevention of Cruelty to Farm Animals Act. The Act's stated purpose is to "prevent animal cruelty by phasing out extreme methods of farm animal confinement, which also threaten the health and safety of California consumers and increase the risk of food borne illness and associated negative fiscal impacts on the State of California."
The updated constitutional amendment seeks to not only require pork raised in the state to not be raised using sow gestation crates, but also to any pork consumed in the state to meet the same standards. After December 31, 2021, confining a breeding pig with less than 24 square feet of usable floorspace per pig was considered "confined in a cruel manner."
"This is big news for American agriculture. But it only means we get to play, it doesn't mean we win," explains Gary Baise, ag lawyer from Olsson Frank Weeda law firm. "All this means is the court will hear the case."
The high court is taking up the case on appeal from the U.S. Court of Appeals for the 9th Circuit, which in July upheld a lower court ruling against the NPPC-AFBF lawsuit. The appeals court found that despite the organizations plausibly alleging that Prop. 12 "will have dramatic upstream effects and require pervasive changes to the pork industry nationwide," 9th Circuit precedent didn't allow the case to continue. That precedent, however, runs counter to numerous Supreme Court decisions and is in conflict with nearly every other federal circuit court.
"We are extremely pleased that the Supreme Court will consider the constitutionality of Proposition 12, in which California seeks to impose regulations targeting farming practices outside its borders that would stifle interstate and international commerce," says NPPC President Terry Wolters. "NPPC has poured a lot of blood, sweat and tears into preserving the rights of America's pork producers to raise hogs in a way that's best for their animals' well-being and that allows them to continue selling pork to all consumers, both here and internationally."
"In addition to its unconstitutional extraterritoriality," Wolters says, "Prop. 12 sets arbitrary animal housing standards that lack any scientific, technical or agricultural basis and that will only inflict economic harm on U.S. hog farmers and consumers."
To continue selling pork to the nearly 40 million consumers who live in California, which represents about 15% of the U.S. pork market, pork producers would need to switch to alternative sow housing systems. Industry estimates for converting sow barns or building new ones to meet the Prop. 12 standards are in the billions of dollars. Even with farmers bearing most of the costs, consumers in California and across the nation will eventually see higher pork prices. An estimated 99.8% of the pork consumed in California comes from out-of-state, creating a wide net of those impacted by the rule. Business groups in California recently got a state superior court to delay the effective date of Prop. 12 for 180 days after final implementing regulations are issued.
In addition to its legal efforts, NPPC weighed in on problems with the initial proposal implementing regulations for Prop. 12, including an unworkable annual certification of hog farms' compliance with the initiative's requirements. The California Department of Food and Agriculture, which wrote the regulations, has yet to issue final rules.
Kitty Block, president and CEO of the Humane Society of the United States, remains confident the Supreme Court will uphold California's landmark farm animal protection law. "The Court has repeatedly affirmed the states' rights to enact laws protecting animals, public health and safety, and the pork industry should focus on eliminating cruel caging of animals rather than attacking popular, voter-passed animal cruelty laws," Block says.
Subscribe to receive top agriculture news
Be informed daily with these free e-newsletters
You May Also Like
---