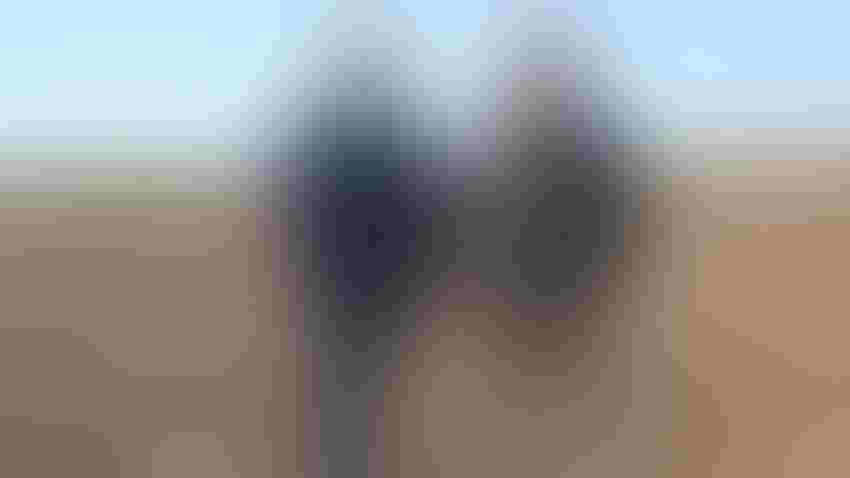 Kody Beavers, right, farms 3,000 acres in northeastern Louisiana. Beavers and crop consultant, Hank Jones, left, work cooperatively with the LSU AgCenter to maintain and increase soil health in Beavers' operation.
Farm Press
This article also appears in the 2023 Mid-South Farm and Gin Show program. The farm and gin show takes place in Memphis at the Renasant Convention Center on February 24 and 25. Admission is free, but advance registration can be made at: www.farmandginshow.com
Kody Beavers and Louisiana State University AgCenter are the 2023 recipients of the Agricultural Achievement Award.
The award is presented each year to a farming operation and university that have worked together cooperatively to promote innovation, efficiency, quality, safety, conservation, and environmental practices. The award is presented at the Southern Cotton Ginners Association annual meeting.
"Beavers has worked with LSU for several years to establish soil health practices into his operation," said Tim Price. "His work with LSU is a prime example of why we award this prize each year.
Beavers farms roughly 3,000 acres with his wife, Melanie, and operation partner, Jack Daily.
His Boeuf Prairie Farm is located outside of Extension in northeast Louisiana. The operation grows primarily cotton and soybeans.
Progressive practices
Price explains that Beavers is progressive when it comes to these practices. "Kody has a big picture perspective, with a focus on the outcomes desired. By incorporating new techniques, products, and practices he is driving long-term soil health and farm profitability."
"What you have here is a younger guy that is embracing the present and the future of the industry through his work with recognized institutions," said Price. "He has a desire to be on the cutting edge of production efficiency, conservation and sustainability."
Beavers is in touch regularly with the LSU AgCenter and several of their researchers. It didn't hurt that before they were married, Melanie, was working with AgCenter agronomist and weed scientist Josh Copes.
Partly because of that association, working with the university became a regular part of the operation.
"Both stations (in St. Joseph and Winnsboro) have a very good set of researchers that are doing a lot of good work in cover crops as well as in herbicide, pathology, fungicide and insecticide work," Beavers said. "They provide a lot of good information."
Research stations
The Macon Ridge Research Station, located in Winnsboro and the Northeast Research Station, in St. Joseph, are dedicated to serving area producers and their crops to develop solutions for the growers that allow them to remain profitable. They conduct research on variety development, conservation tillage, integrated pest management, weed control, irrigation, disease prevention and precision agriculture.
One of the researchers Beavers works with is James Hendrix, the associate area agent at the Northeast Research Station.
"I've known Kody a long time," said Hendrix. "Before he started farming on his own, I was involved with the Master Farmer Program and working with NRCS, doing some resource inventories on farms that were certified master farmer farms. I ran into him quite a bit during that time."
That carried over to when Beavers and his partners began to farm on their own.
"Kody calls on a pretty routine basis," Hendrix said. "I've talked at several workshops on this farm dealing with all the aspects of soil health and soil quality."
Cover crops are a large part of building soil health in Beaver's operation.
"I like to start seeding for our cover crop in the middle of October," he said. "As long as we are getting into a pattern where we see some rain."
Dry harvest
The 2022 season was a bit dry during harvest. During a dry season, growers would need to drill in the cover crop, versus a wetter time when the seed can simply be spread in the field.
Beavers incorporates a mixture of wheat, oats, cereal rye, vetch, Austrian winter peas and radishes.
"I've got a good mixture of everything out there this year," he said. "This is the first year I've gone into the legume and radish side of things."
Hendrix notes that he has seen a good increase in the use of cover crops in northeast Louisiana.
"The biggest reason for that is because when you look at soil health, which is one of the big topics nowadays in farming and sustainability, cover crops are one of the things that can change all the aspects of the soil - the chemical, the biological and the physical properties." Hendrix said.
He notes that Beavers adopted cover crops because he has seen the benefits.
"He has set his goals of what he wants these cover crops and his other management practices to do for his farm to increase his profitability," Hendrix said. "He understands that there may be setbacks but utilizing best management practices and tweaking his management on a site-specific basis he is making the plan work."
The work plan is an important part of the operations process. Beavers received his BA in Agriculture Business and a master's degree in Business Administration, before becoming a farm manager for another farm operation and eventually going out on his own. Watching the bottom line is an important part of keeping the farm profitable.
Variety tests and nutrients
Finding what works best for Boeuf Prairie Farm also led Beavers to run variety tests and use variable rate nutrient applications on the farm, with the help of the expertise at the AgCenter.
"I've been working with them doing the cotton variety trials for the past two years," he said. "Prior to that I've helped with a few graduate student projects on our farm with some cotton nitrogen work."
Because of Melanie's work as a research associate, who is now working on her MS in agronomy, he was able to get to know individuals working at the AgCenter.
They've been a huge help and I've tried to help them as much as I can with things they may have for all farm stuff," he said. "We've done some pathology work with spot traps on our farms and various other things."
It seems to be a good fit for the university and the farm, and it's a partnership that both entities will continue to develop. It the kind of relationship Agriculture Achievement Award points to each year.
Subscribe to receive top agriculture news
Be informed daily with these free e-newsletters
You May Also Like
---