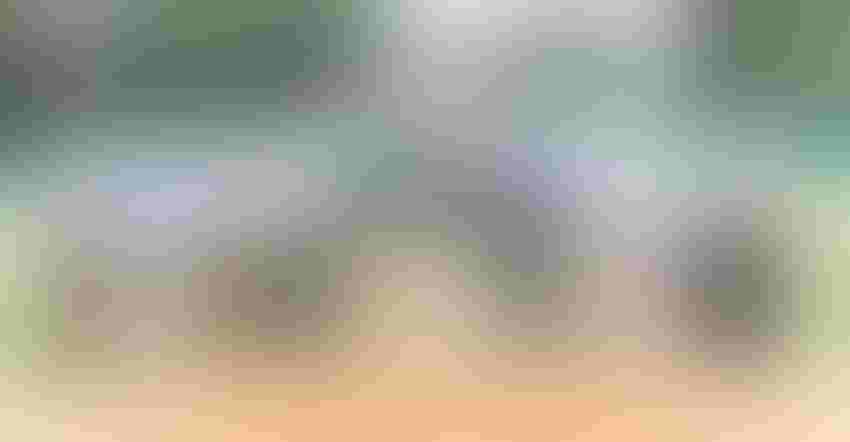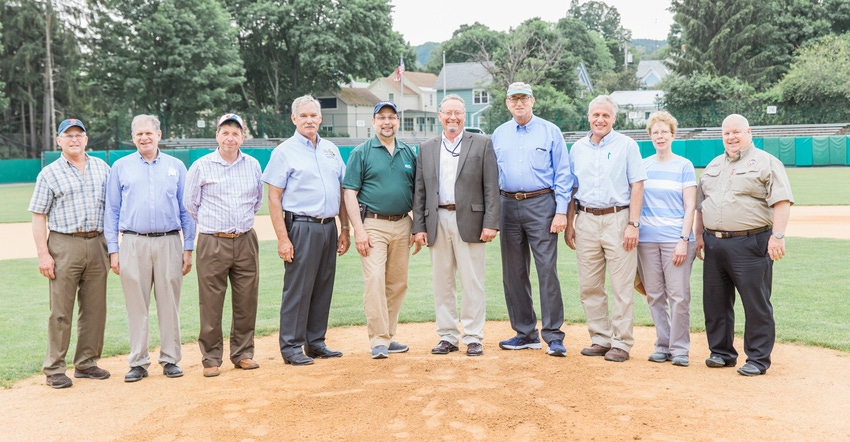 NASDA LEADER: Richard Ball (center), commissioner of agriculture in New York, was elected in September to lead the National Association of State Departments of Agriculture at an annual meeting in Louisville, Ky.
Courtesy of NASDA
Richard Ball spent 20 years learning how to farm and the next 20 years building his own family-run operation in the rich soils of Schoharie County, nestled between the Mohawk Valley and northern Catskills of upstate New York. And since 2014, he has directed policies and initiatives as commissioner of the state's Department of Agriculture & Markets.
For the next year, however, his work will have a much broader, far-reaching impact as 2021-22 president of the National Association of State Departments of Agriculture. He was elected to the post at the group's recent annual meeting in Louisville, Ky.
NASDA is a nonpartisan, nonprofit association that represents the elected and appointed commissioners, secretaries and directors of the departments of agriculture in all 50 states and four U.S. territories. As president, Ball will guide implementation of the group's priorities and policies adopted at the 2021 annual meeting.
He recently discussed his goals, concerns and outlook for agriculture in the coming year:
What is the most pressing agricultural issue for New York and the Northeast? With the density of population along the East Coast, it's all things to do with the food system. As we look back on COVID-19, what we learned, what we saw and what we can do better is going to be a huge focus. There was intense disruption of the food supply system, especially in the Northeast, where we had farmers on one end of the food chain losing their market share, and consumers on the other end not having access to food. That was a very large issue, so there's a lot of analysis going on in New York, the New England states, Delaware, New Jersey and Pennsylvania.
We need to have a very responsive and resilient food system. We don't want to depend on another part of the world for food if we go through anything like this pandemic again. That's very high on everyone's mind. It's still not quite in our rearview mirror yet. We're still struggling with some of this.
What steps can be taken to improve things? It's going to be complicated because it's going to involve a lot of things. We connected our food system here in New York to emergency food providers such as food banks, pantries and people who supply food to shelters.
We have good relationships with the food banks, but they had capacity issues, and there are processing and packaging issues as well. Food banks are looking for family-size units and shelf-stable ingredients. It's impossible to distribute things with the current model.
We need to streamline packaging to more family-friendly, retail-size units, not 100-pound boxes and 50-pound cartons of things that traditionally went into the food system through warehouses and restaurants. And there's all the labor, distribution and trucking concerns that go along with it. It's going to be a big challenge, but one I think that we're up to.
How serious is the agricultural labor shortage? It's no secret that there are labor challenges. There's not enough workers, not only on our farms but also our dairy plants, food manufacturing facilities, restaurants and distribution networks. There's a huge workforce challenge. We've got to try to solve that because we don't just need strong backs and willing bodies. We need technical skills because the work on our farms, dairy plants and food processing facilities is much more sophisticated today.
It's not just loading pallets, pushing things around and lifting things. There's an awful lot of technical know-how involved with cleaning our dairy plants — managing from in front of a computer screen to do many of the things that need doing.
What can be done to advance immigration reform in the coming year? At NASDA, we have a very strong policy and commitment to immigration reform. We don't have enough workers in the U.S., certainly in the Northeast. We've had a failed immigration system in the U.S. for so many years, and there's been an unwillingness in Washington to come to grips with it. Unfortunately, we're now enabling a black market for "coyotes," particularly on the Mexican border, to make a lot of money bringing people in to work.
We're not looking to make them all citizens. But we need legal status for people who want to come here to work and return to their home country and take care of their families. There's some pretty good legislation that's passed the House and is now in the Senate. It's unfortunately a very polarizing issue. This is going to be an important Tier 1 policy issue for NASDA.
NASDA is greatly concerned about threats to free interstate commerce. Please explain. This is an emerging challenge. Recently, some states, through voter initiative and referendum, have passed laws that require animals (chicken, beef, pork) to be handled and treated in a certain manner in order for a farm in that state to sell the product in that state. For example, chicken might have to be raised cage-free, and livestock can't be moved into the supply chain until they're of a certain age or a certain percentage of their life expectancy has been reached.
Certain states are beginning to pass laws like that, sponsored by animal concern activists. They're imposing that on their growers. In California, they're attempting to impose this on growers from other states who want to import products to California.
So that becomes a concern. They're restricting the ability of a New York grower or that from any other state to ship products to California if they haven't met the guidelines. A lot of commodity groups see that as an interstate commerce issue. You're telling me I can't ship my products to your state because you've passed this law. That's the issue, and it's going to be wrestled out in the courts, unfortunately.
Post writes from eastern New York.
Subscribe to receive top agriculture news
Be informed daily with these free e-newsletters
You May Also Like
---