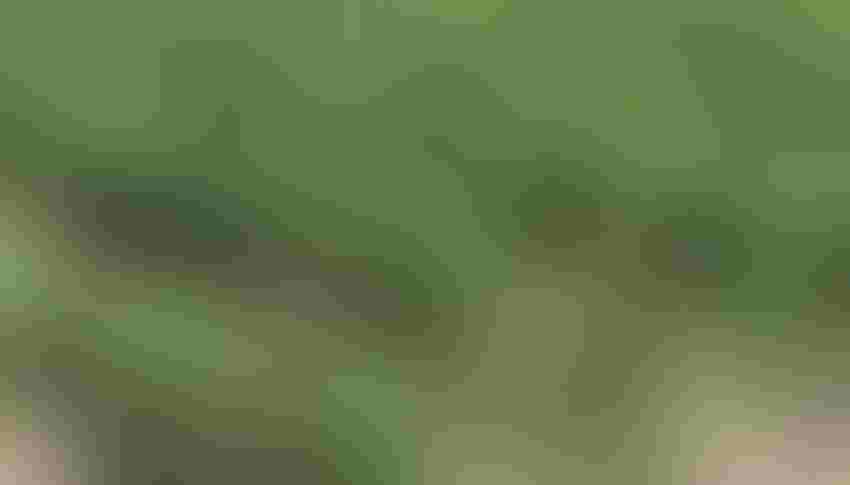 Wine grapes grow near Santa Rosa, Calif.
Tim Hearden
"We're at a point of oversupply in California and Washington, not due to speculative overplanting, but the industry's miss in not providing consumers what they want.  We've never made better wine, but that's not good enough.  We're missing the mark on consumer expectations and the results show it."
And with that gut punch, Rob McMillan, author of the State of the Wine Industry Report, today predicted that oversupply will lead to vineyard removals and reduced returns for growers in most regions.
"We are at a position of oversupply across the entire supply chain extending through every growing region in California at every price point," he warned, adding: "For California, this is the worst combination of market conditions for growers in nearly two decades and perhaps of all time.  Winery owners' confidence dropped precipitously in 2019, with nearly half (49%) taking a pessimistic view of current market conditions."
McMillian is the founder of Silicon Valley Bank's Wine Division and author of the 71-page report that this year is laced with doom and gloom for the production side, although for consumers, he notes: "2020 will bring the best wine values in 20 years."
"Wine industry sales growth has been muted for the past several years and is now close to moving into negative territory for the first time since 1993," McMillan told Western Farm Press.
For those at the start of this crop chain --- those who grow the grapes to make the wine -- McMillan reported: "We saw notable price declines for wine grapes this year and an undefinable amount of tonnage was left unharvested across all California regions."
WHAT NEXT?
Addressing grower concerns, he wrote: "What happens next?  Is this just a speed bump?  It would be great if knowledge allowed us to make informed decisions regarding planting, fallowing, and the best time to enter into or renegotiate contracts.  But that information doesn't exist, so decisions at the production end of the business are made on less-than-ideal data leading to late reaction and increased volatility."
In an exclusive interview, McMillan spoke about grower details uncovered in his six-month-long research for the annual report.
"Volume is what matters to growers because you're selling in the tons and when prices drop, the number of acres in the ground are going to have to be reevaluated."
He outlined a status quo for California regions: "Central Valley has been in decline for awhile now and some replants may be in the form of pistachios, walnuts, almonds, some kind of tree crop that might have a better return.
"The Central Coast has a small amount of non-bearing acreage, roughly six percent, and some of that is being ripped up with no intent to replant.  In some cases, like Paso Robles, consideration has been toward fallowing for awhile.  That's largely true for Monterey too, fallowing or planting something else.
"The hillsides in places like Napa, Sonoma, and Mendocino, become a bit more problematic for alternate crops. Further up the North Coast, a number of large growers left grapes hanging on the vine."
OPTIONS VARY
McMillan says it depends on where growers are and what kinds of financial decisions they can make. 
"Sometimes the right decision is to rip and fallow and wait for the market to signal a change before replanting," he said. "In some cases, it will mean getting out of the grape business."
While everyone in the industry wishes they had answers to how long the oversupply will last and what options exist, McMillan looks to a previous planting bubble in 2001 for some clues.
Starting in the early 1990s when California recorded explosive growth in premium wine sales, particularly on the North Coast, that explosion lead to an acute grape shortage prompting growers to plant in new regions to catch up with demand.
"It takes five years for a vineyard to hit full maturity yield and supply was flat through the 1991-1999 period and distributors knocked on every wine producers door begging for product to sell.  That has all changed and today across the entire wine supply chain, we're stuffed."
While the annual Grape Crush Report is still a couple of months away, McMillian provided some early predictions: "When 2019 totals are calculated, we're guessing California will have crushed 3.95 million tons --- down from 2018's record harvest of 4.24 million.  Pacific Northwest harvests that were challenging will come in lower in yield than any of the previous four vintages."
REPLANTS, REMOVALS
What comes next?  "We'll see early replants, removals, and fallowing of vines in every region, particular in Monterey and Paso Robles.  Grape and bulk prices will fall to levels lower than we've seen in the past five years and it will be well beyond 2020 before grape prices stabilize.  Washington is oversupplied in heavy-production vineyards where we'll see vineyard removals, but supply in Oregon will remain a bright spot for the industry."
Because there are so many aspects of the industry to consider, McMillan says it's hard to provide a concise status summary, but he does acknowledge, "What I've been able to diagnose is it's about a quarter of the industry that's going through some significant pain while the other 75% are doing OK, so it's not like everybody is in the same spot."
From a grower standpoint, he says: "The growers in the worse shape are those who are unable to rip vines out because of things like bank loans that consider  those vines as collateral.
"The smaller players, those that are over-leveraged or older acreage without any diversified farming operations, those are the ones probably at greatest risk."
In his conversation with Western Farm Press, McMillan noted: "Whether you're a grower, a winery, or a distributor, everybody stands to lose something when volume declines.  There's a likelihood that we'll find some common solutions, but they won't come quickly."
Difficult times call for difficult measures, he said.
"My suggestion to growers is to try anything they think might work and see how it goes," he said. "You don't have to bet the farm on it, but you do need to think outside the box."
Subscribe to receive top agriculture news
Be informed daily with these free e-newsletters
You May Also Like
---