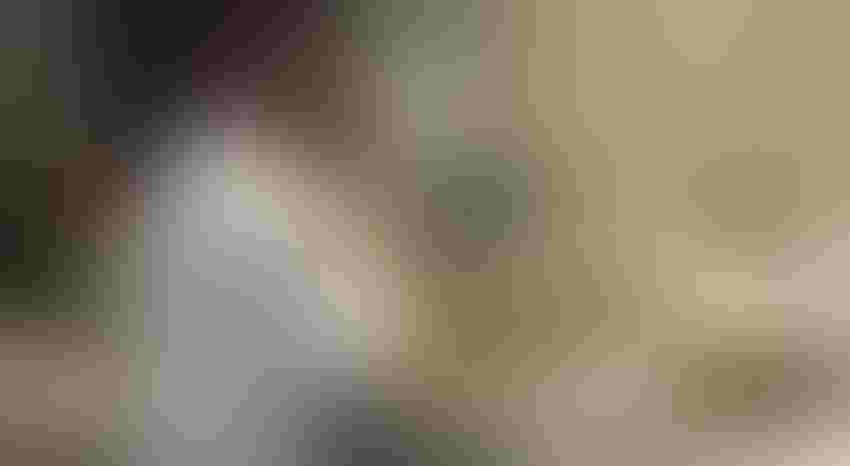 A worker examines almonds at a processing plant in Northern California in this file photo.
Tim Hearden
Setting work stations 6 feet apart if possible, reducing the number of employees who are physically present, installing barriers between workers and restricting visitors are among the measures that food processing plants should take to curb the spread of the coronavirus, partners from an international business law firm advise.
Some plants are staggering work shifts and having some office employees work from home, while others require temperature-taking and hand-washing for those entering their buildings, says Michael Droke, a Seattle, Wash.-based partner at Dorsey and Whitney who works in the areas of agriculture and corporate law.
"There's definitely a high degree of sanitation" happening at food-producing businesses, Droke said during a recent webinar. He adds that many companies are wiping down every surface once an hour.
"They're taking the same basic things they're already doing and increasing the schedule," he said. "They're frankly using that information to tell their customers, because their customers want to buy food from a source that's safe."
Staggering shifts and maintaining physical distance are a little easier to manage in a warehouse setting, but they can be more difficult in a processing line, notes Rebecca Bernhard, a partner at Dorsey specializing in food, beverages and agribusiness.
Barriers such as a tarp might offer some protection, the attorneys agreed.
"I've heard about companies trying to enforce the 6-foot recommendation by putting tape on the floor," added Aaron Goldstein, a partner at Dorsey in labor and management. "What I'm seeing is companies pushing the envelope as far as they can" to protect workers, he said.
Among measures being taken is giving some people a 30-foot radius and making sure employees stay in their own areas through the day, he said.
"To the extent a person only bumps into one or two people a day, their ability to spread the disease is limited," Goldstein said.
Safety concerns
The suggestions come as worker safety at processing plants has been an issue during the coronavirus outbreak. Recently, Tyson Foods Inc., and JBS SA closed pork and beef plants in Iowa and Pennsylvania, respectively, after workers tested positive for COVID-19.
As of April 9, at least three people who worked at plants owned by Tyson and JBS were reported to have died from the pandemic, according to Bloomberg News. Companies including Cargill Inc., Sanderson Farms Inc. and Perdue Farms Inc. have also reported infections, according to the wire service. A Smithfield Foods pork plant in South Dakota shut for cleaning after workers tested positive.
Fears of the virus have led to employee walkouts at some food and non-food-producing plants, according to news reports.
Dorsey and Whitney, a more than 600-attorney law firm with offices across the United States, began advising food companies "very, very early on" in the coronavirus crisis, creating a virus information center and making a presentation to employers in early March, Droke said.
"We started fielding calls from food companies right away," Droke said. "We wanted to focus on what people are doing in a practical way."
The lawyers had to convince companies they weren't overreacting and that COVID-19 was not merely a problem for the coasts, he said. Among the top questions was how to socially distance in a manufacturing plant, he said.
"This is evolving rapidly," he said. "In particular I find it fascinating that the food industry is so forefront in people's minds. Anyone who's in the industry understands how critical it is."
Here are some of the measures and issues the attorneys discussed.
Workers, visitors and entry
Plant owners need to think about who can enter their facility, how to handle vendors, the schedules they keep and special requirements such as hand-washing or other cleaning, they said.
Companies in some situations can take temperatures or ask entrants if they've been exposed to the virus, Goldstein said.
"Under normal circumstances, really savvy employers are really concerned about discrimination and retaliation claims, and intrusion into private data," he said. "But the law gives employers a lot more latitude in a crisis."
Most food facilities are already subject to the Food Safety Modernization Act, so they already require visitors to sign in, make sure they have a legitimate reason for being there and in some cases put on hair nets and clean outer wear, Bernhard said. They also adhere to a strict cleaning regimen, she said.
"Those kinds of rules they've already applied, but they're applying them with a thumb on that scale," Bernhard said. "I think the need to have an appointment and the need to have a legitimate business reason is more enforced now than it used to be."
Ill and frightened workers
Employers should plan for a significant number of employees not coming to work, either because they are ill and are in a two-week incubation period or because they are frightened, the attorneys said.
"You can say to people who haven't been diagnosed, 'We have work for you to do,' and if they refuse to work, that's another zone," Bernhard said. "We have to dig a little deeper into what it is to be afraid. Your partner has asthma and you've been advised to minimize all contact, or you yourself have a compromised immune system, or are you afraid because you ride Bus 7 to work and it's packed?"
Accommodations can be offered to the frightened commuter, she said. Usually if someone refuses to come to work it's like quitting, but if they have a health issue it could be a reasonable risk, she said.
"Certainly you have a right to ask people to document why they're sick, but the sick-out is protected" under labor law, she said.
If employees in areas under strict shelter-in-place orders are concerned they'll be stopped by police on their way to work, a sticker or letter telling an officer they're involved in an essential business might ease their minds, Droke said.
Plant closures
Employers are only required to give advance notice if a plant closing or mass layoff would last six months. Even then, the federal Worker Adjustment and Retraining Notification (WARN) Act provides exceptions when a closing or mass layoff was caused by unforeseen circumstances, even as economic and supply conditions may make a temporary plant closing permanent, the attorneys said.
It's critical to provide notice of a plant closing or mass layoff as quickly as possible and be mindful of whether a series of smaller layoffs in a 90-day period could trigger the WARN Act, they said. Companies should also beware of state "mini-WARN Act" requirements, they said.
Subscribe to receive top agriculture news
Be informed daily with these free e-newsletters
You May Also Like
---