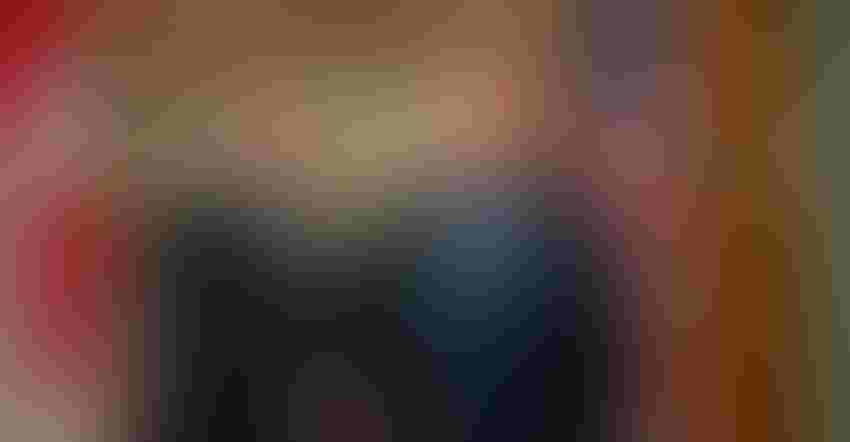 Agriculture Secretary Sonny Perdue meets with Canadian Minister of Agriculture and Agri-Food Lawrence MacAulay during the secretary's trip to Toronto regarding bilateral trade issues on June 5, 2017.
USDA Photo by Rick Vyrostko.
Trade remains a dominant driver of the agricultural economy, and in turn how farmers view the outlook for themselves. This week several positive developments offered more insight into how future negotiations could play out with both Canada and Mexico.
In the May survey of the Purdue University/CME Group Ag Economy Barometer, a resounding 83% of producers reported that they are in favor of renegotiating the North American Fair Trade Agreement, or NAFTA. Thinking more specifically about the impact on agriculture, 61% of respondents thought the outcome of a renegotiated NAFTA agreement would be beneficial for U.S. farmers.
So with the upcoming renegotiation of NAFTA expected in August, agriculture continues to hope the negotiations don't damage the fruitful relationship that already exists between the two countries, but there are opportunities for improvements.
Many saw this week's deal between the United States and Mexico regarding a sugar dispute as a positive precursor to how discussions could fair. And more trust was instilled in Commerce Secretary Wilbur Ross in his ability to seek the best interests of agriculture.
John Bode, president and CEO of the Corn Refiners Association, said in this Administration's first major negotiation with Mexico, Ross succeeded in protecting against unfair trade practices and maintained vulnerable export markets. "With both sides demanding more, he coolly pursued the broader public interest." 
Randy Gordon, president of the National Grain and Feed Association, noted, "In addition to preserving corn, corn products, meat and other U.S. food and agricultural trade with Mexico, Secretary Ross's and Minister Guajardo's success in reaching this agreement in principle is highly significant in creating a conducive, can-do environment as the United States, Canada and Mexico prepare to begin vitally important talks to modernize NAFTA in mid-August."
Secretary of Agriculture Sonny Perdue said the agreement prevented potentially significant and retaliatory actions by the Mexican sugar industry and sets an important tone of good faith leading up to the renegotiation of the North American Free Trade Agreement. "I maintain that if the rules are fair and the playing field is level, American agricultural products will succeed, thrive, and lead the way," he said.
Mexico had said it would retaliate against high fructose corn syrup, which had the potential to turn into a tit-for-tat trade war against U.S. agriculture.
Bode said the success of the negotiations is an excellent sign for the coming NAFTA negotiations, saying the announcement "sets a thoughtful tone and positive posture for modernizing NAFTA."
Tom Sleight, president and CEO of the U.S. Grains Council, said the agreement is part of a "necessary foundation for negotiating with our neighbors and customers in good faith while helping to protect our existing duty-free access, high market share and U.S. jobs."
Sleight said the agreement is an important milestone "as we work to maintain our existing, robust trade of U.S. grains and related products while awaiting the beginning of NAFTA modernization negotiations."
According to the NAFTA Ag Advocacy Group, if the deal holds, it will emerge as a successful dress rehearsal for future negotiations to build a better NAFTA. "Commerce Secretary Wilbur Ross has shown he can deal with an extremely difficult U.S. industry, extract concessions from the Mexicans, and still end up with an agreement that both sides can live with," the group said in its NAFTA Alert .

"We definitely gave up a lot," said Juan Cortina Gallardo, the president of Mexico's sugar chamber. "Besides it making sense for the Mexican industry to sign the agreements, it makes sense for Mexico to finish the agreement in a successful manner because of NAFTA."
Regarding the neighbors to the north

So while Ross and the Commerce Department were finalizing details of the sugar agreement with Mexican officials Monday, Perdue visited Toronto, marking his first international trip as secretary. Perdue conducted a series of meetings with Canadian officials, including Canadian Minister of Agriculture and Agri-Food Lawrence MacAulay and current Premier of Ontario Kathleen Wynne, regarding bilateral trade issues of importance.
"We had very good, very candid discussions, very frank, like family members discussing some things that are not necessarily comfortable. We laid out a great framework to begin renegotiating NAFTA," Perdue said of the NAFTA discussions that look to get underway in 6 months.
Perdue said he was able to describe the issues the United States feel is important to resolve, and can be resolved, as renegotiations begin. "That has to do, obviously, with the dairy issue and the wheat grading issue that deals with feed grade wheat that's not grown in Canada. And also certain provincial wine issues, where wines are not displayed out in front where other Canadian wine is," Perdue said.
Perdue noted the discussions were not to enter into deep negotiations back and forth, but to lay out the issues where concerns exist.
"While we didn't try to negotiate back and forth, I think it was clearly understood that we consider all options on the table and we'll pursue them in the best interests of U.S. producers," he said.
So we may have months before formal negotiations begin on NAFTA, but a positive foundation is already being laid.
Subscribe to receive top agriculture news
Be informed daily with these free e-newsletters
You May Also Like
---