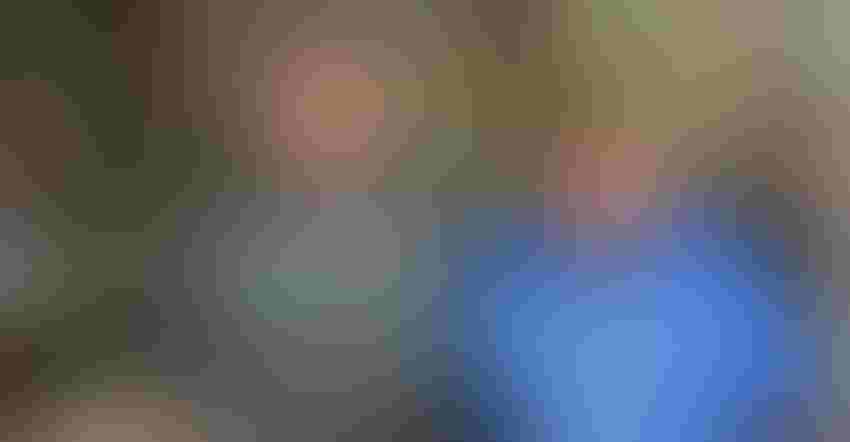 Leon Heller (left) and Kent Roesler could retire, but they prefer farming. It's challenging and fun, the two men say.
Kent Roesler is at an age when most farmers wouldn't be looking at making many changes in their farms.
But Roesler, 70, of Leonard, N.D., is always trying new things.
West Central — a national chemical distributor — has an extensive fertilizer-chelating agent demonstration site on his farm that I visited last week.
"I just love it. I just love farming," Roesler said, explaining why he isn't interested in slowing down and retiring.
Roesler stays up on all the new products, like West Central's Levesol, a chelating agent that the company says makes phosphorus more available to plants and gives seedlings a significant boost.
"It made a big difference in our corn last year, 10-15 bushels per acre, right to the line," he said, showing pictures on his smartphone of the strip trials and ears from treated and untreated areas.
Roesler also cooperates with North Dakota State University, which has conducted its iron deficiency chlorosis soybean variety ratings on his farm for many years.
Roesler likes new technology, too. He utilizes many of the latest precision ag tools. At the West Central field day he was quick to ask where he could get the handheld wind anemometer and the smartphone app that was demonstrated during a session on managing herbicide drift when spraying new dicamba-traited soybean varieties.
"My wife says my mind never shuts off. It's the way I am," he said.
Roesler keeps up on the politics of agriculture, too. He showed up at the field day wearing a T-shirt that read: "Farming: The art of losing money while working 400 hours a month to feed people who think you are trying to kill them."
Roesler is not alone in his retirement-age passion for agriculture. Leon Heller, 67, works with Roesler. He started farming a quarter of land when he retired from trucking about 10 years ago. He helps Roesler with field and shop work and uses Roesler's equipment to plant and harvest his crop.
"We're old duffs out farming together," Heller said, "and we're having fun."
Subscribe to receive top agriculture news
Be informed daily with these free e-newsletters
You May Also Like
---