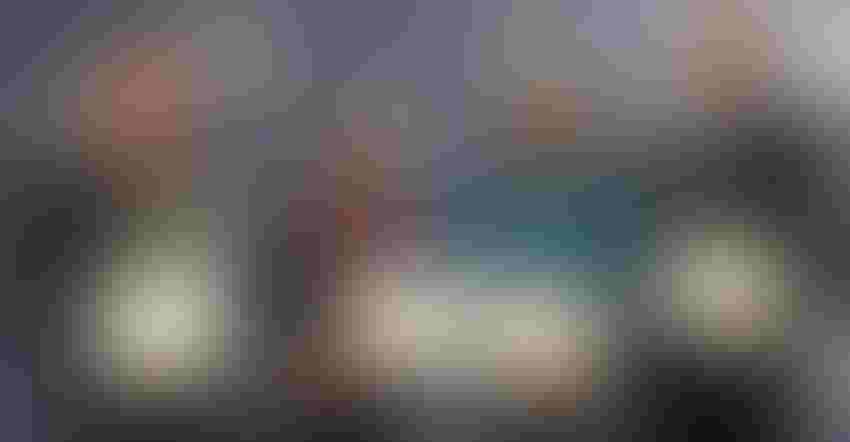 DISCUSSION MEET FINALISTS: Four finalists competing in the Minnesota Farm Bureau's Young Farmers & Ranchers Discussion Meet this year were Carl Sackreiter of Winona County (left), Katie Winslow of Stearns County, Angela Guentzel of Le Sueur County and Jamison Schneckloth of Mower County. Winslow took home first place in the competition.
Courtesy of MFBF
Voting delegates at the Minnesota Farm Bureau Federation 100th annual meeting adopted policy positions for 2019 focusing on financial and emotional challenges, rural communities, healthcare, taxes, trade, transportation and food.
The MFBF board will advocate for:
• access to tools, resources and support systems for farmers facing daily challenges out of their control
• support for resilient, vital rural communities with strong workforces, educational opportunities through career and technical programs and access to affordable childcare
• providing awareness and resources to address the opioid crisis
• accessibility and expansion of high-speed broadband to all of Minnesota
• voluntary site-specific actions at the local level to protect and conserve the state's natural resources
• affordable, available health insurance and accessibility to health care providers, including insurance coverage for mental health and addiction services
• tax reform at the local, state and federal levels that recognizes agriculture's unique financial challenges. MFBF will work with the Legislature and administration to address tax conformity issues to ensure farmers and ranchers have a tax code that addresses the provides clarity and certainty. Property tax issues will also remain a priority.
• ratification of the new United States-Mexico-Canada trade agreement, protecting and expanding agricultural market opportunities through new trade agreements, and enforcement of existing trade relationships
• investments in transportation infrastructure needs, especially rural roads and bridges
Board elections
County voting delegates re-elected Dan Glessing, Waverly, to a two-year term as vice president. This will be his third term as MFBF vice president.
Re-elected to three-year board of director terms were Keith Allen, Kenyon, representing District 1; and Miles Kuschel, Sebeka, representing District 6.
Elected to the board of directors and serving one-year terms were Promotion and Education Committee chair Tony Seykora, Ellendale; and Young Farmers & Ranchers Committee chair Grant Moorse, Minneota.
Contest, award winners
Katie Winslow, Stearns County, took home first place in the Young Farmers & Ranchers Discussion Meet. Other top discussion meet finalists were Carl Sackreiter of Winona County, Jamison Schneckloth of Mower County and Angela Guentzel of Le Sueur County.
Katie and Ted Brenny, Goodhue County, won the Young Farmers & Ranchers Excellence in Agriculture contest.
The YF&R members will advance to national competition, where they will represent Minnesota at the national competition at the American Farm Bureau Federation's annual meeting in New Orleans, Jan. 11-16.
Emily Annexstad, Nicollet County, won the 14th annual Minnesota Collegiate Discussion Meet. Runner-up was Amber Johnson of Wadena County.
MFBF's Distinguished Service to Agriculture award was presented to Dave Frederickson, Minnesota Department of Agriculture commissioner; and Mike Liepold of the U-M Extension.
Honorary Life award winners were Lyle and Janet Dahlgren, Becker County; Harold and Sharon Peterson, Chippewa County; and Leland and Sigrid Johnson, Steele County.
The Agriculture Communicator of the Year award was presented to Joe Gill of KASM, Sartell.
The Extension Faculty and Staff of the Year award was presented to Marcia Woeste, Extension educator, Todd County, working at the Brainerd regional office.
The FFA Advisor of the Year award was presented to teacher Shawn Linder of Grand Rapids.
The Postsecondary Agricultural Educator of the Year award was presented to Gerald Toland, Southwest Minnesota State University, Marshall.
Three $500 Al Christopherson Scholarships were presented. Recipients were Adam Kroll, Morrison County; Jared Retzlaff, Dakota County; and Abbey Weninger, Wright County.
Two $500 Paul Stark Scholarships were presented. Recipients were Elizabeth Krienke of Wright County and Emma Nelson of Stevens County.
Source: MFBF
Subscribe to receive top agriculture news
Be informed daily with these free e-newsletters
You May Also Like
---