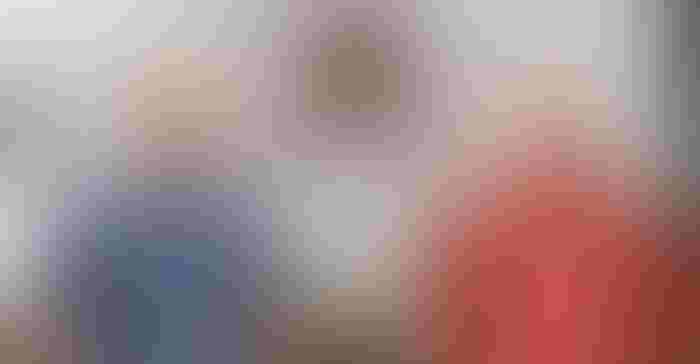 Good, long-term relationships with landowners are of major importance to Jay Acker and his dad, Don Acker. They rent a little more than 2,000 of the 3,200 acres they planted to corn and soybeans last spring in western Pierce County, Wis.
The rentals are "mostly long-term," according to Jay, who says he has "very good" relations with landowners. "We're honest with them. Dad taught me that."
Rental costs are one of their biggest costs, Jay acknowledges. Still, he says what they pay is average for the area and the ground.
Some of their landlord-tenant relationships have a 20-year history; one has existed for more than 30 years.
"I've only talked to him on the phone," Jay notes. "I've never met him, but I talk to him on the phone all the time." With about 15 different landlords, Jay says he maintains good relations by "talking to them a lot; keep them informed. If they want to know the yields, I tell them."
Plus, the Ackers are careful to treat the rental land like their own. "Everything is the same," Jay says. "We work with landlords if it needs to be engineered. There's no cost to them."
Their variable but mostly hilly ground conditions are challenging, but they've met the challenges with intensive soil conservation and tillage practices.
"Everything is highly erodible," Jay says. "We've got some steep grades, but there's minimal erosion with no-till and vertical tillage. We've really got to watch our practices. We have a lot of structured waterways, dams. ... We put in a lot of our own waterways without NRCS help; we really like waterways. ... We have cover crops. We planted 500 acres of rye."
Jay believes he and his dad have worked more closely with the Natural Resources Conservation Service than the average farm because of their diverse ground conditions.
"We're finally getting caught up," he says. "We've done a lot in the last 15 years. It's been costly, but it's nice to have it in place."
Crop rotations
Given the variety of ground conditions on acreage spread mostly across 6 miles but up to 17 miles, the Ackers vary crop rotations from continuous corn to one year of corn and one year of soybeans.
"Most is two years of corn and one year of beans," Jay says.
Planting 30-inch corn rows, they aim for 180-bushel corn and 50-bushel soybean yields per acre. They do variable-rate planting based on a yield map, and soil and fertility maps.
"Everything is dry fertilizer," Jay says. "Some upfront and sidedressing on corn. Soybeans are all upfront."
Planters and combines use GPS. They harvest with 12- and eight-row corn heads on two combines and use two 35-foot heads for soybeans.
The Ackers planted about 2,000 acres of corn and 1,200 acres of soybeans in May. All their production is sold at a grain facility just across the Mississippi River in Red Wing, Minn., Jay reports from his Bay City-area farm office on the Wisconsin side, atop the bluffs overlooking the river. "It's just 12 miles to get there," he says. "It's pretty easy. They're working on a new bridge right now."
Jay and Don farm in partnership, with help from Jay's brother Cal and seasonal planting and harvest workers. Don's wife, Mary, and Jay's wife, Kate, also help, but father and son handle the bookwork.
Don started farming in 1975 and bought their current location in 1987. The father-son partnership was formed in 2004. They've always cash-cropped; there's no livestock.
"Dad started this whole place," Jay says with pride. "If it wasn't for him, I wouldn't be here."
For 20 years, Don has also sold Dekalb and Asgrow seed, and for 10 years before he handled Pioneer seed.
The two do almost all machinery maintenance in their shop. "Most of the stuff is done right here on the farm," Jay says.
Jay is 35; Don is 62. Kate, who works as a dental hygienist, and Jay have three children: Ava, 8; Levi, 6; and Trent, 3. They spend a lot of time "running with the kids," Jay says, so he no longer serves on the local co-op board and declined to seek another term on the Wisconsin Corn Board. Kate is active at their children's school.
Self-sufficient
While Don and Jay are always looking to buy more land, Jay says, "Maybe we'll try to do a little better with what we have. As technology changes, maybe we can get more efficient with what we have now. If we had more acres, we'd have to hire help."
He's philosophical about the cash-cropping business and its outlook: "Last year and this year are tough years. Last year had better yields than we expected, but it wasn't a money-making year, and it doesn't look like this year will be," though he says the crops are "off to a good start. I thought it was going to be a little later, but we caught up. We had a good spring, and everything is looking good.
"Of course," he adds, "you never know what the future might bring.
"We have fun, but it's more fun making money. You've just got to get through the tough times and hope for better times. It's a passion. You want to do it; otherwise, you wouldn't do it."
That's a farming truism.
To see photos of the Ackers and their operation, check out the slideshow below.
Buchholz lives in Fond du Lac, Wis.
Subscribe to receive top agriculture news
Be informed daily with these free e-newsletters
You May Also Like
---