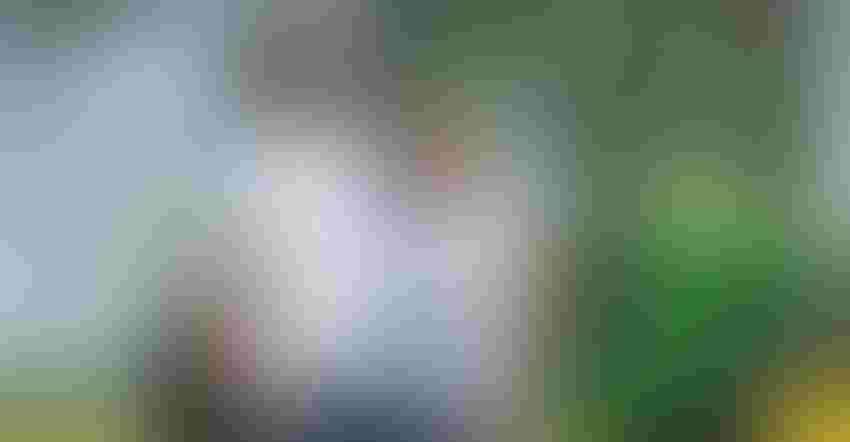 NEXT YEAR: "As young farmers, you get hit both ways when yields are down and price is down," says Drew DeSutter, shown here with his wife, Adrienne. "Stress is easier when you're making money."
What are farmers concerned about as we roll out of 2019 and into 2020?
Drew DeSutter doesn't miss a beat: "Another 2019."
He laughs, but like farmers young and old, DeSutter is not kidding. No one wants another 2019, where so much lay in Mother Nature's uneasy hands and so little could be done to mitigate it.
DeSutter farms with his dad, uncle and cousin near Woodhull, Ill., and was recently elected chair of Illinois Farm Bureau's Young Leader Committee for 2020. His perspective on bad years is unique, given that he graduated from college in 2009 and helped plant his first crop that year post-graduation, marking his first season with a historically late harvest.
In 2019, the DeSutters were like a lot of farmers in Illinois, as their yields were down but not quite as bad as expected. Neither corn nor bean prices are where anyone would like.
"As young farmers, you get hit both ways when yields are down and price is down," DeSutter says. "Stress is easier when you're making money."
Even so, he's optimistic that agriculture is still a good bet.
"There's already been a few things that make me more optimistic," DeSutter says, pointing to better weather that allowed more fall field work to get done, and movement on U.S.-Mexico-Canada and China trade deals. "These things may not be market movers in the short term, but long term, having trade deals is always better than the alternative."
DeSutter and his family aren't making drastic business changes in 2020. "We're going to continue to farm the way we've been farming. We always try to raise the best crop we can, within reason," he says.
They won't sacrifice yield, but decisions on fungicide and other treatments will be tougher. They'll hold steady with crop insurance levels but may not invest in all the "latest and greatest technology." And they'll continue to invest in farm drainage tile, because it consistently pays dividends and boosts yields.
"What you don't want is short crops and low prices," DeSutter adds.
He'll be a more aggressive marketer in 2020, noting that young guys can't be quite as patient as older farmers. "Crop insurance gives you a safety net and lets you market ahead."
And like a lot of farmers, DeSutter has a lot on his mind all the time. It can wear on a person when you need to get things done but weather won't let you, and DeSutter admits he's not always great at handling stress.
"The most stressful part about last year was we were playing from behind the whole time," he recalls. "Heard other young farmers say, it feels like we're two to three weeks behind all the time."
Still, his mantra is to control the things that you can control. You can't control the rain, but you can use the rainy days to catch up and be productive. Commiserate with other farmers, like last year's prevented planting parties. And don't compare yourself too much to the neighbors.
"As a young guy coming out of college, you're really gung-ho to take over the world," DeSutter says, laughing. "But you have to do what works for you, not the guy down the road."
Subscribe to receive top agriculture news
Be informed daily with these free e-newsletters
You May Also Like
---