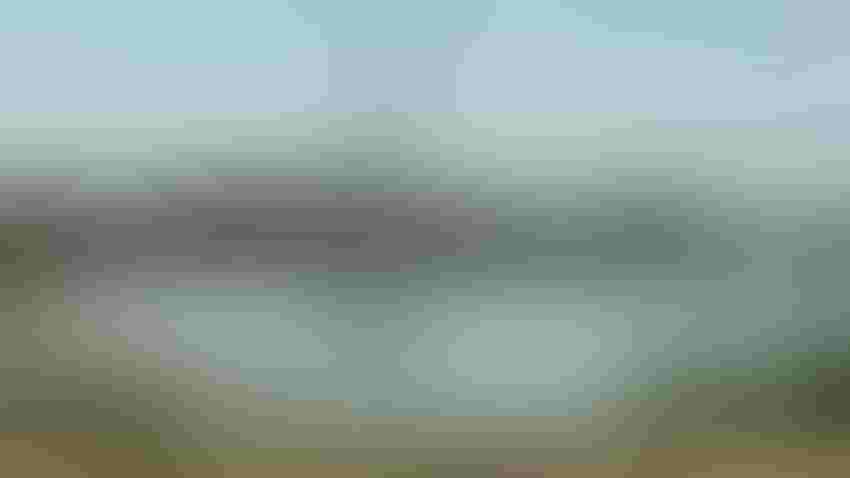 Diesel storage tanks are removed from Hansen Ranches' shop in late March as flood waters at Tulare Lake are expected to rise and consume the shop, which was protected by a hastily built levee.
Todd Fitchette
For several years, the colors on California's section of the U.S. Drought Monitor map changed rapidly to dark red. Those extreme and exceptional color rankings are gone as much of the state is now outside of any drought conditions.
While the high and low desert regions from Imperial to Inyo counties, and much of northern California are still in a state of drought based on the March 28 map, the San Joaquin Valley is literally swimming in water.
Tulare Lake in Kings County, Calif., is projected to see at least 1 million acre-feet of water move onto the lakebed by the end of summer, curbing the crops that can be grown there by thousands of acres.
Heavy rains in March hit Tulare and Kings counties hard. Small streams turned into rivers; small reservoirs on a couple of those smaller river systems overtopped their dams, sending uncontrolled spills into communities, through dairies and across farmland, and onto Tulare Lake. More is coming as the Army Corps of Engineers ordered Kings River flood flows to be diverted onto the lake.
Flooded roads were closed, the Kern River in Bakersfield saw water flow under the Hwy. 99 bridge for the first time in a long time, and San Luis Reservoir filled as the state pumped as much water as it could from the Delta into the off stream storage reservoir.
Farmland in the Tulare Lake region were flooded out and more is promised as the southern Sierra Nevada boasts over 300% of its annual snowpack. Estimates indicate some reservoirs have well over five times their design capacity in available water remaining in their upstream watersheds.
The flooded Tulare Lakebed is not without its controversy as farmers there complained to county supervisors that the J.G. Boswell Company breached some of its own levees to spare some of their cropland and facilities from flooding. They say the move caused neighboring farms to flood. Boswell officials counter that they breached the levees to save the nearby town of Corcoran -- an explanation neighbors dispute.
Subscribe to receive top agriculture news
Be informed daily with these free e-newsletters
You May Also Like
---