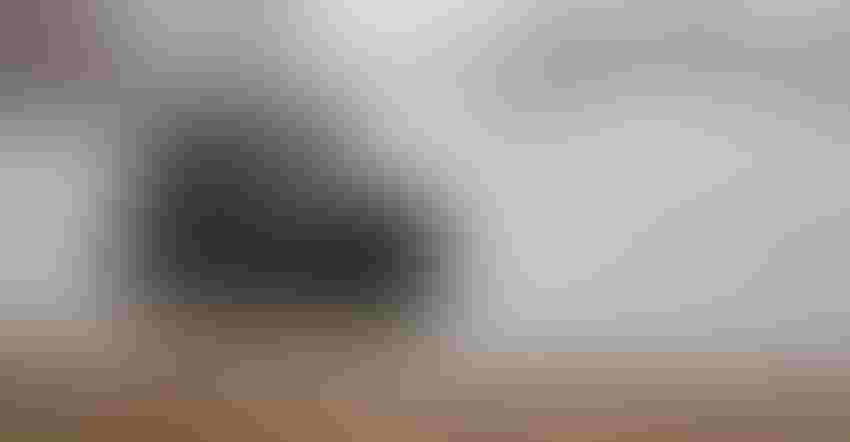 WATER TOUR: USDA Under Secretary Bill Northey (left front) got an up close view of the damage floodwaters from the Missouri River had on the Spiegel farm north of Watson, Mo. Farm co-owner Andy Spiegel, took Northey, along with Missouri Farm Bureau President Blake Hurst (back left) in an amphibious ATV around the family farm.
Mindy Ward
Thunder boomed and rain pattered on the tin roof as the amphibious eight-wheel ATV pulled back into the machine shed on the Spiegel Farm. It was a fitting end to USDA Under Secretary Bill Northey's tour of cropland and farm buildings inundated by floodwaters from the Missouri River.
Water topped federal levees a little over a week ago at the family farm just north of Watson, Mo., near the Nebraska border. Roughly 1,700 acres are covered by water and debris.
Andy Spiegel farms the land along with his father, Dick, and brother, Kyle. The family has endured several historic floods like those in 1993 and 1998. Their last flood event was just eight years ago. However, this flood is different.
"It's the earliest flood we've ever had," Andy said. And all three men agree the water level is the highest it has ever been.
Between the rise and reach of the water, many farmers didn't have time to get their grain out of the bins or move machinery. The Spiegels, with the help of friends and neighbors, worked through the night and into the morning hours to move 20,000 bushels of soybeans out of grain bins that are now surrounded by river water. They were able to relocate farm machinery to a hill across Interstate 29.
"So many people are far more affected than our farm," Andy said. "This will economically be a big challenge for us. But folks lost their homes and don't have any place to go back to. I have a dry bed so I am fortunate."
Helping hand
Northey said there are federal programs that will help those affected by the flood. "It softens the blow, but in many cases, it barely softens the blow."
The Emergency Conservation Program can help pay for some cleanup via cost share. Farmers can use these funds to rebuild fences, clean up debris and push away sand, Northey explained.
The Emergency Watershed Protection is a Natural Resources Conservation Service program that focuses primarily on infrastructure needs. Northey said this program requires a sponsor, like a public entity, to repair infrastructure.
Both ECP and EWP require funding from Congress. Northey said those funds are dwindling. "We've been operating on funds from last year that address some of the disasters of 2017. We've worked our way through most of the funding available from 2017, then the 2018 hurricanes, now we have tornadoes down south and flooding here." Northey said there are some dollars left. "It is enough to get started, but not going to be enough to address what is remaining." Congress understands the need for more money for those two funds, he added.
Planting prospect
There were 14 levee breaks in Atchison County alone, compromising the Missouri River Basin south of Watson, and leaving roughly 60,000 acres unprotected.
Northey envisions prevent plan being used heavily up and down the Missouri River system for 2019. He's also heard some concerns along the Mississippi River.
"Work with your crop insurance agent," he said. "You need to be aware now more than ever of what provisions are out there."
The Spiegel family is moving forward with this cropping season starting with their hill ground. "We are getting the planter ready," Andy said. "We are going to go out there and give it our best shot."
Farming is his life. "I've got young kids," he said. "This is how we make our living. I'm optimistic."
He said others who farm along the Missouri River will likely follow suit. "Farmers are resilient and will always try to get the job done."
About the Author(s) Editor, Missouri Ruralist
Mindy resides on a small farm just outside of Holstein, Mo, about 80 miles southwest of St. Louis.
After graduating from the University of Missouri-Columbia with a bachelor's degree in agricultural journalism, she worked briefly at a public relations firm in Kansas City. Her husband's career led the couple north to Minnesota.
There, she reported on large-scale production of corn, soybeans, sugar beets, and dairy, as well as, biofuels for The Land. After 10 years, the couple returned to Missouri and she began covering agriculture in the Show-Me State.
"In all my 15 years of writing about agriculture, I have found some of the most progressive thinkers are farmers," she says. "They are constantly searching for ways to do more with less, improve their land and leave their legacy to the next generation."
Mindy and her husband, Stacy, together with their daughters, Elisa and Cassidy, operate Showtime Farms in southern Warren County. The family spends a great deal of time caring for and showing Dorset, Oxford and crossbred sheep.
Subscribe to receive top agriculture news
Be informed daily with these free e-newsletters
You May Also Like
---