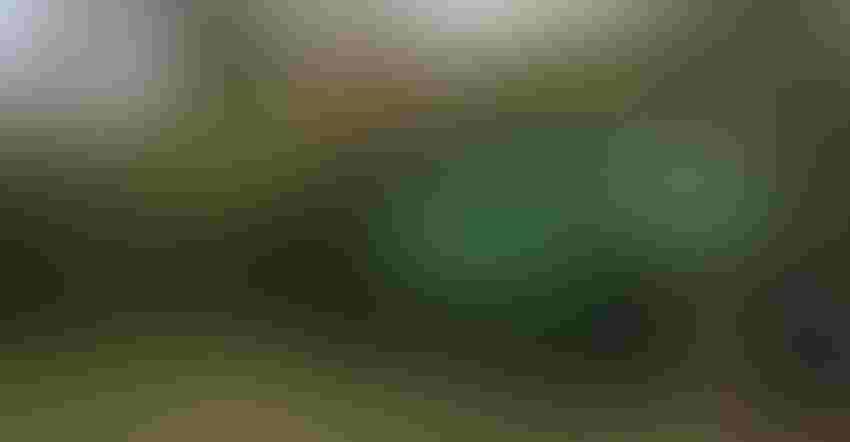 CLEANUP: Volunteers with various religious organizations focused on getting trees off buildings, equipment and roads in the immediate aftermath of the August derecho that hit Iowa. Volunteers will continue to clean up into 2021.
Austin Keating
When McLean County, Ill., farmers Dave Weber and Mark Freed arrived in Iowa last month following the derecho, they shared a thought: It looked like there had been a hurricane. Weber and Freed were part of a relief effort by the Fellowship of Christian Farmers, a national group that's based in Illinois.
"This was different from some of the tornado relief efforts we've been a part of. Tornados have a somewhat narrow path of damage. But the damage there is so widespread. It's more like a hurricane," Weber says of the thousands of grain bins and other structures destroyed by wind.
On Aug. 10, the derecho delivered winds in excess of 120 miles per hour across 56 counties in Iowa, and in excess of 80 miles per hour across northern Illinois.
When Weber and Freed arrived in Keystone, Iowa, they set up two campers that can sleep more than a dozen volunteers. Groups of Fellowship farmers come to the headquarters when they can get away from their home farms to clear debris, cut down damaged trees and put fence back in.
While Weber and Freed are back to Illinois to prepare for harvest, they will return to Iowa — and in the meantime, the campers will welcome a rolling contingent of farmers from across the U.S., descending on Keystone to help with derecho cleanup. Already, farmers from Missouri and Kansas who have finished wheat harvest have arrived to help out. The needs are immediate.
"There's going to be lots of trash in the soybean fields that we've got to get rid of, and big chunks of grain bins, sticks and lumber. We can't just let that stuff go through the combine," says Dennis Schlagel, executive director of the Fellowship of Christian Farmers.
He says he's working with FFA chapters to help pick up trash ahead of combines during soybean harvest. Many of the other work orders his group has collected from residents of derecho-affected rural areas involve either reinstalling fence or cutting trees.
Freed recalls stopping by a farmstead where a farmer and his wife were working to remove a tree that had fallen on the roof of a building. Another volunteer, a retired lumberjack, offered to cut tree limbs. Freed and Weber grappled large limbs to the landowner's tractor so he could collect the debris in a pile to burn.
"More hands definitely make lighter work. They were amazed how fast cleanup went, but it took a half dozen people to do it right," Freed says.
First response training available
Churches in the derecho-damaged area are acting as headquarters for volunteers from other religious organizations, such as Lutheran Church-Missouri Synod. Lutherans, the Amish, Mennonites and more have disaster relief groups that deployed to Iowa after the derecho hit, assisting residents of all faiths.

VOLUNTEER: Fellowship of Christian Farmers volunteer Ralph Shallenberger looks over his organization's base camp in Keystone, Iowa, as farmers volunteer their time to help with cleanup.
Volunteer crews will circle through the state for "multiple months," says Stephen Born, central Illinois district coordinator for the Lutheran Early Response Team. Other more southern districts are focused on responding to damage caused by Hurricane Laura near Lake Charles, La.
"We've got a lot of folks in central Illinois with chains and skid steers that they bring out. They're really well-equipped for times like this," Born says of farmers who volunteer from his 51-county, 970-member district.
John Deere offers a program that waives the cost of renting skid steers to relief workers. Polaris also donates utility terrain vehicles during disasters.
"That's the companies' way of volunteering, and it really helps out," Born says.
He adds that volunteers from his district are taught to not be "spontaneous volunteers." His team fuels up and buys supplies before heading into a disaster area. They also only rent hotel rooms outside of the damaged area to prevent a surge in demand and cost of units when locals are homeless.
To join the Lutheran Early Response Team, volunteers must complete a six-hour in-person training. Born says his district offers a handful every year at Lutheran churches throughout central Illinois. They also offer an eight-hour chainsaw training course that's recognized by the U.S. Forest Service. Other denominations offer similar training to prepare volunteers for dangerous situations as well.
For Freed, Weber and the rest of their Fellowship volunteers, their mission is clear, both as farmers and as Christians.
"We don't do this to gain salvation. This is a result of salvation," Freed explains.
Weber concurs. "A lot of times people drive right by the person on the road changing a tire, but the person who stops, it's often a farmer. It's in our blood."
For more information or to volunteer with Fellowship of Christian Farmers, visit its website or call Schlagel at 309-530-7004.
Subscribe to receive top agriculture news
Be informed daily with these free e-newsletters
You May Also Like
---