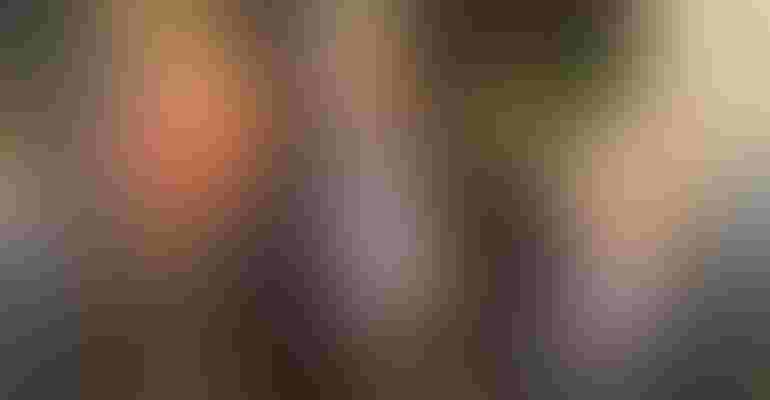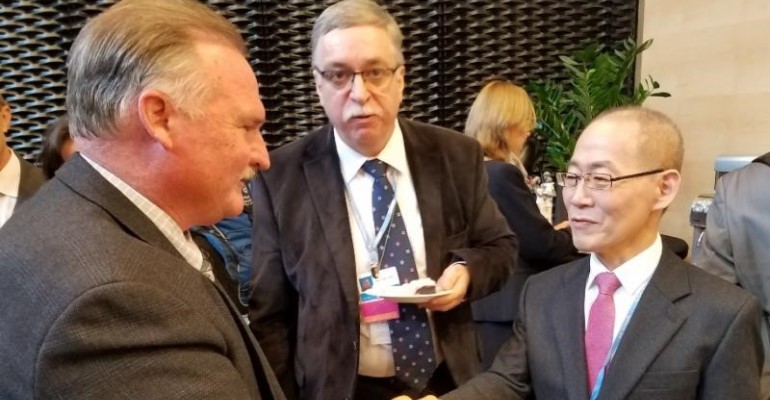 SHARING FARMERS' STORY: Ohio farmer Fred Yoder will again be attending the UN meeting on climate change to share the importance of farmers being at the table in climate discussions.
SFL
As leaders from around the world descend on Glasgow, Scotland for the 26th U.N. Climate Change Conference, also referred to as COP26, farmers will also be on hand at the event in an effort to share the need to continue advocating for sustainable systems that also understand farmers' economic sustainability.
Solutions from the Land's COP 26 delegation set to attend the first week of the two-week event include board Co-Chairmen Fred Yoder, an Ohio corn and soybean grower, and A.G. Kawamura, a California produce grower and shipper; board member Lois Wright Morton, an Iowa specialty crop grower and former professor of rural sociology at Iowa State University; and SfL President Ernie Shea.
Representing SfL during the second week of COP 26 will be board members Pat O'Toole and Ray Gaesser, and O'Toole's wife, Sharon, who will serve as the delegation's media representative. Board member Howard-Yana Shapiro, who is globally recognized in the scientific and UN communities, will be attending both weeks of the negotiations.
Related: Vilsack to take ag's voice to COP26
Maintaining the call for an approach of wide-ranging but interrelated solutions will be important in the face of the European Union and others in Glasgow who will be advocating a top-down strategy to address global challenges. Designated by its advocates as "Farm-to-Fork," it's a policy slant that foregoes the flexibility needed to attain the many goals otherwise available to agriculture. The "siloed" approach advocated by the EU negotiators and their allies also negates a critical principle advocated by Solutions from the Land as necessary to the success of any agriculture-based climate solution – robust farmer input.
As it has done at other global conferences in recent years, the SfL delegation will seek to strengthen support of Climate Smart Agriculture and to build a coalition that will embrace a systems approach to meeting climate and food security challenges. The approach advocated by its delegates will be one that respects the tremendous diversity of agricultural landscapes and ecosystems across the world.
Agriculture and the role of ag biotech must be part of these talks, says the Biotechnology Industry Organization. Agriculture accounts for around 10% of greenhouse gas emissions—but many biotech tools exist to reduce ag emissions.
The organic sector says it stands ready to lead climate change efforts by planting the seeds for a more sustainable future right here at home. "As the threat of climate disaster grows more dire by the day, all eyes have turned to Glasgow's COP26 for answers, but the work has to start here first," says Organic Trade Association CEO and Executive Director Laura Batcha. 
By eliminating the use of chemical inputs like synthetic nitrogen fertilizers, organic sets the standard for climate-smart agriculture, OTA says. Organic farms emit 18% less overall greenhouse gasses than other agricultural systems and organic soil sequesters 26% more carbon than non-organic, Batcha says.
"The Administration's Build Back Better framework would set the United States up for success at COP26, positioning our nation as a standard bearer of sustainability and conscientious policy making. By starting this work in our own backyard, we can enter the COP26 negotiations in good faith, knowing that we are doing everything possible to stem the global climate crisis," Batcha adds. 
Related: Biden reaches deal on Build Back Better framework
As leaders gather at COP26, the Renewable Fuels Association reminds them that ethanol and other renewable fuels are available—today—to jumpstart global decarbonization efforts.
"Ethanol already cuts carbon emissions in half compared to gasoline; with smart policy measures, ethanol can do even more," said RFA President and CEO Geoff Cooper. "Ethanol can serve as a zero-emissions fuel for cars and trucks while also helping to decarbonize the aviation, marine, and stationary power generation sectors. That's why our members have unanimously committed to achieving a net-zero carbon footprint by 2050 or sooner. We urge world leaders gathering for COP26 to take a closer look at ethanol and encourage them to include a prominent role for renewable liquid fuels in their national decarbonization plans."
Subscribe to receive top agriculture news
Be informed daily with these free e-newsletters
You May Also Like
---