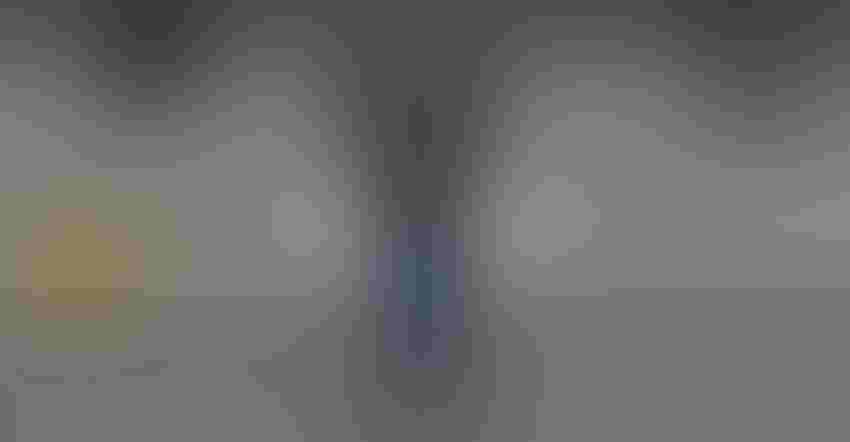 MULTIPLE ENTERPRISES: Turkey production helped Craig Fruechte diversify the family farm operation.
Carley Myers
When you look back on 100 years of agriculture, what do you see? You may envision Ford Model T cars and a few chickens. This is quite different than the landscape in rural America today. Over the decades, agriculture has seen a monumental change not only in the way people farm, but also in the way the farm survives.
Today the farm operation is no longer able to survive on a small scale. To stay in the game, modern farmers must find their niche.
"Our farm is constantly trying to diversify so we can stay competitive in the industry," says Craig Fruechte. The sixth-generation farmer owns and operates a diversified grain and livestock operation outside Decatur, Ind., with his father, Kim. The need to diversify their business has been a longstanding value.
"We have always found it important to not put all your eggs in one basket," Kim says. "Diversifying allows you to have a hand in multiple markets that you can depend on if one market isn't doing as well as the others."
Hay helps diversify
The Fruechtes grow corn and soybeans. Diversification begins with their alfalfa production. Craig raises alfalfa not only to feed to their own livestock but also to sell to racehorse and dairy farms. This production travels outside the state, widening their target audience.
"We first entered into the alfalfa business in 1997," Craig says. "I knew that this product would be in different demand and provide me a higher level of return in the long run."
According to Kim, the hay operation is among the most challenging markets because they're fully dependent on the weather.
"You can't put this crop in a dryer if it is too wet. You are just completely dependent on what Mother Nature gives you," Kim says.
Specialized livestock
In 2013, the Fruechtes decided to take another adventure to differentiate their operation by signing a custom contract with Cooper Farms to raise turkeys. Cooper Farms, a contract livestock operation based in Ohio, is a family-owned business focusing on contracting production of swine, turkeys and layer hens.
When deciding which market to enter, the Fruechtes did their research to ensure the proper fit for their farm. Craig discovered after analyzing livestock data through his work with AgriStats that turkeys would be a good financial gain for them due to the way the turkey market was trending.
Consumer demand was increasing for lean meat like turkey meat, and the value of the manure added to the profit turkey barns could give them.
"When we looked at turkeys, we saw they had a quick-term cycle compared to other species," Kim says. "With beef steers, for example, you're looking at a yearlong term, where with these birds, it was 16 to 21 weeks until we would be having a turnaround."
Turkey manure is also highest in nutrients of any livestock, thus allowing them to not only apply it to their own fields but also provide another source of income by applying to neighboring operations.
Before taking the final leap, Craig and Kim toured various operations in Ohio to see the barns in action.
"We wanted to see operations that had been going for only a year, another that had 10 to 15 years, and then 25 years out," Kim says.
They found the technique of how to raise turkeys didn't change other than technological advancements over the years. This was a big draw — to know that this investment would be one that could grow with them over the years.
The father-son partnership decided to put up four barns to house 24,000 commercial turkeys. Each barn houses 6,000 birds. Their operation was the first introduction of turkey production into the Adams County area.
The Fruechtes house and care for the birds for 16 to 21 weeks before they're taken to market. Someone must check all four barns three times per day.
Consider neighbors
Adding 24,000 turkeys is no simple feat to an already busy business, especially if not everyone is on board with the idea. But Craig and Kim worked alongside Indiana Farm Bureau to work with their neighbors.
"Not everyone was thrilled about the idea at first, but the main thing we found was it was important to be transparent of what our project and goals would look like," Kim says.
Craig and Kim found extreme value in allowing others to tour the barns to see exactly what would be happening in their area. They also built the barns a half-mile from any house. Allowing others to come visit their operation is important.
"Everyone who sees it is surprised," Kim says. "It's important for us to have people come see our operation, because they learn what it is really like."
Looking back, both Craig and Kim agree that turkeys were the right move to allow them to grow and keep up with the changes agriculture faces.
"Markets are not what they used to be, even from 30 years ago," Kim says.
Craig explains the value that diversification adds to their family's business, and all farms in today's environment. "When you expand your markets, it allows you to have more availability of where your income is coming from," he says. "Usually, something happening in one of your areas of business isn't being affected in your other area."
"Land prices in our area are high, and so sometimes the opportunity to grow the grain business isn't always an option," Kim says. "Turkeys give a balance of incomes coming into the farm that help us survive."
Kim shares insights of why they've been able to remain successful with their various areas of marketing.
"For us, we found our footing in each area before jumping into another," he says. "If you can't sell it or maintain it and are just diversifying to diversify, you will just tread water."
Michael Gunderson, director of the Purdue University Center for Food and Agribusiness, agrees that diversifying too broadly or too quickly can be more harmful than helpful. "Successful producers are those that focus almost entirely on a narrow set of activities and perform them at the highest level of leadership among cost, product or relationship," Gunderson writes in an article about diversification.
Read about one more way the Fruechte family has diversified — by selling freezer meat.
Myers is a senior in agricultural communication at Purdue University. She writes from Monroe, Ind.
Subscribe to receive top agriculture news
Be informed daily with these free e-newsletters
You May Also Like
---