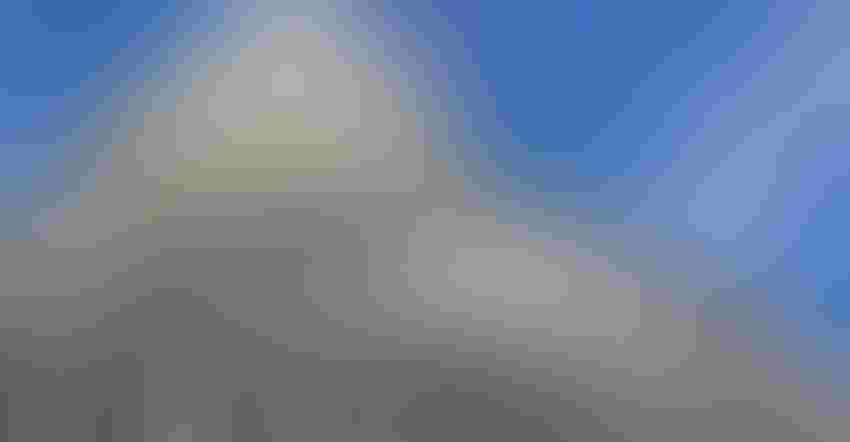 DO NO HARM: Secretary Sonny Perdue's principles released in January suggest general support for crop insurance. Continued support would be in line with calls from numerous ag groups to leave crop insurance intact and "do no harm" to the current programs.
By Brad Lubben
As of late January, farmers and ranchers were waiting for formal talks to begin on what is supposed to be the 2018 Farm Bill. There have been numerous signs of developments underway and proposals ready to roll out, but the official legislative process was yet to begin, waiting on a budget deal and a budget baseline to set the framework for deliberations.
While the policy outlook and even the timing remains uncertain at this point, there are some general perspectives that help frame the debate, including the farm bill principles released in late January by Secretary of Agriculture Sonny Perdue.
Proposed farm program reforms
Regarding farm programs, the secretary's principles emphasized a safety net that helps farmers in challenging economic times, and one that doesn't distort markets or increase shallow loss payments. That would suggest little administrative support for expanding the current safety net. While numerous groups have argued for reforms in existing programs and some have argued for increased safety nets, the general consensus seems to be that this farm bill will have to be written within its existing budget baseline, meaning no new money for program changes or additions.
The proposed reforms to the Agricultural Risk Coverage program at the county level (ARC-CO) to change the yield data calculation could be largely budget-neutral as long as the yield history and yield calculations are based on consistent data. Other proposed reforms to increase the dairy program support and re-introduce commodity program support for cotton growers may succeed only to the extent they are addressed in the current budget or emergency legislation and can avoid being counted against the budget constraints for new farm legislation.
Do no harm to crop insurance
The secretary's principles also suggest general support for crop insurance, although with no real detail. Continued support would be in line with the nearly universal calls from ag groups to leave crop insurance intact and "do no harm" to the current programs. That may not stop efforts to cut crop insurance programs from various interest groups, legislators, or even administrative officials. (The president's annual budget proposal released in early 2017 included calls for crop insurance cuts, although Perdue notes he was not in office at the time to offer input. This year's administrative budget proposal was not yet out as of the time this was written, so it remains to be seen how crop insurance is treated.)
The various proposed cuts to crop insurance include cuts to program features, such as the harvest price coverage or premium subsidy rates, as well as cuts to producer eligibility or limits on support. While the proposed cuts come with estimated budget savings, they would also affect program performance and participation.
That could affect all producers, not just those that exit the program, but also those still participating, if premium rates alter for the changing portfolio of producers. As noted, ag groups are nearly universally supportive of crop insurance and one can expect a farm bill to emerge from committee with crop insurance fully intact. Any debate and proposed amendments on the floor may be where the crop insurance issue is truly tested.
Change in CRP acres?
The secretary's principles for conservation stress the continuation of voluntary programs that balance farm productivity and conservation benefits, as well as cost-effective financial assistance. The current mix of conservation programs already spreads the majority of funding between the Conservation Reserve Program that temporarily retires land from production for conservation benefits, and the Environmental Quality Incentives Program and the Conservation Stewardship Program that provide incentives to adopt or maintain conservation practices on land that remains in production.
The biggest issue going into this farm bill debate has been how CRP has shrunk over the past several years to its current enrollment of around 23.5 million acres, just under the smaller cap of 24 million acres authorized in the 2014 Farm Bill.
Some groups are pushing for an increase in the cap and the enrollment, whether to reduce production and support commodity prices in the short run or to simply increase enrolled acres and environmental benefits. Other groups have argued against any increase, citing the concerns about the loss of agricultural production and the attractiveness of CRP rental rates drawing land away from producers. A proposal to reduce the maximum CRP rental rates allowed could simultaneously reduce some of the concern over competition for land, as well as provide the budget for an increased enrollment moving forward — whether that proposal satisfies enough groups and policymakers to move forward remains to be seen.
Food assistance plays big role
The principles put forth for food assistance point to not only continued support for assistance to those in need, but also efforts to increase program integrity, efficiency, innovation and self-sufficiency. This is generally consistent with previous administrative and policymaker proposals to tighten program rules and eligibility, particularly for the group of recipients able to work and without dependents to care for at home.
Some groups have pointed to the push for cutting or reforming nutrition assistance as a way to ease the budget burden on the farm side of the farm bill, or have argued for splitting the farm and food sides of the farm bill so as to make the farm side a smaller bill. That, however, would expose at least two major political challenges.
First, it would appear that any efforts to tighten program rules on spending on food assistance will be geared at reforming the assistance program or at reducing federal spending in total, not as a way to save money to fund more support on the farm side of the farm bill.
Second, while food assistance accounts for more than 75% of the total farm bill spending when farm and food programs are together, it seems likely that apart, the farm side of the farm bill may not have enough political support to even make it through Congress. So, while the farm side of the ledger is certainly the smaller partner in a farm and food bill, it is reliant on the farm and food coalition working together to reach passage.
Other programs
While the first four issues get the brunt of the attention because they represent 99% of USDA farm bill spending, there are important issues in the rest of the bill as well. The secretary's farm bill principles call for maintaining U.S. competitiveness and growth in global markets; safeguarding food safety and food system regulation; committing to a strong research, education and training agenda; utilizing tools, resources and partnerships for rural development; promoting better forest management; and delivering USDA programs in an effective and responsible manner.
These issues will all remain important and will each come with interested constituencies of their own, but the broader debate will certainly focus on the big four issues. How that debate plays out in the coming weeks and how the budget battle in Congress eventually gets resolved will dictate the fate of the farm bill and the likelihood of it actually being delivered on time before the current farm bill expires in September.
Lubben is an Extension policy specialist at the University of Nebraska-Lincoln.
Subscribe to receive top agriculture news
Be informed daily with these free e-newsletters
You May Also Like
---